2 employees dead in Mercy hospital Shooting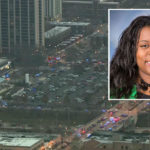 Chicago (CNN)A police officer, a doctor and a pharmacy resident were killed after a Monday afternoon shooting at Chicago's Mercy Hospital, Mayor Rahm Emanuel said.
The shooting was a domestic incident, Chicago police Superintendent Eddie T. Johnson said. The gunman's first victim was a woman with whom he had had a relationship, Johnson said.

The gunman, Juan Lopez, 32, also died, police said.It is unclear whether he died from police gunfire or a self-inflicted gunshot wound, Johnson said.-CNN
Mercy Hospital named its employees killed in the shooting as Tamara O'Neal, 38, an emergency room physician, and pharmacy resident Dayna Less, 25, a recent graduate of Purdue University.

The hospital paid tribute to police and security staff, saying it was "deeply saddened by the tragedy."
"Every shooting in America is a tragedy, and it is especially senseless when a shooting occurs in the healing space of a hospital," it said in a statement.

Chicago police identified the deceased officer as Samuel Jimenez, a father of three. He joined the force in February 2017 and recently completed probationary training, becoming a full-fledged officer, Johnson said. A procession was held for him Monday night.

"Today, we mourn Chicago Police Officer Samuel Jimenez. His heroic actions saved countless lives. He ran toward danger. He ran toward those shots. He ran into fire -CNN. Selflessly,"

 the department said on Twitter.
What happened at Mercy Hospital was a tragic incident. Another example of what shouldn't happen. Don't give prayers. Make change. People are fucking dead and you're wasting tears. Go fucking vote.

— Genocide My-Galoshes (@jennuhmilosh) November 19, 2018
My thoughts and prayers go out to everyone affected at Mercy Hospital in Chicago this hate this evil must stop my heart breaks for everyone affected. pic.twitter.com/r9bIJ0jCAa

— Tyler Jones (@tyler_jones36) November 19, 2018
This is the face of the amazing emergency physician Dr Tamara ONeal, at work today, before she was murdered.

Tonight, hold her, her family, & our colleagues at #MercyHospital #UIC in your hearts.

And tomorrow, pledge to fight for women like her. Because #ThisIsOurLane. #Enough pic.twitter.com/8xUytYnDrc

— Megan Ranney MD MPH (@meganranney) November 20, 2018
#BREAKING @ChuckGoudieABC7 reporting the 1st victim in #MercyHospital shooting is a female doctor who was reporting for work, gunman is her former fiancé who forced her to ground & shot her multiple times, then went into hospital & kept shooting

— liz nagy (@liznagy) November 19, 2018
I didn't know Dr. Tamara O'Neal, the ER doc who was shot and killed at #MercyHospital today, personally. But here's what we can presume about her, simply by dint of being an ER attending at a busy urban hospital.

— Esther Choo MD MPH (@choo_ek) November 20, 2018
The doctors saving lives after the shooting tonight at Mercy Hospital Chicago were told by the NRA just two weeks ago to "stay in their lane."

— Jamie Ehrlich (@jamie_ehrlich) November 19, 2018
The doctors saving lives after the shooting tonight at Mercy Hospital Chicago were told by the NRA just two weeks ago to "stay in their lane."

— Jamie Ehrlich (@jamie_ehrlich) November 19, 2018
50+ women shot/killed ea month by intimate partners.

2 women were shot; both are in extremely critical condition.

Sources told ABC7 that 1 of the women, who was shot in the parking lot, was a doctor at #MercyHospital & was shot by her former fiancé. https://t.co/8lcZkMQhk5

— Khary Penebaker, Fx (@kharyp) November 19, 2018
50+ women shot/killed ea month by intimate partners.

2 women were shot; both are in extremely critical condition.

Sources told ABC7 that 1 of the women, who was shot in the parking lot, was a doctor at #MercyHospital & was shot by her former fiancé. https://t.co/8lcZkMQhk5

— Khary Penebaker, Fx (@kharyp) November 19, 2018
Tamara O'Neal, the ER doctor killed by her ex-fiance at Chicago's Mercy Hospital, worked 2 full time jobs after college while preparing for medical school. She was also a mentor to at-risk youth. Read more about O'Neal's life and tragic death here: https://t.co/jzH74qYYMo pic.twitter.com/r9WwPVF22v

— Tom Cleary (@tomwcleary) November 20, 2018
A shooting at Chicago's Mercy Hospital left 4 people dead, including a police officer, a doctor, a pharmacy technician and the gunman https://t.co/KzuemVocWP

— The New York Times (@nytimes) November 20, 2018
2 doctors, officer dead after Mercy Hospital shooting; gunman killed…https://t.co/qD7wUqK40a pic.twitter.com/vtMwKTY9AT

— WGN TV News (@WGNNews) November 20, 2018
RIP OFFICER: Samuel Jimenez, 28, was shot and killed during an active shooter incident at Mercy Hospital. He leaves behind a wife and three kids https://t.co/qD7wUqK40a pic.twitter.com/l2dqoMVK1A

— WGN TV News (@WGNNews) November 20, 2018
Chicago's Mercy Hospital has been secured, police say, after a shooting that left an officer in critical condition and multiple people injured. The suspect was identified as a 32-year-old man. https://t.co/qMD4UrQN6C pic.twitter.com/NA1JkIYddk

— CNN Breaking News (@cnnbrk) November 19, 2018
Just heard a fellow emergency medicine doctor was among those shot at #MercyHospitalhttps://t.co/wOyV58rr0d

You bet I'm sending prayers but I'm also sending goddamn MONEY to @Bradybuzz @GiffordsCourage @MomsDemand @ResearchAffirm

— Esther Choo MD MPH (@choo_ek) November 19, 2018
Dr. Tamara O'Neal, a physician in Chicago At Mercy Hospital, was shot six times today and killed by her ex-fiancee. pic.twitter.com/0dwqB9aGa2

— Shannon Watts (@shannonrwatts) November 20, 2018
Woman who witnessed the Mercy Hospital shooting: "You can't go to the hospital, you can't go to school, you can't go to church, you can't go to the grocery store. You can't go anywhere. You never know when you walk into a place if you'll come out alive." pic.twitter.com/5b5iZML61K

— Shannon Watts (@shannonrwatts) November 20, 2018
Remember when the @NRA told doctors who talked about the patients they had to pull bullets out of to "stay in their lane"?

Your move, NRA.

Reports of active shooter and multiple victims near Mercy Hospital in Chicago pic.twitter.com/rfHXXxKH8A

— Holly Figueroa O'Reilly (@AynRandPaulRyan) November 19, 2018
Because facts matter

Americans killed by Refugees from banned nations:
•0

Americans killed by Refugees from banned Migrant Caravan:
•0

Americans killed by Americans with Guns in 2018 alone:
•12,924 killed
•314 mass shootings
•0 new gun laws#MercyHospital#GunReformNow

— Qasim Rashid, Esq. (@MuslimIQ) November 20, 2018
JUST IN: Here's the video of a witness recording what sounds like gunfire outside Mercy Hospital earlier today. pic.twitter.com/BZLXETWIIt

— Rob Elgas (@RobElgasABC7) November 20, 2018
Shots were fired at a 2nd CPD officer in the Mercy Hospital Shooting, but he wasn't injured. Instead, the bullet struck his holster and embedded itself in his gun: https://t.co/hVPwgbrkXv pic.twitter.com/OvMI0ln3l6

— ABC 7 Chicago (@ABC7Chicago) November 20, 2018
Chicago police plan on giving an update soon after a shooting at Mercy Hospital left an officer and a "possible offender" shot. A witness told reporters the gunman seemed to be "shooting at random." https://t.co/tKu5H74c9R pic.twitter.com/NcGfP426pT

— NBC Chicago (@nbcchicago) November 19, 2018
The latest on the #MercyHospital shooting in Chicago:
– At least one officer has been shot and is in critical condition
– Police are searching for more victims
– One possible offender has been shothttps://t.co/wGkAUOX8XP

— Twitter Moments (@TwitterMoments) November 19, 2018
'What lane now?': Internet slams NRA for shooting at Mercy Hospital — after they told doctors #StayInYourLane https://t.co/OjS9gdQbvg

— Raw Story (@RawStory) November 19, 2018
Dozens of hospital staff gathered outside Mercy Hospital's east entrance. At least 4 helicopters here. Enormous police response. pic.twitter.com/hVO3jYbvq9

— Sam Charles (@samjcharles) November 19, 2018
This is Chicago Police Officer Samuel Jimenez. Jimenez was one of 3 people killed today at Mercy Hospital in Chicago. pic.twitter.com/a7LPRlAxdb

— Rob Elgas (@RobElgasABC7) November 20, 2018
"We hid for a little while in one of the rooms and barricaded the door." Witnesses describe scene after gunman reportedly opened fire on the campus of Mercy Hospital in Chicago. pic.twitter.com/5eqdn3ybZf

— CBS Chicago (@cbschicago) November 19, 2018
Juan Lopez, identified as the shooter who killed his ex-fiancee at the hospital where she worked as an ER doctor along with another Mercy Hospital employee and a Chicago police officer, was a DePaul grad and worked at the Chicago Housing Authority: https://t.co/lRSr2AZA6J pic.twitter.com/j3YCgMybMa

— Heavy.com (@HeavySan) November 20, 2018
4 victims of Mercy Hospital shooting in critical condition, officials say. Breaking updates: https://t.co/nwHioNZsjW pic.twitter.com/7z64bm6rwV

— NBC Chicago (@nbcchicago) November 19, 2018
Dayna Less just graduated from a pharmacy program last spring and was planning a June wedding. She worked at Mercy Hospital as a pharmaceutical assistant and was shot dead as she exited an elevator. pic.twitter.com/7WqmujfG64

— Shannon Watts (@shannonrwatts) November 20, 2018
Reports of multiple people shot at Mercy hospital – massive police response, streets shut down @fox32news pic.twitter.com/iHNDYQWsvR

— Elizabeth Matthews (@ElizabethFox32) November 19, 2018
Our thoughts & prayers are with the family, friends & colleagues of fallen #ChicagoPoliceDepartment Officer Samuel Jimenez and all of the victims of the #MercyHospital shooting. pic.twitter.com/mw2fdM4ULO

— U.S. Secret Service (@SecretService) November 20, 2018
Memorial outside of Mercy Hospital continues to grow for the two employees who were killed here Monday afternoon. @WGNNews pic.twitter.com/Bv1ArXihoi

— Courtney Gousman (@cgousman) November 20, 2018
Fellow officers salute as the body of Chicago policeman Samuel Jimenez, slain in the shooting at Mercy Hospital, is escorted to the Medical Examiner Office pic.twitter.com/kqpinARs9G

— AFP news agency (@AFP) November 20, 2018
A Doctor, Police chief and Mayor of #Chicago brought to tears after a shooting at #MercyHospital that led to the death of a female doctor, a male pharmacy tech, male police officer & the gunman. pic.twitter.com/eLesHfxdPZ

— WBLR 103.7 FM (@wblr1037fm) November 20, 2018
Here is the photo of the gun that stopped a bullet at Mercy Hospital last night. The officer is alive because of this. #Chicago pic.twitter.com/S4k61dWiyS

— Arturas Kerelis (@arturaskerelis) November 20, 2018