28-year-old Ricardo Tracey wanted by the Toronto Police in connection with a sexual assault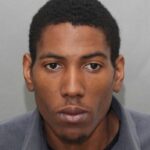 28-year-old Ricardo Tracey is wanted by police in connection with Sexual Assault causing bodily harm. Ricardo is described as 6'2 with cropped black hair and very little facial hair.
Police have placed him along Spadina Avenue and he also frequents Lakeshore Boulevard West as well as Fort York. Tracey will also be charged with 7 other charges including:
1. Sexual Assault Causing Bodily Harm 
2. Five counts of Assault 
3. Assault with a Weapon 
4. Two counts of Threaten Bodily Harm 
5. Threaten Death 
6. Mischief Under 
7. Assault with Intent to Resist Arrest 
8. Escape Lawful Custody 
Anyone with information is asked to contact police at 416-808-1400, Crime Stoppers anonymously at 416-222-TIPS (8477), online at www.222tips.com, online on our Facebook Leave a Tip page, or text TOR and your message to CRIMES (274637). Download the free Crime Stoppers Mobile App on iTunes, Google Play or Blackberry App World.