The Annual Amber Rose Slut-Walk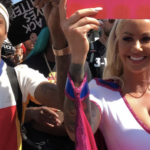 Amber Rose held her annual SlutWalk this past weekend. The walk is in its third year and was hosted by comedian Lilly Singh and Ron G, and Radio host Big Boy. This year's walk was colorful, full of sparkle, and celebratory with women from all walks of life coming together for a common cause.
The showcase was headlined by O.T Genasis and had many special performances and celebrity guests. Singer Khelani and rapper Black Chyna were also spotted at the event.
https://www.instagram.com/p/BZwB-FzgtkT/?hl=en&taken-by=kehlani
The opened Women's Conference was also hosted at the event with keynote speaker Ms. Debbie Allen. There were 5 workshops held at the conference each discussing a different topic from sex and relationships to knowing your rights and activism. Among the panelists was Lisa Bloom who has been in the media as of late for her high-profile clients and for her no-nonsense demeanor.  
https://www.instagram.com/p/BZuKNPsBk97/?hl=en&tagged=openedwomensconference
Amber Rose started her annual SlutWalk because of a movement that happened in Toronto in 2011 which brought into question the issues of women's rights and the notion of "my body, my choice".
With women in Saudi Arabia just getting the right to drive a vehicle last week; something most North Americans take for granted, the SlutWalk symbolizes not only how far women have come but also how much work there is still left to do.
The SlutWalk is not-for-profit and is held in over 200 countries in various forms. The mission this year at ARSW17:
To deliver a flawlessly executed event geared toward raising awareness about sexual injustice and gender inequality. The Amber Rose SlutWalk aims to impact and uplift while shifting the paradigm of rape culture. The event provides a safe, all-inclusive space to entertain, educate, and empower.http://amberroseslutwalk.com/our-story/
Amber Rose was escorted by her longtime boyfriend rapper 21 Savage. Rose posted a heartfelt message dedicated to the rapper for his support of her and the movement.
https://www.instagram.com/p/BZwE_faBuWR/?hl=en&taken-by=amberrose
What Instagram has to say:
https://www.instagram.com/p/BZui8xBBFLA/?hl=en&tagged=arsw
https://www.instagram.com/p/BZvuirnBeaF/?hl=en&tagged=arsw
https://www.instagram.com/p/BZvFzmyAU-X/?hl=en&tagged=arsw
https://www.instagram.com/p/BZu28-_Hx6X/?hl=en&tagged=arsw
https://www.instagram.com/p/BZucFPKBxBI/?hl=en&tagged=arsw