Batman and a $240,000 Timepiece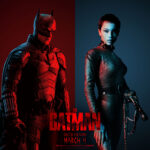 ---
The New Batman Movie starring twilight star Robert Pattinson was released march 4, 2022, three years since the start of the Covid-19 pandemic. Box office sales have been slow as thousands of theatres closed their doors due to the pandemic. In the last year and a half the movie business has implemented soft openings around the world in an effort to get past the pandemic, and back to business as usual. Since the release of the movie batman in March the film has grossed nearly $500 million at the box office, making the release the biggest of 2022.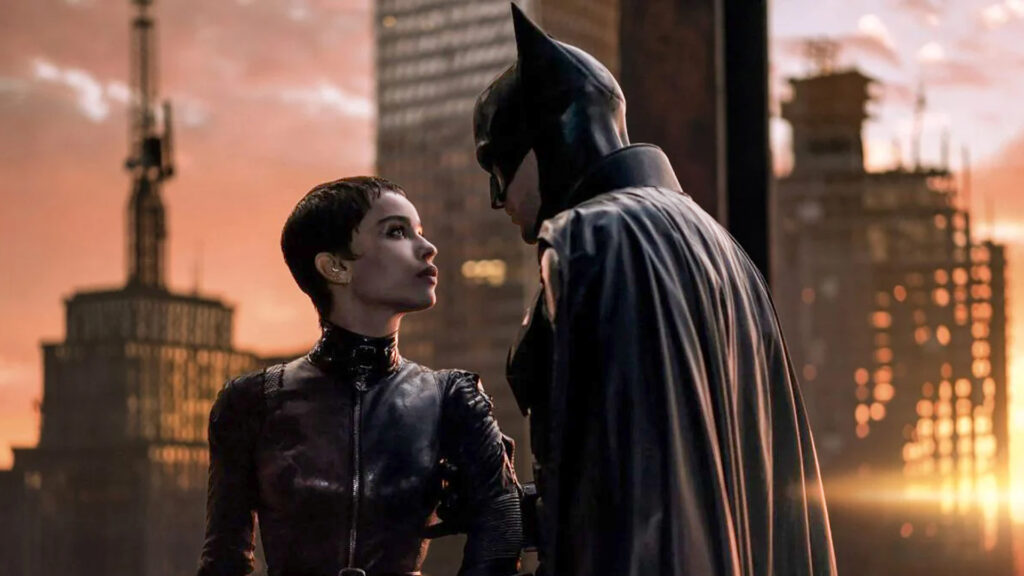 In commemoration of the new movie a Luxury Jeweler, Jacob and Co has introduced a new watch to their collection that features the iconic character. The company founded in 1986 is based in New York City and services customers worldwide. Since 2002 the company has tried to modernize their lines leading up to the latest timepiece.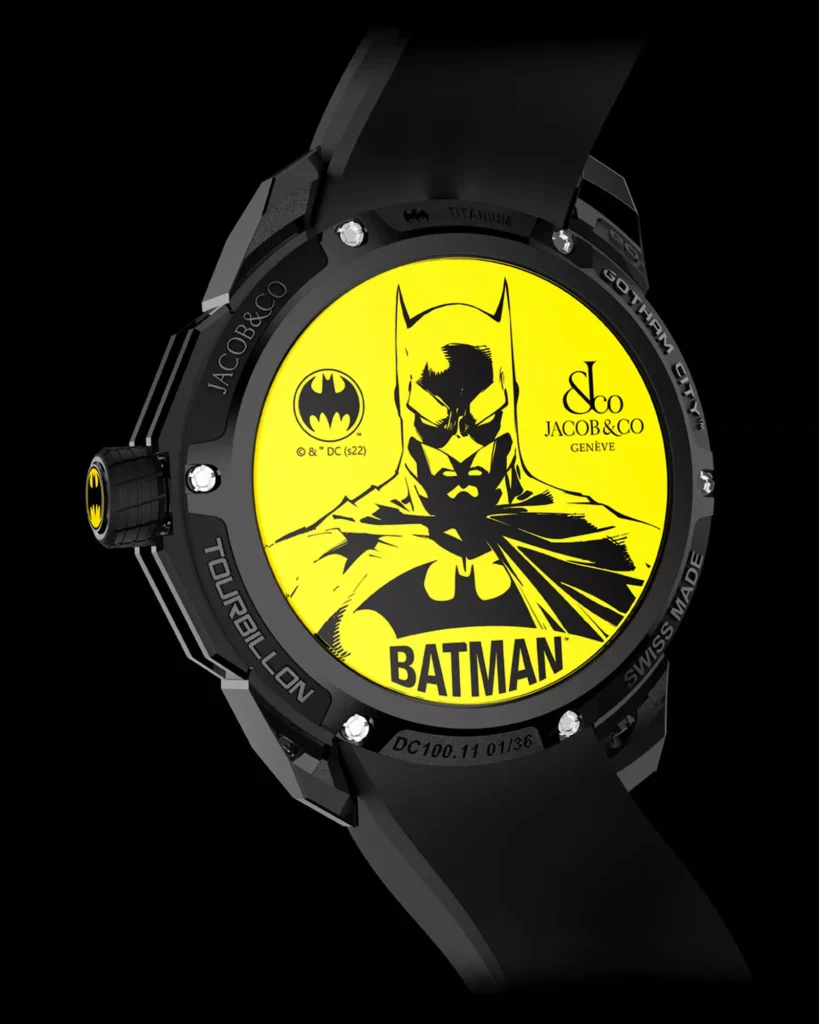 "I love to create," says Mr. Arabo. "My dream has always been to invent things that haven't been done before. For the brand, it's about making the impossible reality."

Jacob & Co.'s mission is to create beautiful, dynamic and unique pieces of watchmaking and jewelry art. -Jacob and Co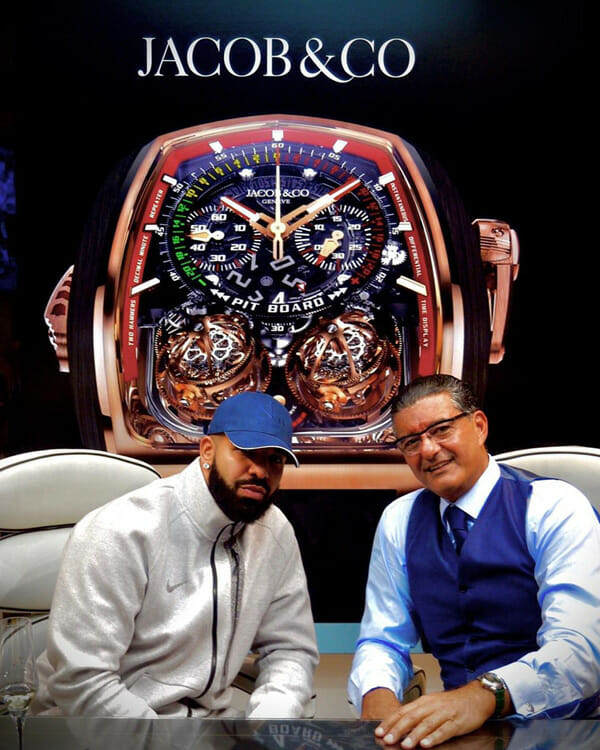 The company has other notable watches like the Bugatti, a collaboration between Jacob and Co and the car manufacturer, that features a sleek design in the shape of the radio featured in the classic car.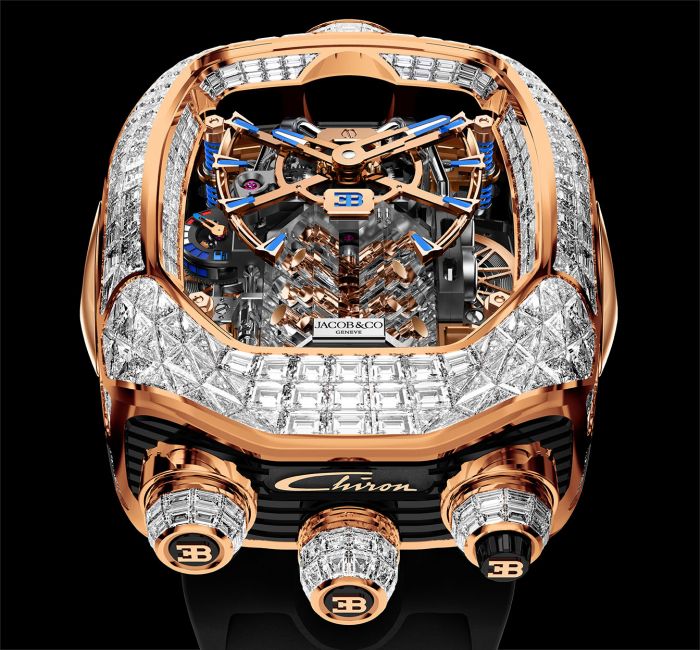 There is also a watch called the Godfather in collaboration with Paramount pictures that features the original Godfather logo.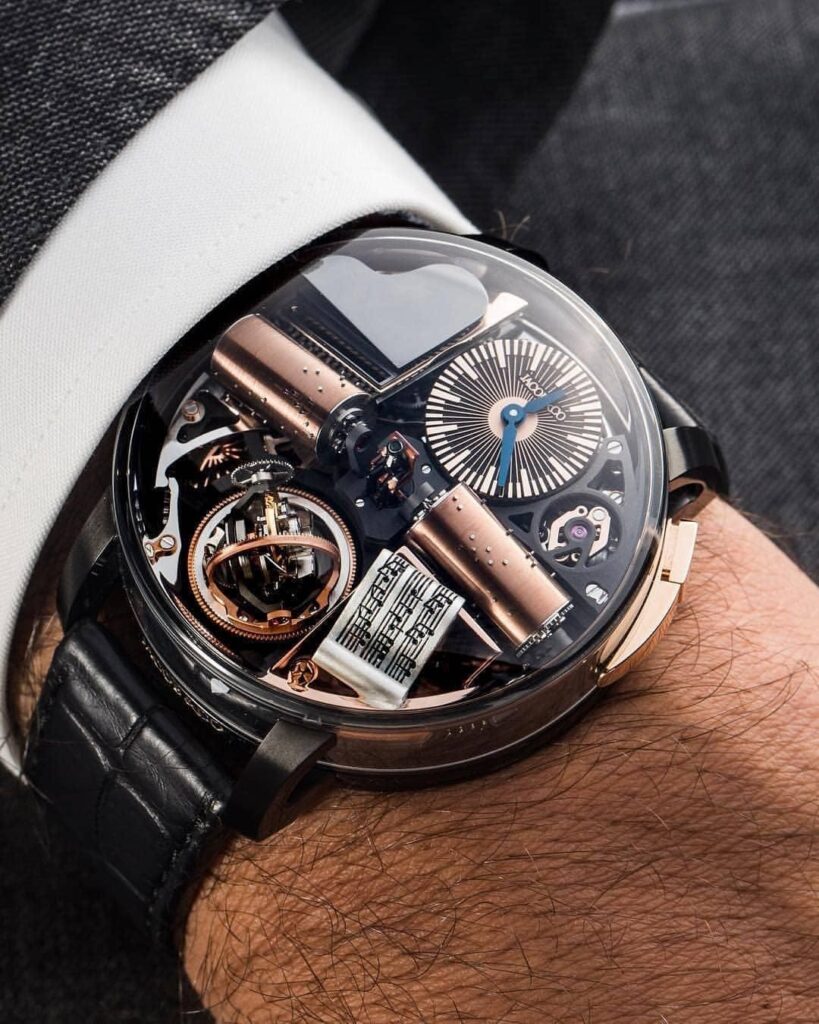 There is also a collaboration with Lionel Messi, "footballs most iconic player." That is made with sport in mind. This collaboration has led to three lines of watches including the Epic X Chrono Messi.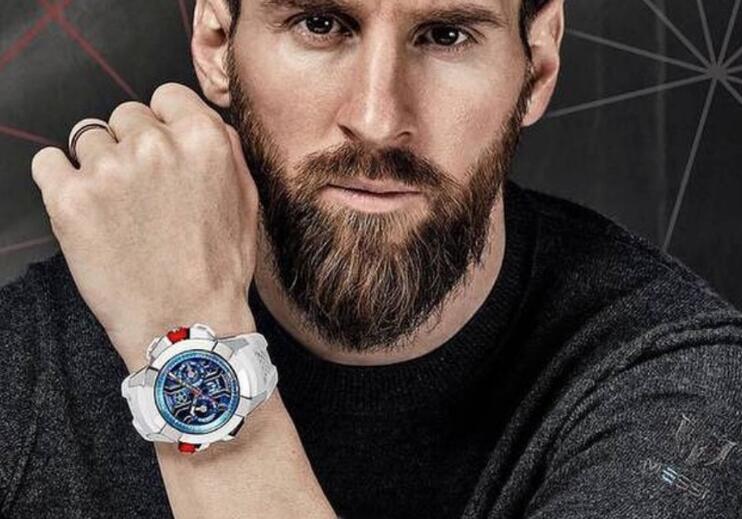 Another classic piece is the Luis Figo timepiece the FC Barcelona and Real Madrid star. This is also apart of the X Chrono collection.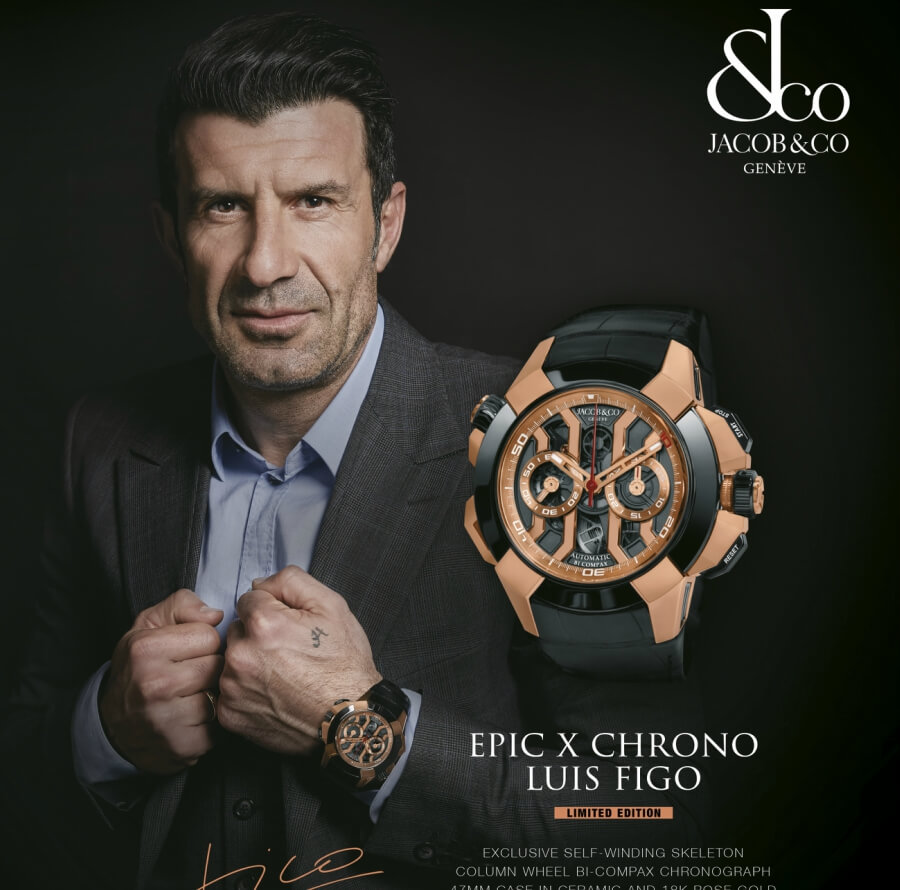 Then there is the Scarface watch, in collaboration with Universal pictures. This watch is apart of the Opera collection that includes an integrated music box playing Bolivia.
UFC fighter Khabib Nurmagomedov has created two separate pieces that can be worn as complimentary pieces.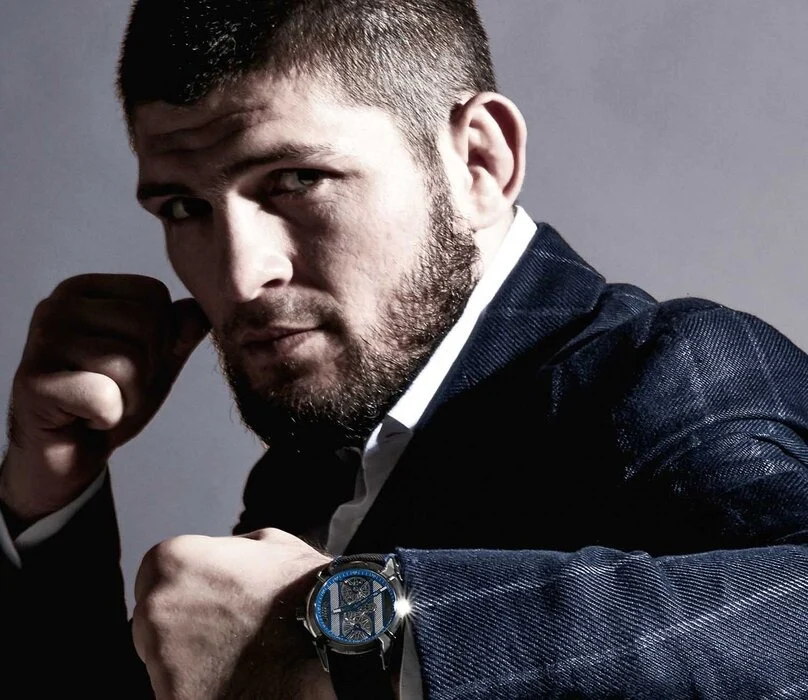 Activist Johan Emst Nilson created the exclusive Astronomia that celebrates the beauty of planet Earth. "The Astronomia is the only watch I've ever had people ask me about while I am wearing it, so we will be starting conversations that hopefully will lead to change. The limited edition Astronomia Everest will spread the word about the fragility of our planet."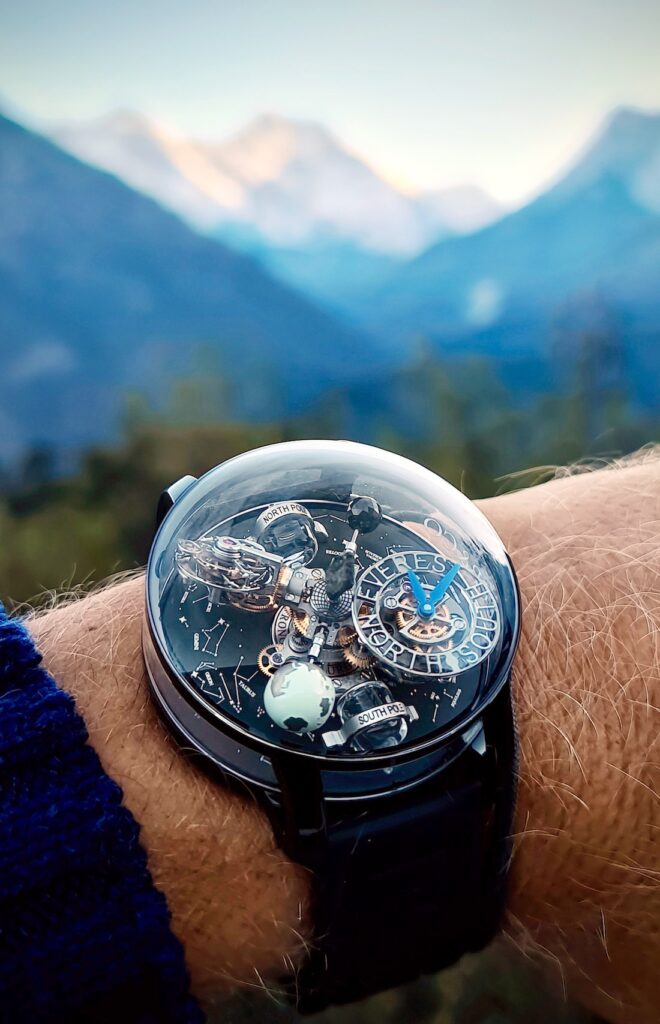 Supreme X Jacob and Co, this complimentary line features five time zones. this is a highly sought after watch by the company that high profile celebs and business people alike enjoy displaying.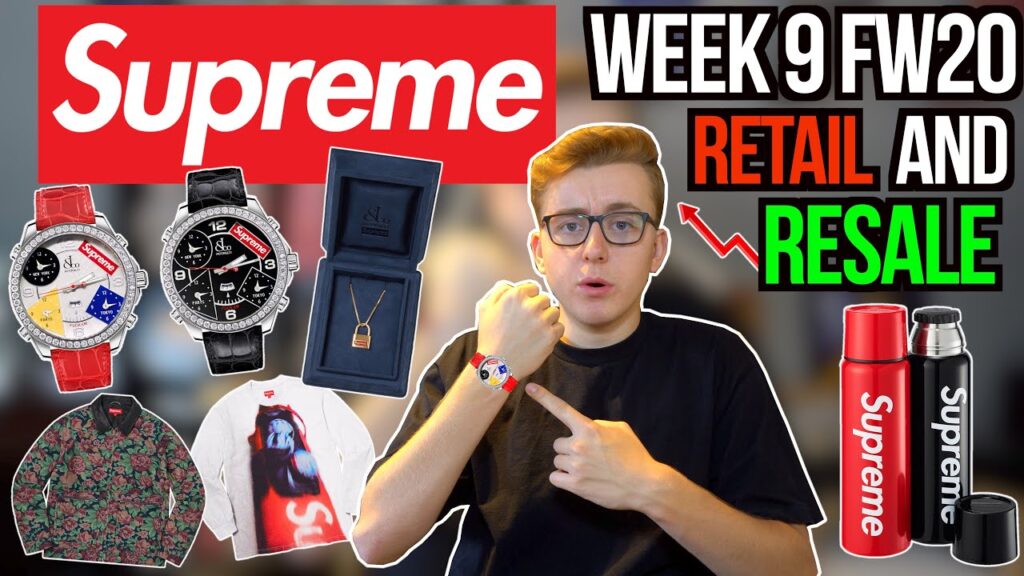 Two versions of the watch will be made: one in black Diamond Like Carbon (DLC) titanium in a limited edition of 36 pieces that will sell for $220,000 and the other in 18-karat rose gold (also in 36 pieces) that sells for $240,000. Both watches are chocked with the same movement: the Jacob & Co. manual winding JCFM10 movement consisting of 382 parts. The movement boasts twin flying triple-axis tourbillons that are visible on the dial side. Constantly in motion, the tourbillon escapements are high-speed – much like Batman himself when he flies into action. -Forbes