Battle of the Housewives: Nene Leaks vs. Kim Zolciak Biermann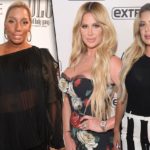 The Real Housewives of Atlanta is set to premiere tonight 8/7c and it promises to be a good one. Stars Nene Leaks and Brielle Biermann daughter of co-star Kim Zolciak Biermann, have been having a tit for tat playing across social media and fans are excited to see how their relationship plays out onscreen. The issue more or less started on snap chat and quickly escalated when Brielle posted a video in co-stars Nene's house and allegedly saw and filmed what appears to be roaches on the floor.
Here's out it played out on Instagram:
Tune in tonight to see how it all goes down.