Bombardier Count Down to the Singapore Airshow 2018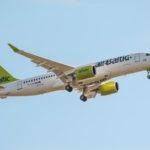 The Singapore Airshow will be held on Feburary6th to 11th at the Changi Exibition Centre, Singapore.  Bombarier the multinational aerospace company based in Montreal Canada, will be attending the show  with one of their commercial aircrafts.
While looking forward to the event the company released a press statement on Feburary 4th celebrating four years of service in Singapore.
Bombardier Business Aircraft's Singapore service centre continues its impressive capability and capacity growth. Since its opening in February 2014, the Singapore service centre has provided high-quality OEM expertise during more than 2,200 Bombardier Business Aircraft maintenance support visits, including visits for the largest and most complex events of the aircraft lifecycle.-Bombardier
The company which hires a large amount of its native country's workers released pictures of the aircrafts that will be displayed in the show.
"Asia-Pacific is a region of unmatched opportunities where Bombardier has recently gained significant momentum. The CS300 aircraft's recent Asian commercial debut with Korean Air Lines highlights our breakthrough into the region's fast-growing market," said Fred Cromer, President, Bombardier Commercial Aircraft. "Passenger demand in the region is increasing fast, driving demand for more short-haul aircraft, more flight frequencies and more city pairs to increase connectivity. We are confident our product line-up will continue to be instrumental in supporting intra-regional growth, as well as further protecting passenger yields in the region."-Bombardier