A Book in the Works for Colin Kaepernik?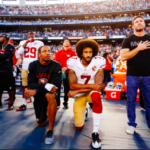 Page six originally reported earlier today that Colin Kaepernick has signed a book deal with Ransom House Imprint One World. It's being speculated that the athlete will be making somewhere around $1 million to pen the book. There is no word on what exactly the book will be about but one can only assume it will detail the controversy that ensued when the football player kneeled during the anthem as an act of protest.
There is currently a petition on change.org to reinstate the former 49er quarterback into the league. 198,703 of the 200,000 signatures needed have been collected.
"I am not going to stand up to show pride in a flag for a country that oppresses black people and people of color. To me, this is bigger than football and it would be selfish on my part to look the other way. There are bodies in the street and people getting paid leave and getting away with murder."-Colin Kaepernick
A man who protested because of injustices towards people of color is pretty much blackballed in a league that is 70%, Black. 
https://www.change.org/p/nokaepernicknonfl-boycott-nfl-games-if-colin-kaepernick-doesn-t-play-this-season-nflcommish