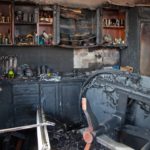 The California Wild Fire which has been growing since Monday is still fuming. The fire has now claimed an estimated 13 lives. According to KRON1, there are currently 5 separate fires burning. The cities affected are Napa, Sonoma, Mendocino, and Yuba countries. Upwards of 100 people are still missing.
Evacuation Centers have been set up in order to assist residents in the affected areas. First responders are on an "Instant Command" which means that all departments will be working together in unison to get to affected areas. According to KRON1 responders are in "prevention mode", while containing.
In January a similar declaration was made during the periods of January2-January12, 2017 when the state experienced a rough winter with flooding and heavy mudslides. Federal funding was released to "State, tribal, and eligible local governments and certain private nonprofit organizations on a cost-sharing basis for emergency work and the repair and replacement of facilities damaged by the severe winter storms, flooding, and mudslides."
In Response to the widespread devastation the fire has caused, President Donald Trump issued a "major disaster declaration for California" though Vice President Mike Pence in a briefing this morning; which will be similar in operation as the one in January.
Latest on California wildfires: – 11 dead – 20,000 evacuated – 119,000 acres burned – 1,500 buildings destroyed [via @cnn]
Woman tearfully sifts through rubble of burned-down home in California for her wedding ring. "We've been married 26 years" #california #fire #wildfire #flames #ring #weddingring #marriage #love #family