Canada and U.K Trade Talks Following Brexit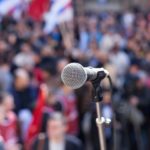 Canadian Prime Minister Justin Trudeau met with the British Prime Minister Theresa May yesterday to continue trade talks between the two countries as well as discussing women's rights around the world.
The two held a joint press conference in the nation's capital of Ottawa, to discuss a bilateral trade deal.
Last year the U.K voted to leave the European Union (E.U) with 51.9% of voters in favor while 48.1% of voters wanting to remain in the EU. The vote was shocking for many around the world.
https://www.instagram.com/p/BZN4-8eHRU9/?taken-by=theresamay
The meeting between the two Prime Ministers stood to strengthen Canadian U.K relations mainly on the issue of trade and job creation across the two nations.
Prime Minister May discussed clean energy and pledged a joint commitment between Canada and the U.K "to supporting the global transition away from a reliance on coal as an energy source." The U.K is expected to phase out unabated coal by 2025.
Prime Minister May also discussed CETA (Comprehensive Economic Trade Agreement), which comes into effect later this week. The trade deal will eliminate up to 98% of Canadian import duties and is expected to increase British exports.
The two also discussed the gender pay gap and how both countries are going to continue working on gender equality both in their nation states and through the UN.
The Canada-UK friendship has stood the test of time. Today, I welcomed UK Prime Minister Theresa May to Canada for talks on trade, defence, security and growing our economies to benefit people in both countries. We got a lot done to strengthen our relationship on many fronts. ???? L'amitié canado-britannique a résisté à l'épreuve du temps. Aujourd'hui, j'ai accueilli au Canada la première ministre du R.-U., Theresa May, à l'occasion de pourparlers sur le commerce, la défense, la sécurité et la manière de faire croître nos économies dans l'intérêt de la population des deux pays. Nous avons beaucoup accompli pour solidifier notre relation sur plusieurs fronts.