Canada's Countdown to Legalization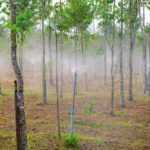 The legalization of marijuana in Canada may soon be a reality. Among other things, one of the attributes to Prime Minister Trudeau's popularity with millennial voters was his promise to work towards legalizing and properly regulating cannabis use. As it stands the proposal set in place states the legal age to buy and consume cannabis at the same as the drinking age in Alberta, Manitoba and Quebec, 18.
Many speculate that Trudeau and the liberal government will not see their plans set in motion, but according to a survey originally posted by the National Post, 68% of Canadians are curious and in favor of cannabis legalization.  The opposition Conservative Party led by Andrew Scheer is the main critic of Trudeau's plan.
The proposed plan would also drastically decrease marijuana-related arrests and is scheduled to take effect July 2018. According to Statistics Canada, there were 95,417 drug-related arrests nation-wide in 2016. Among these arrests are mainly males ages 18-24.Cannabis users under the plan will be allowed to have 30 grams of cannabis on their person in public.
The Conservative Party has raised many red flags including public health and safety and impose that Prime Minister Trudeau is rushing legalization because of the next Federal election slated for October 2019.
The Liberal Party has maintained that:
The Government will invest additional resources to make sure there is appropriate capacity within Health Canada, the Royal Canadian Mounted Police, the Canada Border Services Agency and the Department of Public Safety to license, inspect and enforce all aspects of the proposed legislation. These additional resources will also allow the Government to undertake a robust public awareness campaign so that Canadians are well informed about the dangers of driving under the influence of cannabis and other drugs. –Health Canada
There has also been speculation that the sale of cannabis will be done through LCBO the Liquor Control Board of Ontario; which holds the monopoly over the sale and distribution of alcohol within Ontario and reports to the Ontario Ministry of Finance. Fact or fiction there will be as strict regulation as there is of alcohol including possibly a reboot of the RIDE program (Reduce Impaired Driving Everywhere). Law enforcement officers will also have an oral test that will work like a breathalyzer. In constitutional fashion, citizens will still be barred from bringing and selling marijuana across the Canadian border. Canadians will also be able to purchase marijuana or cannabis online through various federal providers depending on the province.