Drake and The Raptors unveil new collection after win against the Cavs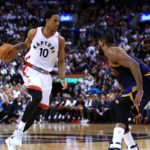 The Toronto Raptors played a riveting game last night beating the Cleveland Cavaliers 133-99.
"I would hope not," he said, dismissively. "I don't … I … at this point? Three and a half, four years into this thing? I hope not. I don't have them. I don't have agendas. I just want to win, to get guys involved and play ball the right way."-Lebron James
"I told Freddy he shoulda had 30" – Deebo

Full Clips: https://t.co/GGh48MOOFJ pic.twitter.com/oXEOdZGp5g

— Toronto Raptors (@Raptors) January 12, 2018
Although LeBron James scored 26 points with only 1 assist it wasn't enough to defeat the Raptors who saw Fred Van Vleet scoring
22 points with 4 assists.
This that new Toronto.

Presenting our very own OVO Edition Jersey.

Available now at @RealSports & @welcomeOVO. pic.twitter.com/IwOzyAkVB2

— Toronto Raptors (@Raptors) January 12, 2018
Toronto Native Drake was also present for last nights game and this morning the Raptors unveiled their OVO (Octobers Very Own) inspired jerseys that were designed by the entrepreneur. The jerseys can be purchased though the OVO website as well as the raptors usual distribution service.
Fresh jerseys. Clean court. Fire giveaway.

You know we got you, T.O.

Tickets » https://t.co/NfqEK9hcvO pic.twitter.com/bjPqxPUsMW

— Toronto Raptors (@Raptors) January 12, 2018
The team court has also been revamped with the OVO black and gold design another homage to the entrepreneur who is expected to open his restaurant Pick 6 to the public shortly.