Drake lands cover of the Hollywood Reporter and Announces new project with Netflix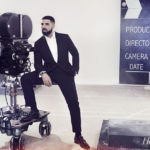 Rapper, songwriter and producer Drake, took to Instagram to announce a new partnership with Netflix "Top Boy" that will be unveiled in 2019.
Top Boy was originally a British television crime drama, which ran two series in 2011. The story followed the characters Ra'Nell a drug-dealer and his mother Lisa who was committed to a mental hospital.
Drakes' roll in the project is not yet clear but the rapper has been easing into the film world with the release of The Carter Effect at the Toronto International Film Festival. The entrepreneur executive produced the film along with LeBron James and Maverick Carter.
"My taste in television or movies is always kind of similar to my approach to music, which is, I like when people really hit the nail on the head with real human emotions," explains Drake. "So with Ozark, it's just the family dynamic. The arguments. The love. The struggles. I really relate to how accurate it is, "says Drake.-TheHollywoodReporter
The rapper also unveiled his cover for The Hollywood Reporter in which he discusses his film and TV prospects as well as his acting career.
"Being a young black guy, I think there's definitely the chance to get typecast. But I also have been pretty adamant about showing range. I try to show it through different outlets, like Saturday Night Live, showing people that I can be funny,"

"When I get back into acting, I want to do things that make people go, 'Wow, I didn't expect that,'" says Drake.
The Canadian has been touring New Zealand and Australia with the "BOY MEETS WORLD" tour, and is currently in Sydney Australia, with the next stop on the tour being Brisbane on November 10th.
"I'm sure I'll stop [making music] one day," says Drake of rapping. "When it starts to feel like I'm making it up. Hopefully, I'll catch it before I ever get there, right? But right now it feels like we just started, so I don't plan on stopping anytime soon. But I do plan on expanding — to take six months or a year to myself and do some great films. Music's always there."
Whether the mogul stops making music or not, one thing is for sure his empire is on the rise. The rapper has his own whiskey bottled "Virginia Black". He has also launched his fashion brand OVO, with a growing number of OVO stores in the United States and Canada and another one expected to be opened in London shortly. The rapper has numerous brand deals and various acts on his OVO label.
Click here to read the full article: http://www.hollywoodreporter.com/features/drakes-hotline-hollywood-inside-an-ambitious-push-film-tv-1055765