Duo Black Motion kicked off British Airways Flight in South Africa for a white passenger on Monday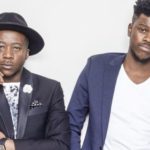 According to the Independent two passengers were downgraded from business class to economy to make room for another passenger on Monday.
Thabo Mabogwane and Bongani Mohosana a musical duo called Black Motion were traveling with British Airways in South Africa at the time of the incident. The duo has released four albums; their first album Talking Drums debuted in August 2011.
The duo speculates this was a racial issue because the passenger was a white woman.
The musicians say that after a white woman complained that her seat was broken and she needed to move, they were asked to downgrade to economy class.

In an Instagram post, Bongani "Murdah" Mohasana said: "Black Motion happened to be the only two young black men in the British airline business class.

"We were embarrassed and removed from business class just because a white lady complained about a broken seat."-The Independent
There is currently an investigation into the issue and the left-wing party of South Africa has gotten involved sighting guilty parties will "face the full might of the law"
"We have been made aware of this incident. Comair and British Airways will not tolerate racism. We regard these allegations as very serious and they thus warrant thorough investigation. We will establish what happened and take whatever action is required," said Comair's Shaun Pozyn.-TimesLive
Although apart of the corporate responsibilities the company adheres to is Customer wellbeing when a race is thrown into the mix it seems more and more in these cases that airline companies are simply not adhering to the policies in the eyes of black national groups. British Airways has maintained that they are "building an inclusive culture" and in 2016 came in 6th in the inclusive Top 50 UK Employers List.
Our aim is to ensure that all customers' journeys are as comfortable as possible.-British Airways

SAPS spokesperson Brigadier Vishnu Naidoo told TshisaLIVE that they have no record of police removing anyone from an aircraft on Monday.

Despite numerous attempts by TshisaLIVE, Airports Company South Africa could not be reached for comment at the time of publishing this article.
https://www.instagram.com/p/BcURTc-AvCs/?taken-by=murdahbongz
British Airways has seen a 20% spike in company revenues over the past year and company executives are certain that margin will continue going up. Shareholders within the company were worried within the past couple of years because of the rise in oil prices and what that would mean for ticket sales.
Ultimately what matters is the final price. ultimately if there are "high taxes that is a bummer but there are high prices"-British Airways.
British Airways employs value-based pricing which means that many customers use their airline points to purchase tickets from business class to economy.
Value-based pricing is the setting of a product or service's price based on the benefits it provides to consumers. By contrast, cost-plus pricing is based on the amount of money it takes to produce the product.-Investopia