Mexican Actor Eduardo Yanez Bi*ch slaps a reporter live.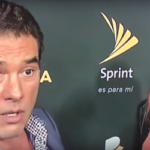 Mexican Actor Eduardo Yanez Bi*ch slaps a news reporter on live TV!
In Mexican Novelas known as soap operas, it is a common thing to see slaps in all episodes. See for yourself below:
The star Eduardo Yanez slaps Univision Personality Paco Fuentes live after asking a question about Yanez son.
The Slaps of all slaps!!
Mexican actor Eduardo Yanez forgot he wasn't in a novela, and fua went full force and slapped a news reporter. He went all in. Did not hold back one bit. This was definitely a mega slap as the reporter fell back.
Just moments before that everything was going ok. They were actually having a peaceful interview.That is until the reporter asks about his son.
https://www.instagram.com/p/BaJ2MAoBf02/?taken-by=grindfacetv
The reason why Eduardo Yanez slapped the reporter.
Eduardo Yanez son doesn't get along with his son to well. His son has publicly spoken on his father in the past and it wasn't so nice. The reporter pushes Yanez buttons by asking him a question about his son, which Yanez is not happy about at all!
The reporter asks how his son was and about his GoFund me page after his son totaled his car. Yanez replied, "if you are so worried about my son, why  don't you go talk to him"? The reporter replied by saying people where curious and he was just the messenger.
Yanez, said that the reporter was just looking for a headline and there wasn't one and he lost it after the reporter try to explain himself. Eduardo Yanez slaps the reporter.
The Internet Responded with these great memes
https://www.instagram.com/p/BaKCZuDnrxP8yr04BU0vCUzD39EW0-jyrEwKaI0/?taken-by=el_monito_cabron
https://www.instagram.com/p/BaLG7M9DG-m/?taken-by=eduardo.yanez7
What would you have done?
Would you have slapped the reporter too or walk away? Comment below.