Elon Musk and Space X conclude Falcon Heavy Spacecraft Test Today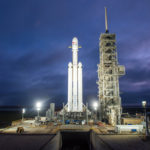 Space X unveiled their plans to take commercial flights into space with its project "Crew Dragon." The spacecraft was the first to deliver unclassified cargo to the space station, which was not a government run operation.
The site's location on the southeast coast of the US provides access to a wide range of low and medium inclination orbits frequently used by communications and Earth-observing satellites and by supply missions to the International Space Station. The site also allows access to geostationary orbits, as well as departures to the Moon and interplanetary destinations.-Space X
The spacecraft is sleek was emergency tested in 2015 including escape measures and a high functioning system for a smooth and enjoyable ride.
The company also made headlines today for launching The Falcon Heavy rocket from the Kennedy Space station making an "arc to space." The Falcon Heavy is their second product in the line of Space X rockets that are being tested and used for Earth Orbit and eventual interplanetary travel.
At about three minutes after liftoff, the center core broke away from the upper stage — the top portion of the rocket that is carrying the Falcon Heavy's payload, Musk's Tesla roadster. It then attempted to land on SpaceX's drone ship, but live video of the landing stalled just before the core was slated to make its touch down. "We lost the center core," someone said on a separate, unlisted live stream of the launch.-The Verge
https://www.youtube.com/watch?v=KORTP545vAc