Ethiopia declares state of emergency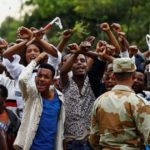 Ethiopia declared a national state of emergency today after the resignation of Prime Minister Hailemariam Desalegn.
The prime minister has been in power since 2012 before he resigned on Thursday the 15th of February 2018. Last year there was a similar state of emergency declared because of the contant street protests that leave civilians like children and the elderly deffenceless and easily targerted in the peaceful and also violent protests that are a result of hundreds of prisoners being released onto the general population.
The independent is calling the crisis "the worst anti government protest in 25 years;"  in which it also sites the prime minister is trying to remove himself from the problem in order to be apart of the solution.
What Twitter has to say:
#Update: #US Embassy in #Ethiopia temporarily suspends all travel for its personnel outside of #AddisAbaba , says security environment in country is fluid and can deteriorate without warning. pic.twitter.com/VuDsDbRXlR

— Omar Kiyow (@OmarKiyow) February 16, 2018
https://t.co/ebdQWcJD2x #Ethipoia #politics #Manufacturing #deaths #power

— Life's Humble Hunt (@lifeshumblehunt) February 15, 2018
The cancerous ethnocentric #TPLF minority #WEYANE regime of #Ethipoia house of cards is in disarray. https://t.co/UghsqROR3l

— Daniel Ghebremedhin (@HijiwunMekete) February 8, 2018
Please remember that Black History is not just part of Canadian history. We have Black & mixed heritage students from the diaspora. Black history is world-wide. #Ghana #SouthAfrica #Somalia #Jamaica #Ethipoia #Barbados #LatinAmerica #Uganda #IndegenousAustralia #Europe & more

— @PAACEonthemove (@PAACEonthemove) January 25, 2018
Full house for the @VNGi new year reception. We're pleased to celebrate and look ahead to 2018 with our partners and colleagues in The Hague and around the world. #Jordan #Lebanon #Ethipoia #SouthSudan #Burundi pic.twitter.com/jX9xKM2As5

— The Hague Academy (@TheHagueAcademy) January 19, 2018
#Ethiopia Oromo protestors today celebrating a victory that is unprecedented in African history: peacefully forcing the most powerful regime on the continent to set thousands of political opponents free. But what happens next? Analysis here: https://t.co/ARvsUA0bbT pic.twitter.com/LK4OF2UA1G

— Bronwyn Bruton (@BronwynBruton) February 14, 2018
Africa In the last 24 hours:

✴ #SouthAfrica President Zuma resigned.
✴ #Ramaphosa elected SA's New president.
✴ #Kenya court overturns citizenship revocation of #MigunaMiguna orders for release of his passport. Gov't appeals.
✴ #Ethiopia's PM Hailemariam resigns. pic.twitter.com/RTxZN9FXiU

— Kenya West© (@KinyanBoy) February 15, 2018
#Ethiopia youths began 3-day strike in Oromia today that may be escalating into a full protest, with reported violence by security forces against students at Haramaya University, and all major roads to Addis closed. This photo from Woliso shows people milling on a blocked road. pic.twitter.com/3bSLvRhrO0

— Bronwyn Bruton (@BronwynBruton) February 12, 2018
A political earthquake in #Ethiopia—> "I see my resignation as vital in the bid to carry out reforms that would lead to sustainable peace and democracy." https://t.co/8ZCIyfYGga

— Jeffrey Smith (@Smith_JeffreyT) February 15, 2018
#Somalia also should worry about #Ethiopia crisis when #Ethiopia troops pull out to deal with internal situation. https://t.co/U0U2DN1lyG

— Rıκ Dεʟнααƨ (@RikDelhaas) February 16, 2018
Retweeted Mastewal Brihanu (@massbr):#Ethiopia: People power dose everything, so still I have a big hope to… https://t.co/hG1tIM6dD4

— Dawit Kidanework (@dawitkwo) February 16, 2018
Retweeted Jeffrey Smith (@Smith_JeffreyT):

Long, long overdue in #Ethiopia–> "Ethiopians need a government… https://t.co/baH6Fny8nl

— Dawit Kidanework (@dawitkwo) February 16, 2018
The #Ethiopia's #SOE is a Military Coup. The SOE was neither approved by the parliament and nor it was deliberated by all parties. The SOE will further escalate the crisis.@StateDept @GerEmbAddis @BronwynBruton @itsjina @sallyhayd @AnaGomesMEP pic.twitter.com/KxkN366UtM

— Tadese O'Barr, Bekana (@bekansiif) February 16, 2018
#UPDATE: #Ethiopia declares state of emergency after resignation of prime minister @PrimeMinisterHD Federal army told to be on alert pic.twitter.com/PvVW89dERr

— Omar Kiyow (@OmarKiyow) February 16, 2018
State of emergency declared in #Ethiopia amid political unrest https://t.co/2aX9z8oGgZ

— JMS Ventures Group (@ventures_jms) February 16, 2018