Forbes Under 30 Summit 2017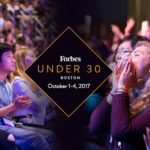 The Forbes under 30 Summit that was held in Boston ends today. The four-day summit celebrated the 30 most influential people who are under the age of 30 and also brought together 600 of the best and brightest, ranging from entrepreneurs to athletes. The summit is expected to have seen over 10,000 attendees with 95 countries represented. Actor and Rapper Childish Gambino has graced the list many times along with singer Justin Bieber and Basketball player LeBron James.
This year a new feature of the summit was "Women @Forbes Under 30". The event held on the MIT campus is geared towards getting women more excited about careers in technology and finance. The Forbes under 30 scholarship was also introduced this year. The scholarship will look to award around 1000 individuals from various backgrounds who will also get to attend the summit.
One of the youngest on the list is Maanasa Mendu a 14-year-old student from Ohio. She made the "energy" list for a piezoelectric. If like me you don't know what that is, a piezoelectric is a ""leaf" device that harvests energy from the sum wind and rain," for which the high schooler is working on commercializing.
Four-time Olympian gold medal winner Simone Biles made the sports list. The 20-year-old is also a 10-time world champion gold medal winner and the most decorated United States women's gymnast.
According to Forbes one in seven people on the various lists have immigrated to the United States.
Canadian, Alessia Cara made the music 30 under 30 list. The pop singer who has had success home and abroad has sold more than 2 million copies of her single with her album "know-it-all" going gold. She was also featured on the Disney original Moana rendering a song for the movie.
Rapper Kendrick Lamar was also spotted at the event among other friendly celebrity faces.