How to get a free burger on National Cheeseburger day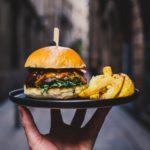 How to get a free burger on National Cheeseburger Day!
Who doesn't love a good food holiday. Especially when it involves getting free food!
Did someone say free food? Sign me up!
Shake Shack is graciously giving a free cheeseburger with a delivery included.
Heres how to get it:
Download the Door Dash app. You have to place an order for $12 or more so might as well get you some fries and a coke. This will get you free delivery and lunch!
Hurry because it is available for only one more hour from 11 AM – 2PM
Heres more places below:
Applebee's: Burgers that normally cost in the neighborhood of $9 to $12 are being priced at a flat $6.99 on Monday.
BurgerFi: The BurgerFi Cheeseburger—a double with angus beef and American cheese that normally costs about $7—is available at the special price of $5 on Monday. Just mention the offer at the register, and note there is a limit of one $5 burger per customer.
Dog Haus: All customers can upgrade from a single to a double cheeseburger at no extra charge on National Cheeseburger Day.
Fuddrucker's: Are you up to the 3-Pound Burger Challenge? On Monday, Fuddrucker's is daring customers to order a 3-lb. burger with a 1-lb. order of fries and endless Coca-Cola beverages for $24.99. If you finish the entire order in one hour, you'll get a $20 gift card and a T-shirt proclaiming your accomplishment.
Hwy 55: From 5 p.m. until closing on Monday, Lil' Cheeseburgers at Hwy 55 are just 55 cents apiece (normal price: $3.39). Each Lil' Cheeseburger can be accompanied with up to 13 toppings, including lettuce, tomato, onion, chili, and grilled mushrooms.
Ninety-Nine Restaurant & Pub: Cheeseburgers with your choice of American, Swiss, or cheddar cheese are $5 each on National Cheeseburger Day.
Shake Shack: From 11 a.m. to 2 p.m. on Monday, Shack Burgers are free when ordered and delivered by DoorDash. Enter the promo code SHACK at checkout.
What Twitter had to say: 
Yep…. Pretty much.
Thanks for the suggestion Twitter ?#NationalCheeseburgerDay pic.twitter.com/1iwV4jMWXZ

— Meta Jane ♥️ (@metajane) September 18, 2017
Happy #NationalCheeseBurgerDay from #BobsBurgers! We hope your day is as nice as can brie. pic.twitter.com/DDoJ3oxEHS

— Bob's Burgers (@BobsBurgersFOX) September 18, 2017
What Instagram had to say: 
https://www.instagram.com/p/BZMG-U7A9sm/?h1=en&taken-by=vansskate
https://www.instagram.com/p/BZMXf0jgIhx/?h1=en&taken-by=foodyfetish
https://www.instagram.com/p/BZMAcdtHs3_/?taken-by=golfchannel
Written By: Martha Ramos