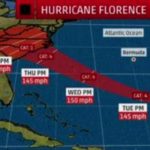 Airlines are allowing passengers to change their travel plans as Hurricane Florence spins closer to the U.S. East Coast.
Hurricane Florence, currently a Category 4 storm with maximum sustained winds of 130 miles per hour, could hit the southeastern U.S. or mid-Atlantic region by the end of the week, according to the National Oceanic and Atmospheric Administration. Constant high winds of at least 36 knots, about 41 miles per hour, can prevent Federal Aviation Administration staff from servicing radars and radio towers, so some systems could be shut down preemptively, the agency said.
American Airlines on Monday said travelers whose plans could be affected by the storm will be able to change their travel dates without paying change fees, which can cost $200 plus a difference in fare, if they can travel between Sept. 10 and Sept. 19.
The waivers for Hurricane Florence cover 23 airports, including Charlotte Douglas Airport, American's second-largest hub, where it has about 670 flights a day. So far, American Airlines flights have not been canceled due to the storm, the carrier said.-CNBC
To the incredible citizens of North Carolina, South Carolina and the entire East Coast – the storm looks very bad! Please take all necessary precautions. We have already began mobilizing our assets to respond accordingly, and we are here for you! pic.twitter.com/g74cyD6b6K

— Donald J. Trump (@realDonaldTrump) September 10, 2018
A little over a year after Hurricane Irma decimated Puerto Rico, #HurricaneFlorence is about to bear down on the continental United States. What's our illegitimate @POTUS doing? Panicking over @RealBobWoodward's book and praising himself. Godspeed to those in the hurricane's path

— Lesley Abravanel (@lesleyabravanel) September 10, 2018
Intensifying Hurricane Florence Becomes Massive Category 4, Carolinas Brace for Potential Impact #HurricaneFlorence #Florence https://t.co/wr1BT39N99

— Shomari Stone (@shomaristone) September 10, 2018
We're monitoring #HurricaneFlorence & its potential impact on our region & state, and I am receiving regular briefings from our emergency management team. I urge MDers to closely follow local forecasts for weather information & https://t.co/S6NmvDGRfq for official declarations. pic.twitter.com/K4C9UYM4ow

— Governor Larry Hogan (@GovLarryHogan) September 10, 2018
"North Carolina is taking #HurricaneFlorence seriously, and you should too. Get ready now." – Gov. Cooper. https://t.co/5tX7pk3rsJ

— Governor Roy Cooper (@NC_Governor) September 10, 2018
I continue to believe tremendous flooding is going to be major issue w/#HurricaneFlorence, particularly with elevated terrain inland in Carolinas..yet I, multi-degreed meteorologist/former AMS President, was called a fear monger by someone on Twitter yesterday for saying that SMH

— Marshall Shepherd (@DrShepherd2013) September 10, 2018
I will be holding a press conference at 3:30 regarding #HurricaneFlorence and the actions we are taking here in Maryland to prepare for potential impacts: pic.twitter.com/Jn0OgnZjLR

— Governor Larry Hogan (@GovLarryHogan) September 10, 2018
Bring the cats inside, please. #HurricaneFlorence #Carolinas pic.twitter.com/PCaw3JJP7j

— Lorenzo The Cat (@LorenzoTheCat) September 10, 2018
We are in preparation mode for #HurricaneFlorence. pic.twitter.com/8WJMEBZeDO

— SCEMD (@SCEMD) September 10, 2018
The iconic Coburg Cow in #WestAshley just came down in preparation for #hurricaneflorence pic.twitter.com/ny6WKK7I3L

— Lauren Petracca (@LaurenPetracca) September 10, 2018
First evacuation orders have been issued for Hatteras Island ahead of #HurricaneFlorence pic.twitter.com/uUy5ycGg3D

— Weather Updates (@Weather_Nathan) September 10, 2018
As a storm chaser if you are chasing #HurricaneFlorence, I would bring enough supplies, food, water for more than a week of survival. Nothing more dangerous than a stalling TC. Bring your resources from outside of the impact zone. Residents/evacuees/EM will need all they can get

— Reed Timmer (@ReedTimmerAccu) September 10, 2018
#HurricaneFlorence from space. Just immense. Courtesy @astro_ricky pic.twitter.com/hjZdxMQL5P

— Jim Sciutto (@jimsciutto) September 10, 2018
BREAKING: Gov Henry McMaster has ordered the mandatory evacuation of almost the entire South Carolina coastline starting Tuesday at noon. #HurricaneFlorence pic.twitter.com/qYMbNTGpoZ

— Nigel Robertson (@thetopstoryWYFF) September 10, 2018
American Airlines issues travel waiver for several cities ahead of #HurricaneFlorence , several SE cities impacted. List attached pic.twitter.com/T7bYrjTudR

— Mark Meredith (@markpmeredith) September 10, 2018
It's Monday. This is what the grocery store shelves in Charlotte look like already. #HurricaneFlorence pic.twitter.com/wjbbUU5gzG

— Tanya Mendis (@tanyamendis) September 10, 2018
We got no more school for the rest of the week because of #HurricaneFlorence

— Jamius (@TGlJamius) September 10, 2018
My #MondayMotivation is 2Help #WorldSuicidePreventionDay . TrendingTopicsToday R Crazy.There's #HurricaneFlorence ,&TheWords being tweeted under #QueenRadio !Can't we wait until Tues.B4 worrying about a storm not expected until Thur.&Can'tWeJustGetAlong?Nikki& Cardi's PR HasThis!

— BitChocki (@ThinkB4yaTWEET) September 10, 2018
#hurricane safety is no joke. Did you know that #hurricanes are classified by wind speed? Here's a handy guide to help you understand how powerful these storms can be. #HurricaneFlorence pic.twitter.com/PIrF0BPj9h

— Aaron Hoxworth (@coachhoxtweets) September 10, 2018
Today My evangelical science advisor taught me that hurricanes are caused by gay marriage and not by different pressure systems colliding in the ocean. We will repeal gay marriage and save the country! More to come! #HurricaneFlorence

— Donald Trump (@FakeTrumpDon) September 10, 2018
Cloudy overcast outside, and government offices closed tomorrow#HurricaneFlorence pic.twitter.com/kXaG9ssrYh

— Shela "Scribble" Monster (@ShelaMonster) September 10, 2018
If you can help foster cat/kitten @dorchesterpaws needs help w/evacuate @ABCNews4 #chs #chsnews #HurricaneFlorence pic.twitter.com/Q16HC1ijoP

— Jason Tighe (@jtighe08) September 10, 2018
If $1 was sent to us in place of every thought and prayer we are about to receive I think I'd worry a little less about the fact that we just had to spend a couple hundred dollars on hurricane supplies & will more than likely lose quite a bit of our belongings#HurricaneFlorence

— Jordan Giovannucci (@jorgucci) September 10, 2018
#NationalGuard is mobilized and ready for #HurricaneFlorence, like these @SCNationalGuard members loading up this morning. (1/3) pic.twitter.com/57OVqTCOaZ

— Gen. Joseph Lengyel (@ChiefNGB) September 10, 2018
We got the #corn in just in time before #HurricaneFlorence. @Asgrow_DEKALB 67-72 was the best variety on our farm with a 10 bu/ac advantage over our farm average. #MyFarmMyYield #harvest18 pic.twitter.com/8ToPmCd8py

— Brandon Batten?????? (@bdbatten) September 10, 2018
Is your family prepared for #HurricaneFlorence? If not, please review the attached checklist to help you get started! Stay safe, Hanover.

— Hanover Sheriff (@HanoverSheriff) September 10, 2018
#HurricaneFlorence is gaining strength — now a Category 4 storm carrying winds up to 130 mph. Virginia and Maryland have announced state of emergency, as those along the SC coastline prepare to evacuate Tuesday. https://t.co/0L3WuJSzOv

— FOX 5 DC (@fox5dc) September 10, 2018
JUST IN: @HarvestHopeFB is preparing to assist those impacted by #HurricaneFlorence. They just issued a CRITICAL NEED ahead of this dangerous storm. You can donate at https://t.co/UBu2EGMmIG @foxcarolinanews pic.twitter.com/pZB54I9Ovw

— Cody Alcorn (@CodyAlcorn) September 10, 2018
Look guys, I made a meme. #ncweather #hurricaneflorence #northcarolina #raleigh https://t.co/780EVfLWGX pic.twitter.com/w3vzQCTpC7

— Landon Pauley (@landonpauley) September 10, 2018
#HurricaneFlorence is in the Atlantic heading toward the East coast. See what you should have in place to protect your business and keep your customers happy. #BusinessContinuity #SDWAN #UC #NatlPrep #NationalPreparednessMonth @WEStormTracker https://t.co/aEYmPOQKu7 pic.twitter.com/7mV37cGW14

— Jeff Alderson (@JeffAlderson2) September 10, 2018
Wow! The view from space of #HurricaneFlorence is just breathtaking! #CloudPorn @GMB https://t.co/Y2TddcBts8

— Laura Tobin (@Lauratobin1) September 10, 2018
Too many people focused on category level and forget about the stall. If this thing stalls for 2-3 days over NC, that means no electricity, food, water for potentially weeks. Don't wait for government to tell u what to do. #HurricaneFlorence

— Templeton Peck (@TempletonT123) September 10, 2018
Thinking back to 1 year ago today does not bring back fond memories of hurricane Irma. Good luck NC and surrounding areas. #Siouxlifefla @UNDmhockey #HurricaneFlorence #MarcoIsland @993ESPNRadio pic.twitter.com/UL2H8aS1iV

— Brian Day (@sioux4ever_8x) September 10, 2018
We did just an "outstanding" job in Puerto Rico that North Carolina definitely has nothing to worry about. Good luck! #HurricaneFlorence

— Donald Trump (@FakeTrumpDon) September 10, 2018
I'm only getting mild rain from #HurricaneFlorence so I think this won't be bad here, however if this hurricane really destroys my town- please don't show up and throw paper towels at me.

— Jossi (@FluffyAnnabelle) September 10, 2018
I know it's easy to make jokes about the hurricane as a way to lessen the anxiety. But as someone who's lived through more than a couple hurricanes, most of which were below a cat 4, #HurricaneFlorence is not a storm to take lightly. Prepare. Evacuate. Stay safe.

— A. ✊??? (@AliceLfc4) September 10, 2018
VIDEO: Incredible video from yesterday's @NOAA_HurrHunter WP-3D Orion flight into #Florence.
Video by: Nick Underwood/NOAA #HurricaneFlorence pic.twitter.com/trzHC5ZuzT

— Ross Howey ? (@RossHoweyPhoto) September 10, 2018
#HurricaneFlorence be smart! Please….don't up being a dead idjit. #SouthCarolina coastline residents are being ordered to evacuate due to an almost certain death if you stay. and PLEASE …take your pets WITH YOU! pic.twitter.com/rz702H2glR

— AARP*Goddess (@AAARPGodess) September 10, 2018
Tip: Another way to find shelters once they have opened is to text the word "SHELTER" and a zip code to 4FEMA (43362). For example, for the Wilmington, N.C. area you would text to 43362: SHELTER 28401 (Wilmington's zip code). #HurricaneFlorence

— Petplan Insurance (@Petplan) September 10, 2018
USC Columbia campus closing Tuesday at 1pm. #HurricaneFlorence #sctweets pic.twitter.com/nrMGHNvVbG

— Paul Bowers (@Paul_Bowers) September 10, 2018
Due to the mandatory evacuation of Charleston starting Tuesday, the City Market will be closed Tuesday. The Market will remain closed until the evacuation order is lifted. @WCBD #chsnews #HurricaneFlorence

— Brendan Clark (@brendanclark) September 10, 2018
The Storms in the Atlantic are very dangerous. We encourage anyone in the path of these storms to prepare themselves and to heed the warnings of State and Local officials. The Federal Government is closely monitoring and ready to assist. We are with you!

— Donald J. Trump (@realDonaldTrump) September 10, 2018