Jordyn Woods in Toronto and stops by the morning show to talk about her new collection with Addition Elle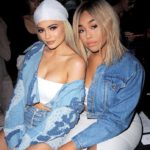 Jordyn Woods stopped by the morning show in Toronto to talk about her collaboration designing and modeling for Addition Elle. This is her second collection with the company, her first collaboration dropped in September for fashion week.
Jordyn who turned 20 in September will be at the Addition Elle store today from 5p.m-7p.m on 181 Yonge street.  She also spoke about her relationship with her best friend Kylie Jenner and their show together. Jordyn told the host that she is hoping for a season two and expressed how much fun she had filming season 1.
Set positive intentions for yourselves and just go with it.-Jordyn Woods
https://www.instagram.com/p/BcXgrB7HTCS/?hl=en&taken-by=jordynwoods
https://www.instagram.com/p/BcXewcMnkdX/?hl=en&taken-by=jordynwoods
When asked if Kylie Jenner was pregnant she had this to say:
And now, her best friend Jordyn Woods has joined the gang – although she did give an update on her now-reclusive BFF. Jordyn claimed that Kylie would be a great mum (along with all of her other friends) while stopping short of confirming she'll be getting a godchild in the very near future. Speaking to Daily Star Online at London beauty event Beautycon, the 20-year-old said: 'I think everyone I'm friends with will make great parents. We all have each other so it's great.'
Read more: http://metro.co.uk/2017/12/05/jordyn-woods-claims-her-best-friend-kylie-jenner-will-be-a-great-parent-7133679/?ito=cbshare