Kim Jun Un and Moon Jae-in agree to take steps to denuclearisation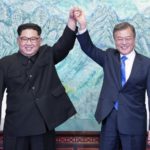 North Korean leader Kim Jong-un has agreed to shut one of the country's main missile testing and launch sites.
He signed a pledge to permanently close the Tongchang-ri facility, after talks in Pyongyang with his South Korean counterpart Moon Jae-in.
Both leaders also "agreed on a way to achieve denuclearisation" on the Korean peninsula, Mr. Moon said.
Mr. Kim said he hoped to "visit Seoul in the near future" – he would be the first North Korean leader to do so.
China has welcomed the outcome of the inter-Korean summit, saying both sides had found "new and important common ground".-BBC
Mr. @realDonaldTrump, is a GREAT, GREAT #POTUS!
He is a true #PEACEMAKER, and an American Hero! THANK YOU! #NorthKorea #denuclearization #WorldPeace #USA @UN @SecPompeo #CNN #MSNBC @CBS @nytimes @washingtonpost @nbc @FoxNews @charliekirk11 @seanhannity @JudgeJeanine @GOP #Media pic.twitter.com/slMVMo43q8

— Beyond Contest (@Beyond_Contest) September 19, 2018
Two Koreas Sign Military Pact after Denuclearization Roadmaphttps://t.co/AJExP1pgpO#NorthKorea#SouthKorea#Denuclearization pic.twitter.com/Zd7Px2jDCN

— Alwaght (@EnglishAlwaght) September 19, 2018
"Very exciting!" President Trump praises Kim Jong Un for pledge to denuclearize https://t.co/usUqN2Eccz

— TIME (@TIME) September 19, 2018
I'd like to see the @iaeaorg allowed back into #NorthKorea. That would be one measure of real commitment to #denuclearization. It's been nearly a decade since Pyongyang kicked them out.

— Jean H. Lee (@newsjean) September 19, 2018
#Japan hopes joint declaration issued after latest #inter-Korea summit will lead to the "complete" #denuclearization of #NorthKorea. #InterKoreanSummit #남북정상회담 #평화회담 #南北首脳会談https://t.co/6uGtm3cm51

— Kyodo News – English (@kyodo_english) September 19, 2018
Have the two Korean leaders done enough to keep #denuclearization talks on the road? Probably, argues @nktpnd in this analysis for BBC. https://t.co/XBZJ0F4YX7 #KimJongUn #MoonJaein #NorthKorea pic.twitter.com/Me4r70lOBM

— angusfoster (@angusfoster) September 19, 2018
How many people believe this is actually going to happen? #NorthKorea #Trump #denuclearization https://t.co/5tTai7xBYl

— Joshua Kroon (@JoshuaKroon) September 19, 2018
Earlier today, I shared with @BBCWorld that I had a dream last night that Kim Jong Un agreed to allow in international inspectors. President Moon says he has.? Allowing in inspectors would be a positive, necessary step toward #denuclearization of #NorthKorea. pic.twitter.com/S3VvGoMja2

— Jean H. Lee (@newsjean) September 19, 2018
Yes, The historic @POTUS–#KimJongUn summit not only stabilized the region but also stabilized the West-North Korea relations. It also showed the world that peace with North Korea and #denuclearization of the Korean peninsula are possible. https://t.co/GsdNzrXEBB

— Vihari Goli (@viharigvngoli) September 18, 2018
The new #denuclearization.#DPRK pic.twitter.com/XOrwP7Clhi

— Lino Miani…Unofficial ?? (@meanlin1) September 19, 2018
Amid handshakes and hugs, #denuclearization and peace loom over #Korean summit https://t.co/AQrLoGs2DN

— CGTN (@CGTNOfficial) September 18, 2018
There's a lot in the joint agreement that came out today and the frenetic pace and scope of inter-Korean agreements is dizzying. In short, specific steps to #denuclearization are contingent upon US-reciprocity which gives Kim a leg up in these negotiations. Dismantling…(1/1) https://t.co/s0BZbwW4sk

— David Kim (@davidkimdc) September 19, 2018
…that Trump marches to the beat of his own drum and other senior officials, including Mattis and Pompeo, will have their work cut out for them when specific "US concessions" will have to be made in order for #denuclearization to occur. Next steps…(4/4)

— David Kim (@davidkimdc) September 19, 2018
Victor Cha says that #humanrights are often left in the back burner in negotiations because such issues may be too "uncomfortable" and the fear that it might "offend the regime" in proceeding with talks of #denuclearization

— Doe Kim (@DoeKim2) September 13, 2018
#Japan hopes joint declaration issued after latest #inter-Korea summit will lead to the "complete" #denuclearization of #NorthKorea. #InterKoreanSummit #남북정상회담 #평화회담 #南北首脳会談https://t.co/6uGtm3cm51

— Kyodo News – English (@kyodo_english) September 19, 2018
Peace accord for #KoreanPeninsula @koreatimescokr fantastic news. #denuclearization pic.twitter.com/b2iIJgncjr

— breezer211 (@koropaul) September 19, 2018
When the Korean leaders meet: Can roads pave the way to #denuclearization?https://t.co/3RS5dTFIJg https://t.co/3RS5dTFIJg

— HelpHealVeterans (@HHVets) September 19, 2018
WORLD | North and South Korea signs denuclearization agreement #denuclearization #NorthKorea #SOUTHKOREA #KimJongUn #MoonJaein https://t.co/y6XscYnQF2

— Pratidin Time (@pratidintime) September 19, 2018
#KimJongUn–#MoonJaein Summit: #NorthKorean leader sends this big message to #DonaldTrump over #denuclearization; #US replieshttps://t.co/wwJuGgeSQr

— Financial Express (@FinancialXpress) September 19, 2018
#Denuclearization to become key issue at Moon-Kim summit – official https://t.co/YVQdr2oASa pic.twitter.com/cCnnA91MM3

— Sputnik (@SputnikInt) September 17, 2018
South Korean President #MoonJaein said #SouthKorea and #NorthKorea have agreed to #denuclearization ways pic.twitter.com/5FgP6SawjH

— China Plus News (@ChinaPlusNews) September 19, 2018
Historic summit outcome will set a example for other countries @southkorean President #MoonJaein has landed in Pyongyang for the historic summit with #KimJongUn as part of the ongoing reconciliation process and talks on #denuclearization of the @peninsula #worldwar3@WW3Info pic.twitter.com/WxSiGL1RVu

— Ashish Soman (@as_10822) September 18, 2018
Inter-#Korea #summit kicks off amid hopes of #denuclearizationhttps://t.co/8TzlNHqaL9

— The Korea Herald (@TheKoreaHerald) September 18, 2018
US hopes Moon-Kim summit will lead to denuclearization #NorthKorea #denuclearization https://t.co/AyCQugX9yh

— Breaking the News 24/7 (@Breaking24Seven) September 18, 2018
#NorthKorea to allow international inspections to dismantle its nuclear facilities
.#KimJongUn #SouthKorea #MoonJaein #PyongyangSummit @realDonaldTrump @POTUS #denuclearization #Forsan_News pic.twitter.com/2NMxXyWfWh

— Forsan News EN (@Fnews_english) September 19, 2018
When Moon meets Kim: Can roads pave way to #denuclearization? https://t.co/pNwqK6wX3J pic.twitter.com/63cOLZqYKW

— Arab News (@arabnews) September 17, 2018
Have the two Korean leaders done enough to keep #denuclearization talks on the road? Probably, argues @nktpnd in this analysis for BBC. https://t.co/XBZJ0F4YX7 #KimJongUn #MoonJaein #NorthKorea pic.twitter.com/Me4r70lOBM

— angusfoster (@angusfoster) September 19, 2018
Moon and Kim have announced a joint bid for the 2032 #Olympics, and #NorthKorea says it will dismantle a nuclear site – but will we see any tangible progress towards #denuclearization? #PyongyangSummit #koreasummit https://t.co/0kNcQtcint

— The News Lens INTL (@thenewslensintl) September 19, 2018
#South and #North #Korea: #Kim accepts the closure of #missile siteshttps://t.co/SPFZQKbZG9#world #news #fullnews4u #denuclearization #nuclear pic.twitter.com/7Ft6XNa6rD

— FullNews4u (@FullNews4u) September 19, 2018
What's 'LOSING?' #MAGA #denuclearization #ConfirmKavanaugh #DrainTheDeepState #DemocratsHateAmerica pic.twitter.com/GSwWnsbPPk

— Deep State Exposed ? (@DeepStateExpose) September 19, 2018
Wednesday headlines from The @AP in Rivet's News Espresso as reported by @radiojen13.#NorthKorea #SouthKorea #denuclearization #SCOTUS #BrettKavanaugh #SexAssult #ChristineBlaseyFord #Brexithttps://t.co/jWCtHS9jkf pic.twitter.com/wRdPqAjbjS

— Rivet Radio (@RivetRadio) September 19, 2018
U.S., #DPRK hold different definitions of #denuclearization : expert.#UnitedStates #ROK pic.twitter.com/TW36fD9LOn

— CCTV+ (@CCTV_Plus) September 19, 2018
The both Korean leaders Kim & Moon to meet each other.https://t.co/nHxqqoHFeK
.
.
.
.#kimjongun #southkorea #northkorea #facebook #denuclearization #korea #koreangoverment #donaldtrump pic.twitter.com/jYOcF5hHRZ

— Unnat Kesri (@UnnatKesri) September 18, 2018
China will continue to fully support improving South and #NorthKorea relations that contribute to the #denuclearization and long-term stability of the peninsula: FM spokesperson https://t.co/Zfn266pLXK pic.twitter.com/2Re3DCFeV4

— Global Times (@globaltimesnews) September 18, 2018
#Nebenzia: The process of #denuclearization should be launched by strengthening of confidence-building measures, for example, the conclusion of a #peace treaty that would put an end to the #Korean war. We see that #Pyongyang and #Seoul are already approaching this goal. pic.twitter.com/ZzLzAp6cF8

— Russian Mission UN (@RussiaUN) September 17, 2018
OP-ED: Unless #Trump's team on the #Korean #denuclearization talks raises its game, it is just as likely to emulate others who have failed to bring a peaceful and diplomatic outcome to one of the key foreign challenges facing the US, writes Andrew Hammond https://t.co/6vmCo12G83 pic.twitter.com/PpqrOgQpn0

— Arab News (@arabnews) September 17, 2018
▪ #NORTHKOREA–#US DIPLOMACY

U.S. ambassador to #Seoul optimistic about #denuclearization process pic.twitter.com/iTsxj1qSTL

— Arirang News (@arirangtvnews) September 12, 2018
G'm☕️, #KAG #OctoberSurprise! 1 big push will #ConfirmKavanugh 2 #KoreanPeninsula #denuclearization's 3 quarters of a #BoomingEconomy 4 #Winning #Senate #Midterms2018 seats….5 Eyes of @TeamTrump #TrumpCyberTeam's helping to #KeepAmericaSafe?? pic.twitter.com/MSY3m3Ns7e

— michael (@nyvetvote) September 19, 2018
OPINION: S Korean President #MoonJaein arrived at Pyongyang. As a mediator, the #ROK is in a hurry to find a breakthrough for the U.S.-DPRK #denuclearization negotiations. Is Moon's visit to the #DPRK the key to breaking nuclear deadlock? #KimJongUn https://t.co/HkG0fhGqNZ pic.twitter.com/zt27pxk9TZ

— China Focus (@China__Focus) September 18, 2018
Moon says he and #KimJongUn will discuss ways to move #denuclearization forward https://t.co/hWLOtMKpro

— Korea Center (@Korea_Center) September 17, 2018