LeBron James and His Son to Play in the NBA together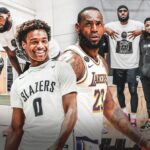 ---
Lebron James announced that this will be his final season in the NBA. The 37 year old announced this week that he will be picking a team to play his final season with Lebron plans to pick the team based on where-ever his son decides to play. Lebron's son Bronny is only 17 years old and plans on entering the 2023 draft. Bronny currently goes to highschool in Chatsworth California and LeBron is hoping that his son will get picked by the Cleveland Cavs should he not get picked up by LeBron's current team the Lakers. Jame's contract with the Lakers is set to expire in the 2022-23 season after which he will enter free agency.
"My last year will be played with my son," James said. "Wherever Bronny is at, that's where I'll be. I would do whatever it takes to play with my son for one year. It's not about the money at that point." -CNN
LeBron James was first overall draft pick in 2003 by the Cleveland Cavaliers. Since then he's played with the Miami Heats, after which he moved back to the Cavs and in 2018 he started his tenure with the Lakers. Throughout his career James has won 4 NBA championships and he's attended the NBA all stars 18 times. LeBron james has three children including a daughter Zhuri and a younger son who is just 14 years old. James has gushed about his live of basketball and how it greatly satisfies him to inspire future generations of basketball lovers.
"Along that way, when you're able to accomplish things individually then, at some point I guess have an opportunity to kind of sit back and think about it." -CNN
Adding to his lifetime achievement, James took the torch from fellow NBA legend Michael Jordon and starred in Space Jam: A New Legacy that was produced by Warner Brothers Animation Group. The film had a budget of $150 million and made an estimated $12.8 million in profits. That wasn't the only movie James has appeared in since his time on the court; James has appeared in 4 other movies since 2008 and 11 TV shows since his first appearance in My Wife and Kids on ABC.
James has changed teams in free agency three times, and while he's met with multiple teams at various points, he's never truly given the entire league any indication that he'd consider playing for them. With the news that he is committed to playing with his son, all 30 NBA teams can now genuinely feel as though they have a shot to land one of the greatest players of all time at a discount.

Of course, there's still plenty of time for things to change. The NBA could alter its one-and-done rule and get James Jr. into the draft earlier. He might also want to spend multiple seasons in college, delaying his father's retirement tour. All we can say for now is this: We have a clearer picture of what the end of LeBron's career will look like now than we've ever had before. -CBS