Lee Selby Holds on to IBF featherweight title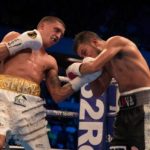 IBF world featherweight champion Lee Selby defeated Mexico's Eduardo Ramirez at the Copper Box Arena Hackney Wick, London.
"I thought it was a decent performance against a very, very tough, game Mexican fighter," Selby said after the fight.
The fight lasted for 12 rounds ending in Selby delivering the final blow.
Selby (26-1, 9 KO) won on scores of 116-112, 118-110, and 119-109. BLH had it 115-113 for Selby, seeing this as a hard-earned win against a determined opponent. Ramirez loses for the first time as a pro, dropping to 20-1-3 (7 KO).–BBC
Ramirez failed to make the weight requirement at the final weight in on Friday which rendered the fight a non-title fight. Still basking in the glow of his win Selby is getting ready to fight his next challenger Josh Warrington former British Commonwealth and European champion.
"It's a massive fight. Josh Warrington has earned the mandatory position," he said. "To get there, he has to be a good fighter. A fight between Josh and I would be massive and fantastic for British boxing."
Lee Selby is from Welsh and has held the IBF featherweight title since 2015. During his career, he has had 27 fights with 26 wins 9 by way of a KO.
What Social Media has to say:
Lee Selby ends nightmare year on a high with Ramirez win : The world featherweight ch.. https://t.co/VUgFMWbsev pic.twitter.com/wZj2Ea0WwI

— The Boxing Ring (@britboxsuk) December 9, 2017
Lee Selby: IBF world featherweight champion beats Eduardo Ramirez: IBF world featherweight… https://t.co/BaSCmFG256

— 360MediaX (@360mediaX) December 9, 2017
Lee Selby beats Eduardo Ramirez as duo go the distance https://t.co/b6wiTAhgos pic.twitter.com/kFo8Nt1IWh

— Sun Sport (@SunSport) December 9, 2017
https://www.instagram.com/p/Bcf_LkihVUL/?hl=en&tagged=ibf
https://www.instagram.com/p/Bcf_Ix6g3li/?hl=en&tagged=ibf
https://www.instagram.com/p/Bcf-5vXgNXC/?hl=en&tagged=ibf