Meghan Markle battles racism in Britain while preparing to marry her prince.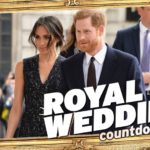 "We can look to the Royal Family as this kind of cornerstone of Britishness. It's like the apex of Britishness," Lawton says. But "the many millions of black people in the country, we couldn't see ourselves reflected in the Royal Family."

She says that now, for the first time, she finds herself talking to her friends about the Royal Family, and what it might become in the future.

"Harry marrying a light-skinned black woman won't undo the pain of the past in Britain, it won't undo all the negative aspects of our links to colonialism," Lawton says.

"But I think it will go some way in taking steps to repair race relations and promote multiculturalism."-CBC
In a series exploring what impact Meghan Markle can have as a royal, author Yomi Adegoke talks about the racism she faces #RoyalWedding #HarryandMeghan pic.twitter.com/qAayKCyfpW

— Sky News (@SkyNews) May 15, 2018
They really are reaching with all the Meghan Markle articles.

A very light-skinned passing mixed-race woman marrying into the Royal Family is not the end of racism.

They were deporting our grandparents two weeks ago.

— B (@TweetsByBilal) May 13, 2018
Meghan Markle is not a separatist if that's what you mean. She identifies as biracial or multi-cultural. Do more research into her roles and personal history. She is much more than meets the eye and blacks all across the world identify with her by choice. This is YOUR racism, S_N

— (((Peter Piper))) (@Pied_Peter) May 16, 2018
#HarryandMeghan will be a dynamic dream team, a force for good. Best wishes & Gods abundant blessings as they celebrate their love on this special #RoyalWedding day??????❤️??? https://t.co/Dcbr7uEU9l

— #ResistHate&Racism (@DeelightRI) May 16, 2018
Black hair doesn't change a racist heart. It's not lost on some of us that @SammyMarkle64 's REAL issue with her half sibling #MeghanMarkle might be the ugliest of all: #racism. Nobody's THIS hateful of their 1/2 sis. This #becky heffa's hate smells like a racist. #TMZ loves it.

— BlackCoffeeNoSugaNoCreme (@QueenCoffeeNoir) May 16, 2018
Oh, well! I've always knew! Firstly, because #MeghanMarkle doesn't give a s**t to the racism cause and secondly that woman is only motivated by her own self comfort found in Monarchy's money and fame. ??????? https://t.co/HwZED1GfQx

— Simone (@sisuperstar) May 16, 2018
no meghan markle is not ending racism by marrying prince harry so stop with this nonsense okurrr

— SHAKEENA? (@iamshakeena) May 16, 2018
3 days to royal wedding, Meghan Markle faces British racism – https://t.co/tWpXUDCMLl pic.twitter.com/M2LWgbI10R

— fab.ng (@fab_ng) May 16, 2018
OMG! Are you for real! You have done nothing but incite racism towards #meghanmarkle. You and all the reporters at #skynews should be ashamed of yourselves. I for one will not be watching the wedding on your channel, in fact I'll be boycotting your news channel permanently.

— dmarie (@fulbut) May 16, 2018
Those of U (especially PoC's) who are spewing energy, feeling sad for Meghan Markle over the media dust-up over her father need to stop. This is a Woman of colour marrying a man who sported a Nazi uniform as a 'costume' & was well known for casual racism while in the military. pic.twitter.com/QCGhSp4IoW

— Abiyomi Kofi (@TheAngryindian) May 15, 2018
Safe to say racism is still a thing around the world. Just check out #MeghanMarkle

— Pruitt Can Do It (@cowslike2moo) May 14, 2018
Meghan Markle is one strong woman. all this controversy, constant, subliminal and blatant racism from people, print press and the media, yet she still seems to have everything under control. she's gotta deal with this for the rest of her life, she's not even married yet

— janay-marie (@JanayMarie) May 14, 2018
seems like meghan markle's white family are doing their best to sabotage/embarrass her leading up to the wedding and I can't help wonder whether their resentment (racism) towards her is at the heart of it.

— opaque lady drake (@OG_Auntie) May 14, 2018
Media always lists white folks related to Meghan Markle tho she's bi racial! Reverse racism @DailyMailUK @gotowonderland @sollunna @DeplorableMe87 @DebakelAngela @vabeachgurl @jessymiller174 @royalbabyboomer @freshroyalpoop @RoyalReporter @KensingtonRoyal https://t.co/WNazU0CqLH

— Dara gloss (@daragloss) May 14, 2018
I'm watching this meghan markle american princess thing and they're like "coming up: shocking revelations about racism in meghans childhood" like? a black person??? experiencing racism??? shocking!!!!

— cass (@tallltrees) May 13, 2018
Doria has already met Harry a few times — and was with Meghan and Harry at the closing ceremony of the Invictus Games in Toronto in September.