Miss Texas Shut Down Trump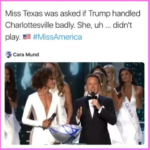 Miss Texas" Margana Wood was asked a question about President's Trump's response to the white supremacist march in Charlottesville during Miss America Pageant on Sunday night. Let's just say in 20 seconds she shut it down.
What Miss Texas said
I think that the white supremacist issue, it was very obvious that it was a terrorist attack. And I think that President Donald Trump should've made a statement earlier addressing the fact, and in making sure all Americans feel safe in this country. That is the number one issue right now.
Miss Texas was asked if Trump handled Charlottesville badly. She, uh … didn't play. ?? #MissAmerica pic.twitter.com/5JMT4tBpeL

— shauna (@goldengateblond) September 11, 2017

What Twitter Said
Shout out to #MissTexas on taking @Potus to school on #Charlottesville

— Sarah (@sarah_in_ny) September 11, 2017
You're doing amazing sweetie #MissTexas https://t.co/lwUpfibryF

— Dee?? (@ObeyDahlia_) September 11, 2017
#MissTEXAS speaking up on white supremacy & how Trump didn't speak up on it fast enough ??

— Allehiaa ? (@_theLegitMisfit) September 11, 2017

What do you think?
Do you think Miss Texas response was fire or not so hot? Comment below.
Written by Martha Ramos