Nikki Hailey Resigns as UN Ambassador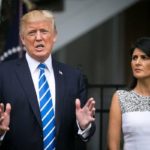 The former governor of South Caroline Nimrata Nikki Haley has resigned as the United States ambassador to the United Nations. Not only was she the first female governor of South Carolina but she was the second Indian American to lead in her riding of South Carolina. As a registered republican she delivered the 2016 response to former President Barack Obama's state of the union address and was nominated by the sitting president Donald Trump.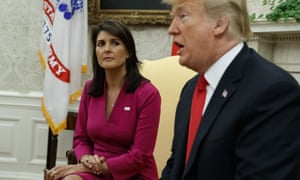 Haley has been under attack recently for her views on Isreal and various "ethics" issues including her use of a private plane. The former University of Columbia Graduate will be leaving her post at the end of the year and many Democrats are praising the move by the Republican party.
A Washington, D.C., watchdog group wants a federal investigation into U.S. Ambassador to the United Nations Nikki Haley's use of private planes owned by S.C. businessmen.

The group, Citizens for Responsibility and Ethics in Washington, says Haley undervalued the flights by tens of thousands of dollars on her annual financial disclosure form required of federal officials.-The State
Big announcement with my friend Ambassador Nikki Haley in the Oval Office at 10:30am.

— Donald J. Trump (@realDonaldTrump) October 9, 2018
Nikki Haley, who is resigning as US Ambassador to the United Nations: "No, I am not running for 2020. I can promise you what I'll be doing is campaigning for" President Trump's reelection. https://t.co/dCiHj63HBH pic.twitter.com/CT1u3vdh6a

— CNN (@CNN) October 9, 2018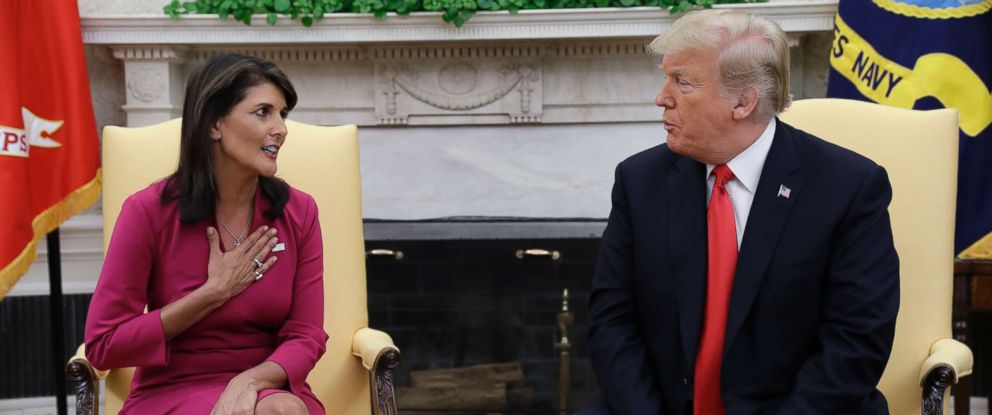 During her meeting with the President this morning Haley handed the Mr. Trump a detailed letter explaining why she felt the need to step down as the UN ambassador. President Trump expressed his gratitude for how she served at that post and also her previous post as governor of South Carolina; Saying She's done a fantastic job."
We achieved great successes at the UN. We passed the toughest sanctions against any country in a generation, pressuring North Korea toward denuclearization. We passed an arms embargo on South Sudan that will help reduce violence and hopefully bring peace to that troubled country. We stood up for our ally Israel and began to roll back the UN's relentless bias against her. We reformed UN operations and saved over $1.3 billion. We spoke out resolutely against dictatorships in Iran, Syria, Venezuela, Cuba, and yes, Russia. Through it all, we stood strong for American values and interests, always placing America first. I am proud of our record. -Exert from Nikki Haley Resignation Speech
Haley also talked about her ambitions for after her resignation stating that she will not be running for any public office in 2020.
At that point, I will once again become a private citizen. I expect to continue to speak out from time to time on important public policy matters, but I will surely not be a candidate for any office in 2020. As a private citizen, I look forward to supporting your re-election as President, and supporting the policies that will continue to move our great country toward even greater heights.-Exert from Nikki Haley Resignation Speech
"It has been an honour of a lifetime" – US ambassador to UN Nikki Haley resignshttps://t.co/uFwZ4GBYsn pic.twitter.com/TWhFTw1HRQ

— BBC News (World) (@BBCWorld) October 9, 2018
Following Nikki Haley's resignation, here's a look at the turnover in the Trump administration — so far https://t.co/AXEwrkkygR

— The New York Times (@nytimes) October 9, 2018
Tom Dupree: "Nikki Haley is an absolute superstar and she is going out at the top of her game." #Outnumbered pic.twitter.com/sSfzNYfN1F

— Fox News (@FoxNews) October 9, 2018
Nikki Haley thanks Ivanka Trump and Jared Kushner, says they "do a lot of things behind the scenes that I wish more people knew about."

"I can't say enough good things about Jared and Ivanka. Jared is such a hidden genius that no one understands." https://t.co/HGU6kfAGfK pic.twitter.com/AW6AzmfQL3

— ABC News (@ABC) October 9, 2018
U.N. Ambassador Nikki Haley is the latest member of staff to resign from the Trump administration. See @reuterspictures gallery of White House departures so far: https://t.co/G6FtxiC6g3 pic.twitter.com/GUwldugNub

— Reuters Top News (@Reuters) October 9, 2018
Nikki Haley says Jared Kushner is a "hidden genius." Ah. That's why we can't see how he brought peace to the Middle East. It's hidden peace.

— Randi Mayem Singer (@rmayemsinger) October 9, 2018
.@nikkihaley praised for 'moral clarity' as UN ambassador as news of her departure rocks Washington https://t.co/HuMUPfMEGO

— Fox News (@FoxNews) October 9, 2018
"Look at what has happened in two years with the United States on foreign policy. Now, the United States is respected," Nikki Haley said, praising the Trump administration's impact on the international community while explaining why she's resigning https://t.co/hm8h6mDeRQ pic.twitter.com/TGsDYeqqxF

— POLITICO (@politico) October 9, 2018
As you read the mass fevered speculation about Nikki Haley's motivations… I broke the story and still have no idea about the real backstory. Some very senior officials – including Mike Pompeo – were taken by surprise.

— Jonathan Swan (@jonathanvswan) October 9, 2018
U.N. Ambassador Nikki Haley calls Jared Kushner Trump's "hidden genius," praises Ivanka Trump https://t.co/pNoJTObwXP pic.twitter.com/ftRbIYNwYo

— The Hill (@thehill) October 9, 2018
President Trump says "many people" want the UN job being vacated by Nikki Haley https://t.co/4VyjxXkIYe pic.twitter.com/4EPsnlcUGT

— CNN Politics (@CNNPolitics) October 9, 2018
JUST IN: UN Ambassador Nikki Haley says she will not run for president in 2020, will campaign for Trump https://t.co/t6Iot2B07E pic.twitter.com/gJLkOANmMT

— The Hill (@thehill) October 9, 2018
NEW: A name to watch out for to replace Haley: Ric Grenell, ambassador to Germany. As one source put it to me, he's a "He's a [Trump] family favorite" https://t.co/SVIHJi3bvG

— Al Weaver (@alweaver22) October 9, 2018
With all this renewed speculation about Lindsey Graham becoming Attorney General, and Nikki Haley getting his Senate, I'll point out again that it makes zero sense for Graham to give up the next 15 years of an influential Senate career for a brief stint as Trump's AG, unless…

— Palmer Report (@PalmerReport) October 9, 2018
Nikki Haley resigns as US ambassador to the United Nationshttps://t.co/k45FEudzFD

— Jake Tapper (@jaketapper) October 9, 2018
Dear Trump Administration,

If you have any shred of dignity left in your souls, follow Nikki Haley out the door.

WARNING: The next 12 months is going to be a real sh!tshow.

— Brian Krassenstein (@krassenstein) October 9, 2018
Nikki Haley and Dina Powell just went boating together, per a photo Haley tweeted Saturday. pic.twitter.com/5DXW1HyULo

— Jennifer Jacobs (@JenniferJJacobs) October 9, 2018
Nikki Haley has three words for anyone who thinks this lovefest will last through 2020. https://t.co/bwlFV3rO4b

— Ned Price (@nedprice) October 9, 2018
Nikki Haley had previously said Israel acted with "restraint" when it killed 60 Palestinians and wounded over 2,000 in May. The Palestinian ambassador then called her out. pic.twitter.com/yCTdZf4MUH

— AJ+ (@ajplus) October 9, 2018
Regarding Nikki Haley, a few mins ago on @MSNBC, @MarkSanford told me "Something doesn't smell right. Something's weird. I can't put my finger on it."

— Craig Melvin (@craigmelvin) October 9, 2018
Nikki Haley violated the Hatch Act, supported putting kidnapped kids in cages, and accepted lavish gifts. Is this what passes for "respectable" in the Trump administration?

— Walter Shaub (@waltshaub) October 9, 2018
The weird ass praise she received over her handling of the Confederate flag fiasco still annoys the hell out of me. Nikki Haley played some folks like a fiddle throughout that whole scandal. Baffling.

— Charlotte Clymer?️‍? (@cmclymer) October 9, 2018
NEW: Potential replacements for departing U.N. Ambassador Nikki Haley include Ivanka Trump, Jared Kushner and Dina Powell https://t.co/61bMpWgqEM pic.twitter.com/RewpnXFdGs

— Newsweek (@Newsweek) October 9, 2018
They will miss time traveler Nikki Haley at the UN.

(? via @realtimwilliams) pic.twitter.com/X8e6fzaWsV

— You Had One Job (@_youhadonejob1) October 9, 2018
Nikki Haley: I'm resigning.

America: pic.twitter.com/EwXD5s81xg

— The Daily Wire (@realDailyWire) October 9, 2018
BREAKING: Nikki Haley resigns as US Ambassador to the UN, following rave reviews for Trump's most recent comedy special pic.twitter.com/8IC38mVqdh

— The Daily Edge (@TheDailyEdge) October 9, 2018
"Nikki Haley was generally seen as one of the grown ups in the Trump administration," says @MaxBoot calling her resignation as US Ambassador to the UN "a sad moment" https://t.co/DfjzkiNgCU pic.twitter.com/orXOFzdbNe

— CNN Newsroom (@CNNnewsroom) October 9, 2018
Nikki Haley resignation comes one day after @CREWcrew request for State Department inspector general probe into her acceptance of free flights aboard private jets https://t.co/oFXcYT8XGq

— Allan Smith (@akarl_smith) October 9, 2018
Nikki Haley in 2016: Donald Trump is "everything a governor doesn't want in a president."

Nikki Haley today with Trump: "The U.S. is strong again." https://t.co/kBJ7chVA6B

— Keith Boykin (@keithboykin) October 9, 2018
"No, I am not running for 2020. I can promise you what I'll be doing is campaigning for this one," Nikki Haley says, indicating Pres. Trump. "I look forward to supporting the president in the next election." https://t.co/HQZNEJCwRo pic.twitter.com/AAifmL7YMo

— ABC News (@ABC) October 9, 2018