North Korean Diplomat who Defected Testifies Today says he was "a modern slave"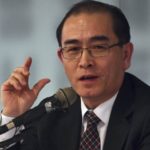 (CNN)North Korea's former deputy ambassador to the UK, who defected to South Korea in 2016, tells CNN he was "a modern slave."
Thae Yong-Ho was in London as a diplomat at the time that he defected and sat in front of Congress to testify on Thursday. His wife and children were also with him and the senior diplomat expressed how happy and relieved his family was especially his sons.
"When they heard my decision then they were very happy, and they really appreciated that I decided to let them free."-CNN
He also left behind his sister and brother in North Korea and worried that they would suffer retaliation from his actions. Yong-Ho's siblings, however, went on to interview with CNN in their home and acknowledged they were okay. His sister and brother denounced Yong-Ho but the diplomat explained he was just happy to see their faces,
"I never imagined that I could see their faces again in my life"
CNN also reported that his sister forewarned him that the family would not forgive him and the siblings expressed the shame they believe Yong-Ho's actions brought on the family.
Yong-Ho defecting comes at such a pivotal time in world politics with North Korea continually threatening nuclear action. It will be interesting to see if more leaders within North Korea start waking up to the harsh realities of the regime.