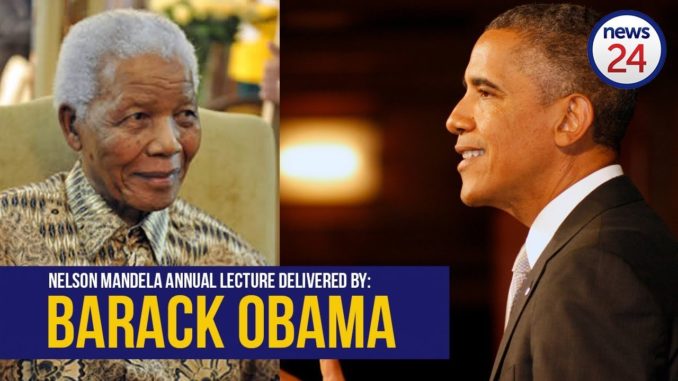 "You have to believe in facts," said Mr Obama, "without facts there is no basis for co-operation.

"If I say this is a podium and you say this is an elephant, it is going to be hard for us to co-operate."-Former President Barack Obama
The lecture given by the Former President earlier today July 17, 2018, is the 16th lecture hosted annually by the Nelson Mandela Foundation in South Africa. The lecture has been happening since 2003 and is usually presented by world leaders in an effort to remember the legacy of the former South African freedom fighter. This years theme was  "Renewing the Mandela Legacy and Promoting Active Citizenship in a Changing World".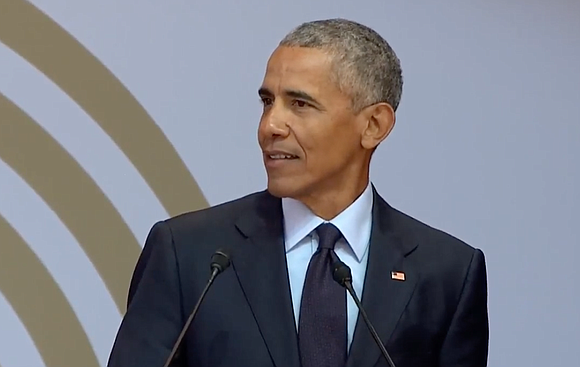 Democracy is messy, he said, "but the efficiency of an autocrat is a false promise".

"It is time for us to stop paying all of our attention to the world's capitals… and focus on the world's grassroots. That is where democracy comes from," he added.

Warning against creeping populism and "strongman politics", he made the case for liberal democracy, saying that he believed it offered the better future for humanity.

"I believe in Nelson Mandela's vision" for the world's future, he said, "I believe that a world governed by such principals is possible".-Barack Obama via BBC
Former President Barack Obama is speaking at a Nelson Mandela Foundation event in South Africa. It's his first trip to Africa since he left office.

Watch live: https://t.co/cWojt1CINV pic.twitter.com/4K9AojZPB9

— CNN (@CNN) July 17, 2018
Barack Obama: "Too much of politics today seems to reject the very concept of objective truth"

Former US president takes aim at fake news during his #MandelaLecture in South Africahttps://t.co/uLMQsKQAnh pic.twitter.com/davdleOIFY

— BBC News (World) (@BBCWorld) July 17, 2018
A day after Trump's disastrous Putin summit, Obama speaks in South Africa. Watch here. https://t.co/B2zJKysEiv

— Vox (@voxdotcom) July 17, 2018
Barack Obama: "It is a plain fact that racial discrimination still exists in both the United States and South Africa." (via ABC) pic.twitter.com/iW4wmPz0ED

— Kyle Griffin (@kylegriffin1) July 17, 2018
Dear @BarackObama, I believe u have landed safely in South Africa, and hope that this finds u well. With tremendous respect Sir, can u tell us why while u were in the most powerful office (of the world's biggest economy) u refused to bring development to ua home, Kenya? pic.twitter.com/dUXsZIl24Z

— Boni Khalwale (@KBonimtetezi) July 16, 2018
Can Obama dance better than Mandela could? During a trip to South Africa for the Nelson Mandela centenary celebrations President Cyril Ramaphosa gave Barack Obama his opinion…? pic.twitter.com/dSKoNdDsef

— BBC News Africa (@BBCAfrica) July 17, 2018
President Obama #barackobama in South Africa notes his wealth but there "is only so many nice trips you can take. I mean, it's enough. You don't have to take a vow of poverty..to help out…Pay a little more in taxes. It's ok, I can afford it." https://t.co/NJ553DCbuQ #Mandela

— Lynn Sweet (@lynnsweet) July 17, 2018
It was an honor to attend the memorable and inspiring 16th Annual Nelson Mandela Lecture that was delivered by President Barack Obama at the Wanderers Stadium in Sandton, South Africa. #Mandela100 pic.twitter.com/NSfYt9MD7N

— Raila Odinga (@RailaOdinga) July 17, 2018
In a high-profile speech in South Africa, former U.S. president Barack Obama takes aim at lying political leaders, saying people today 'just make stuff up' and don't show embarrassment when they're caught fibbing. Background: https://t.co/F3nVqywbxV

— CBC News Alerts (@CBCAlerts) July 17, 2018
Watch live from South Africa as Barack Obama makes a rare high-profile speech honouring Nelson Mandela https://t.co/yiIR6D56DC

— The Independent (@Independent) July 17, 2018
WATCH: Former President Barack Obama speaks in South Africa at a celebration to commemorate what would've been Nelson Mandela's 100th birthday https://t.co/d0RBisu6yf pic.twitter.com/q1sUR0g44g

— CBS News (@CBSNews) July 17, 2018
"We are all human, our differences are all superficial and that we should treat each other with care and respect." – Our last President, Barack Obama, today in South Africa. pic.twitter.com/A4KyinQr4o

— Congressmember Bass (@RepKarenBass) July 17, 2018
I have missed President @BarackObama's moral leadership most of all. For a few moments, watching him in South Africa, I'm feeling better about humanity.

— Steve Lieberman (@stevemlieberman) July 17, 2018
Barack Obama points to "strange and uncertain times" during a speech in South Africa, a day after US President Trump's news conference with Russian President Putin https://t.co/Xnkor53sMY pic.twitter.com/jfzIuMsRUq

— CNN Politics (@CNNPolitics) July 17, 2018
"With each day's news cycles bringing more head-spinning and disturbing headlines, I thought maybe it would be useful to step back for a moment and try to get some perspective. So I hope you'll indulge me." @BarackObama at the #MandelaLecture in South Africa. pic.twitter.com/GMJh53xb06

— Andrew Kimmel (@andrewkimmel) July 17, 2018
Former President Barack Obama is in Kenya for his sister's project. Then he's off to South Africa. https://t.co/0e8Yn25yXo pic.twitter.com/2JYVPuHgM2

— CNN International (@cnni) July 15, 2018
In a rare high-profile appearance, former US President Barack Obama addressed thousands in South Africa to celebrate the 100th anniversary of Nelson Mandela's birth. https://t.co/Mn1HNGGY5h

— Twitter Moments (@TwitterMoments) July 17, 2018
"I'm an ordinary human being with weaknesses," President Nelson Mandela pic.twitter.com/T0eOufeizb

— Fikile (Mr Fearfokkol) (@MbalulaFikile) July 17, 2018
"I learned that courage was not the absence of fear, but the triumph over it. The brave man is not he who does not feel afraid, but he who conquers that fear." – Nelson Mandela

— T.D. Jakes (@BishopJakes) July 17, 2018
The Duke and Duchess of Sussex also meet Nelson Mandela's granddaughter Zamaswazi Dlamini-Mandela @southbankcentre before viewing the @Mandela100UK exhibition. pic.twitter.com/8elD7eF6Bh

— Kensington Palace (@KensingtonRoyal) July 17, 2018
LIVE: Former President Obama speaks at Nelson Mandela's centenary in Johannesburg, South Africa. https://t.co/Qu17r9zZBF

— NBC News (@NBCNews) July 17, 2018
Why is Nelson Mandela so celebrated by white people… Something was wrong about this man….. Mandela is a sellout… He's not a man we all think he is #MandelaLecture #BarackObama pic.twitter.com/nkwwSmIzWz

— Mashimbyi Hlayisani (@MashimbyiHlayi1) July 17, 2018
#MandelaLecture Prof Patrick Lumumba says true legends never die. He is delivering the Nelson Mandela memorial lecture at Walter Sisulu University eMthatha in the Eastern Cape.#eNCA pic.twitter.com/BWDAyUuKih

— Siphamandla Goge (@SiphamandlaGoge) July 17, 2018
The Duke and Duchess of Sussex with Nelson Mandela's grand-daughter Zamaswazi at the Nelson Mandela Centenary Exhibition @southbankcentre pic.twitter.com/8TOfckRJLR

— Lizzie Robinson (@LizzieITV) July 17, 2018
Lumumba: Nelson Mandela would have reminded us that we liberated ourselves #LumumbaMandelaLecture #Lumumbamandela100

— The Daily Dispatch (@Dispatch_DD) July 17, 2018
South Africa celebrates Nelson Mandela's centennial birthday https://t.co/vdD4lvhAxR #MandelaLecture pic.twitter.com/mygtal4ani

— Al Jazeera English (@AJEnglish) July 17, 2018
Today, on the eve of @NelsonMandela's 100th birthday, President @BarackObama spoke in South Africa – and he had a very important message for young people.

Take the pledge to #BeTheGeneration to end extreme poverty: https://t.co/TCxlsmOVZF pic.twitter.com/aJGH88nT8e

— Global Citizen (@GlblCtzn) July 17, 2018