Ottawa Police Service Member charged with Sexual assault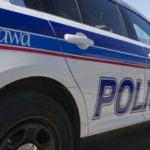 47-year-old Eric Post a constable with the Ottawa Police Service was charged with sexual assault on September 19th. There were four initial victims but on September 27th three additional female victims came forward.
The constable will be charged with 21 difference charges including:
Sexual Assault x2
Point a firearm
Careless Storage of a firearm
Possess Weapon Dangerous x2
Harassment by Repeated Communication x4
Uttering Threats x2
Assault x5
Intimidation by threat of Violence
Forcible Entry
Forcible Confinement  x2
Breach of Trust by Official  X6
Assault with a weapon
Assault
Criminal Harassment   X2
Forcible Confinement
A spokeswoman for the Special Investigations Unit said it was notified of the situation on Aug. 20

"Given the circumstances at play, the SIU Director exercised his discretion and decided to leave the investigation in the hands of the police service," Monica Hudon said in a statement, adding that the SIU would offer no further comment since the case is now before the courts.-Huffington Post
The Ottawa Police Service Sexual Assault and Child Abuse Unit (SACA) will be handling the case and are asking for potential victims to come forward with their claims. Officer Post has been suspended since July 13th and will continue to be on suspension until the SACA closes the case.
"These allegations and charges are very serious. They run counter to our values and I recognize this information will be disturbing to hear for our community and the members of our service. We must now allow the court process to proceed. I want to thank the investigators who have worked on this file for their professionalism," said Chief Charles Bordeleau.

Anyone with information about this investigation is asked to contact the Ottawa Police Service tip line at 613-236-1222, ext. 5760 or email: mcm@ottawapolice.ca