Pennsylvania Predator Priest Identified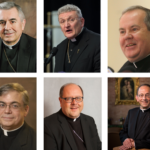 More than 1,000 children — and possibly many more — were molested by hundreds of Roman Catholic priests in six Pennsylvania dioceses, while senior church officials took steps to cover it up, according to a landmark grand jury report released Tuesday.

The grand jury said it believes the "real number" of abused children might be "in the thousands" since some records were lost and victims were afraid to come forward. The report said more than 300 clergy committed the abuse over a period of decades.-CBS NEWS
One Pennsylvania priest abused five sisters from the same family over a 10-year period, including one who was 18 months old, the state's AG says https://t.co/jeH7IYXhfK https://t.co/jeH7IYXhfK pic.twitter.com/NiBiqThiGT

— CBS News (@CBSNews) August 14, 2018
The Pennsylvania Grand Jury report details allegations more shocking than we've seen before.

– The manufacturing of pornography by a group of priests.
– Numerous letters acknowledging abuse by priests who are still reassigned.
– Violent sexual assaults including whips/ropes. https://t.co/fzfRD7wkXA

— Tom Winter (@Tom_Winter) August 14, 2018
Breaking News: Catholic leaders across Pennsylvania covered up the sexual abuse of more than 1,000 children by priests over 70 years, a grand jury found https://t.co/XfODpJMAPN

— The New York Times (@nytimes) August 14, 2018
A nearly 900-page grand jury report says over 300 "predator priests" in Pennsylvania were protected by the Catholic Church. https://t.co/fbVsjbQ1f1

— Twitter Moments (@TwitterMoments) August 14, 2018
In a report released by the grand jury that was redacted the justices explained:
 Most of the victims were boys; but there were girls too. Some were teens; many were prepubescent. Some were manipulated with alcohol or pornography. Some were made to masturbate their assailants, or were groped by them. Some were raped orally, some vaginally, some anally. But all of them were brushed aside, in every part of the state, by church leaders who preferred to protect the abusers and their institution above all. As a consequence of the coverup, almost every instance of abuse we found is too old to be prosecuted. But that is not to say there are no more predators. This grand jury has issued presentments against a priest in the Greensburg diocese and a priest in the Erie Diocese, who has been sexually assaulting children within the last decade. -Statement of Members of The Grand Jury
Seriously. STOP saying this story hurts the church. It does not. The truth cannot hurt the church. What has hurt the Catholic Church in Pennsylvania is 70+ years of abuse and lies. A full inventory of sins and swift, public punishments would help the church, not hurt it.

— Jeremy McLellan (@JeremyMcLellan) August 14, 2018
A Pennsylvania grand jury found "credible" evidence of sexual abuse against 301 priests, with more than 1,000 child victims identified https://t.co/F8vjbRjDNs pic.twitter.com/c5XHLRHU5E

— CBS News (@CBSNews) August 14, 2018
A Pennsylvania grand jury has credible evidence of sexual abuse against over 300 priests spanning over 70 years, with over 1,000 child victims identified so far. The number of victims could be thousands more. Hell on earth.https://t.co/jmIB9VXFrR

— Ricky Davila (@TheRickyDavila) August 14, 2018
DIOCESE OF HARRISBURG – SECRETARIAT FOR CLERGY AND REUGIOUS L11 -I
4800 Union Deposit Road Box 2161 Harrisburg. Pennsylvania 17105 2161 (717) 657-4804

MEMORANDUM To: Most Reverend Nicholas C. Dattilo, D.D.
From: Very Reverend Paul C. helwig
Date: June 30, 1995
Re: Father Arthur Long, S.J. Update

In 1988 Father Long applied for laicization and was granted the dispensation; however, he refused to sign the necessary
papers and eventually was reassigned by the Society's Superior.
When Father Glynn, the present Superior, became aware of
Father Long's history, he removed him from ministry and refused to give him an assignment.
He went to Guesthouse for 5 months and St. Luke Institute
for 6 months more. When he came out in 1991-92 Cardinal Keeler granted him
permission to work in the Archdiocese of Baltimore. Shortly after
his assignment reports were again received of inappropriate
behavior on his part.
He said he was going on vacation and never returned to
his assignment or community.

P. .H.
Presbyteral Life Religious Life Permanent Diaconate Vocatiotr.
How evil thrives on secrecy. https://t.co/1cPVVUz8ZJ

— James Martin, SJ (@JamesMartinSJ) August 14, 2018
"For many of us, those earlier stories happened someplace else, someplace away. Now we know the truth: it happened everywhere." https://t.co/SpevHsJxiw

— Sarah Jones (@onesarahjones) August 14, 2018
I'm just reading through the sex abuse report from that Pennsylvania grand jury. Enraging. Sample: "Yet another priest finally decided to quit after years of child abuse complaints, but asked for, and received, a letter of reference for his next job – at Walt Disney World."

— Olivier Knox (@OKnox) August 14, 2018
Pennsylvania grand jury report names 300 priests accusing them of either sexually abusing minors or helping to cover it up. #DailyBriefing https://t.co/ysmMs2radC pic.twitter.com/Ef2dfCcBIo

— Fox News (@FoxNews) August 14, 2018
DIOCESE OF HARRISBURG – SECRETARIAT FOR CLERGY AND RELIGIOUS LIFE
4800 Union Deposit Road — Box 2161 Harrisburg, Pennsylvania 17105-2161 (717) 657-4804
Reverend Joseph M. Pease
Divine Redeemer Church
438 West Avenue
Mount Carmel, PA 17851-2012

January 11, 1996

Dear Father Pease,

In light of a recent report that was presented to the diocese regarding your association with a young man in a past assignment, permit me to bring to your attention those parts of the
Program for Priestly Life which pertain to priests and young people. In the section titled Priestly Life, it states:

"It is entirely inappropriate for minors to be in any place other than in public areas of the rectory and is not to be permitted." (A. para.9) "The practice of employing or engaging minors (18 years or younger) to answer telephones and doors in rectories or parish offices is unsafe and potentially a serious liability, and is not permitted." (A. para.10) These and other prudent personal boundaries regarding associations and activities with young people should be diligently observed by every priest so as to avoid misunderstanding and even the appearance of inappropriateness.

Parish settings offer priests a variety of opportunities to interact with young people to their benefit; however, priests must always act with prudence and good common sense.
one. I pray that your new year will be a good and peaceful

Sincerely yours in Christ,
Very Reverend Paul C. Helwig
Secretary for Clergy
and Religious Life

Presbyteral Life Religious Life Permanent Diaconate Vocations DOH0001685
'Men of God hid it all': Church protected over 300 'predator priests' in Pa., grand jury says.

Over 1,000 victims.

I can't even comprehend these numbers.https://t.co/WwQr7VhhfV via @usatoday

— Red T Raccoon (@RedTRaccoon) August 14, 2018
This is monstrous — both the underlying sex crimes and spiritual betrayals and the grotesque cover-up:https://t.co/W3hR38t2Al

— Laurence Tribe (@tribelaw) August 14, 2018
Imagine the national freak out if 300 Muslims were credibly accused of sexually abusing more than 1000 child victims in Pennsylvania. https://t.co/FCoPL1zNp0

— CJ Werleman (@cjwerleman) August 14, 2018
The President of the U.S. Conference of Catholic Bishops and its Chairman for the Committee for the Protection of Children and Young People have issued the following statement in response to findings outlined in today's Pennsylvania grand jury report: https://t.co/getr725jFX pic.twitter.com/DOvTNjLVFi

— US Catholic Bishops (@USCCB) August 14, 2018
NEW: "The Diocese of Erie intentionally waited out the statute of limitations and curved their own investigation to avoid finding additional victims" –@PAAttorneyGen says. revealing extensive grand jury report into Catholic Church's cover-up of child sexual abuse in Pennsylvania

— Courtney Norris (@courtneyknorris) August 14, 2018
"The pattern was abuse, deny and cover up": Grand jury report details "systematic cover-up" of priest sexual abuse in Pennsylvania https://t.co/jeH7IYXhfK pic.twitter.com/4PmVawX1Ed

— CBS News (@CBSNews) August 14, 2018
Bishops & other leaders of the Roman Catholic Church in #Pennsylvania covered up child sexual abuse of +1,000 identifiable victims by 100s of priests over a period of 70yrs, persuading victims not to report abuse & police officers not to investigate it https://t.co/YtGiyxsUWo

— Mona Eltahawy (@monaeltahawy) August 14, 2018
More than 300 "predator priests" that abused over 1,000 child victims have now been identified in Pennsylvania. But the state's AG cautions, "While the list of priests is long, we don't think we got them all." https://t.co/YkEZu4wxM0 pic.twitter.com/scv6eSFpmL

— CBS News (@CBSNews) August 14, 2018
Grand jury report identifies hundreds of "predator priests" in six Pennsylvania Catholic diocese https://t.co/Ind6vNk2wq pic.twitter.com/0RZzzEkJPV

— The Hill (@thehill) August 14, 2018
A harrowing, 1,356-page grand jury report on sexual abuse in Pennsylvania's Catholic Church just released details decades of abuse, sexual assault, and a "systematic cover-up" https://t.co/FFDqLgafRK

— The Daily Beast (@thedailybeast) August 14, 2018
Pennsylvania Attorney General Josh Shapiro shares graphic details from the grand jury report about child sex abuse from priests https://t.co/F8vjbRjDNs pic.twitter.com/jbfU1Spmqo

— CBS News (@CBSNews) August 14, 2018
"The time of telling these victims to keep their truth to themselves has ended." Trace Gallagher reports on a new grand jury report that says hundreds Roman Catholic priests in Pennsylvania were accused of sexually abusing more than a thousand children. https://t.co/vZwBYHzIo6 pic.twitter.com/DS55yH3AKf

— Fox News (@FoxNews) August 14, 2018
Pennsylvania priest accused of sexual abuse was recommended for a job at Walt Disney World by the diocese — and went on to work there for 18 years https://t.co/o9vo57wFG2 pic.twitter.com/sqh3j6C4MD

— New York Daily News (@NYDailyNews) August 14, 2018
Pennsylvania report identifies over 1,000 victims of priest abuse https://t.co/Z4s89kJ6DV

— America Magazine (@americamag) August 14, 2018
"One child being abused is terrible, but a thousand? This is just appalling," @ThomasReeseSJ says of grand jury investigation into clergy sexual abuse in six Catholic dioceses in Pennsylvania. pic.twitter.com/CuJHPKObEg

— PBS NewsHour (@NewsHour) August 14, 2018
MORE: Pennsylvania grand jury report on clergy sexual abuse faults Cardinal Donald Wuerl, the former longtime bishop of Pittsburgh, over his handling of abusive priests. https://t.co/b4gyX8Wm9K pic.twitter.com/N6bZigGEh0

— ABC News (@ABC) August 14, 2018
Cardinal Donald Wuerl, Archbishop of Washington, D.C., and the former Bishop of Pittsburgh, has been named more than 200 times in a Pennsylvania grand jury report, released Aug. 14, after an 18-month investigation into historic allegations of sexual abuse https://t.co/fs3X1yQZZC

— Armin Schwibach  (@ASchwibach) August 14, 2018
More than 300 "predator priests" in Pennsylvania were protected by Catholic church leaders, a scathing grand jury report claims. https://t.co/vrx2kcNPcc pic.twitter.com/z9tsW6aCIW

— USA TODAY (@USATODAY) August 14, 2018
Catholic priests in U.S. Pennsylvania sexually abused thousands of children over decades and silenced victims through "systematic cover-up," grand jury report says https://t.co/ZaCvMVZ7V5 pic.twitter.com/NZ9uwmSxNb

— China Xinhua News (@XHNews) August 14, 2018
#BREAKING: Active shooter reported at a Walmart in Montgomery County Pennsylvania. Multiple victims reported.

— UA News (@UrgentAlertNews) August 14, 2018