Prime Minister Justin Trudeau pledges 200 Ground Troop at the 2017 Peacekeeping Conference/Angelina Jolie talks ending sexual violence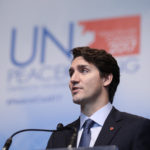 The 2017 Peacekeeping conference was held on November 14-15 at the Vancouver Convention Center, British Columbia. Prime Minister Trudeau welcomed over 500 delegates from 70 countries, with representation from the African Union, the European Union, NATO, Organisation Internationale de la Francophonie.
A major component of the PeaceKeeping Treaty is the UN Peacekeeping Operations which include:
Prime Minister Trudeau during his address at the Peacekeeping Defence Ministerial conference on Wednesday pledged 200 Canadian ground troops backed by the Liberal Government of Canada for future UN peacekeeping operations. The 5-year military commitment will include a provision of armed helicopters, cargo planes, military trainers, and transportation. The Liberal government also pledged monetary support which will aide in training and providing protection for the brave women who choose to serve and participate in high-risk UN missions.
Approximately 1 in 3 women worldwide has experienced physical or sexual violence… But we also know that both women and men are more likely to report physical violence to women officers…We can expect women peacekeepers to be a powerful force for the elimination of sexual exploitation and abuse.-Justin Trudeau (paraphrased)
The Vancouver Principles was signed by 53 countries which will be a commitment to ending the recruitment and use of child soldiers in the context of UN peace operations.
"We are making these pledges today because we believe in the United Nations and we believe in peacekeeping," he said. "What we will do is step up and make the contributions we are uniquely able to provide."
CBC news' Defence and Security contractor Murray Brewster was present at the event. Brewster has had a decade-long career covering Canadian political and military operations in Ottawa including spending 15 months in Afghanistan covering the war for the Canadian Press.
He reported:
Also on Wednesday, retired lieutenant-general Roméo Dallaire helped roll out a new set of international commitments intended to eliminate the recruiting and use of child soldiers.

The UN released a report last month that found more than 8,000 children were killed or injured in conflicts around the world in 2016 and thousands of children had been recruited or used by warring factions.

Academy Award-winning actress Angelina Jolie delivered the keynote address on preventing and better addressing sexual violence in armed conflict.

She thanked the Canadian government for hosting the event and for its peacekeeping contribution but called on world leaders to recognize sexual violence as a weapon and do more to end it.

"It is cheaper than a bullet, and it has lasting consequences that unfold with sickening predictability that make it so cruelly effective," Jolie said.
Click here to read the full story: http://www.cbc.ca/news/politics/peacekeeping-plan-trudeau-vancouver-1.4403192
Canada, the UK and Bangladesh have announced today the Senior Military Chiefs Network, promising to personally work with other senior military officers to increase the numbers of women in their militaries, to change training to include gender and Women, Peace and Security, to deploy more women in operational roles, and to appoint full time gender advisors.-Angelina Jolie
Click Here To Read Her Full Speech: http://www.huffingtonpost.ca/2017/11/15/angelina-jolie-full-keynote-address-un_a_23278905/