Prime Minister Modi meets with Israeli PM Netanyahu and announces Palestine visit for February 10,2018.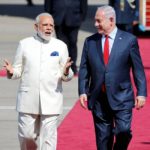 The Times of India reported today that Prime Minister Modi will be the first Prime Minister to be hosted by Palestine on February 10, 2018.
We are working towards doubling farmer incomes by 2020. For this, optimum utilization of land resources, ensuring minimum wastage and understanding the needs of the market assume importance: PM @narendramodi
Today Modi met with Israeli Prime Minister Benjamin Netanyahu and the two leader discussed technology and agriculture and the future of the budding nation.
The Prime Minister spoke of cooperation between India and Israel for innovation in areas such as food, water, health and energy. He said this cooperation between the two countries would write a new chapter in the history of mankind in the 21st century.-PMIndia
There has been some concern as to Modi's commitment to the Palestinian cause since he took office in 2014. There was also an upset when Modi visited Israel last year and the PM chose not to visit Ramallah.
"The current PM (Modi) seems more interested in security and in relations with the West. Palestinians seem to believe that they can no longer count on India's support,"-Khalil Shikaki
Ramallah is a small city in the Palestine Territories north a short drive from the holy city of Jerusalem in the West Bank. The city which has 57,000 residents is the Capital city and is the force of the Palestinian administration.
Netanyahu then goes on to mention China and India, apparently citing them as example of countries that "don't care about" about the Palestine factor. "We have a special relationship with China. And they don't care. They don't care about the political issues. Indian Prime Minister Narendra Modi said he needs water for his people. Where will I get it? Ramallah? No," Netanyahu said, according to Hareetz.
Despite this the Indian government headed by Modi maintains that the ties it has shared with Palestine and the developing relationship with Israel will be maintained.
Prime Minister Modi and Israeli Prime Minister Netanyahu today dedicated to the nation, the iCREATE facility located on the outskirts of Ahmedabad. iCreate is an independent Centre created with the objective of facilitating entrepreneurship through a blend of creativity, innovation, engineering, product design and leveraging emerging technologies to deal with major issues such as food security, water, connectivity, cybersecurity, IT and electronics, energy, bio-medical equipment and devices etc. iCreate aims to develop an ecosystem in India to generate quality entrepreneurs.-IndiaPM