Prime Minister Trudeau and Former Prime Minister Stephen Harper tackle Foreign Affairs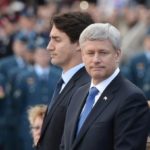 Prime Minister Trudeau has been battling an 18-year old groping allegation that will probably follow him into the 2019 elections. While he was in Regina on Sunday talking to Canadian Steelworkers, Prime Minister Trudeau was asked about the allegation in which he replied to the reporter, "he does not recall any "negative interactions" that day-CBC".
The Incident happened in 2000 at a charity event dressed as a music festival for an Avalanche Foundation. The lady in question later, a reporter, went on to write an editorial about the encounter with Trudeau in which she says she felt blatantly "disrespected".
A few days after the festival, an unsigned editorial appeared in the Creston Valley Advance which alleged Trudeau, who was 28-years-old at the time and not involved in politics, had apologized to the reporter in question.

It also quoted him as saying "I would not have been so forward" had he known she was a reporter.

The article did not name the journalist and did not provide further details about the alleged incident.

Broadcaster CBC on Monday said it had contacted the journalist, but she did not wish to be named and did not want to be associated with coverage of the story.-News 18
Oh boy. The Trudeau groping story is being picked up internationally. UK papers, Washington Post has it on their front page and CNN is on it. Why are there are 2 sets of rules, 1 for @JustinTrudeau and 1 for everyone else? #Barrie #Innisfil #cdnpolihttps://t.co/Q3lSdLnXfK

— John Brassard (@JohnBrassardCPC) July 3, 2018
Imagine if a CBC reporter were to ask Justin Trudeau about groping that woman in Creston. Imagine if a CBC reporter were to read Trudeau's own words here back to him. That reporter would be fired by @gmbutts, just like Butts had Twitter silence a critic. pic.twitter.com/tp3PgQ0ZwD

— Ezra Levant ?? (@ezralevant) June 29, 2018
Justin Trudeau responded to allegations that he groped a reporter at a music festival in 2000, saying that he does "not remember any negative interactions that day at all" https://t.co/NlnfI2M6sl

— New York Magazine (@NYMag) July 2, 2018
While in Regina, Trudeau also addressed the tariff's that have caused issues between the Prime Minister and the President of the United States Donald Trump.
"I'm glad to be here to remind everyone that Canadians stand up for each other," he said at the park and pool by the Evraz steel mill Sunday afternoon. "That's what we do and I'm glad to do it."

Trudeau has been visiting Canadian workers as his government hits back against U.S. tariffs on Canadian steel and aluminum. Canada Day on Sunday was the very day Canada's countermeasures took effect, making it more expensive to import 235 American products.-LeaderPost
Former Prime Minister Stephen Harper seems to also still have business with the United States as he was seen leaving the West Wing on Monday.
Harper was expected to meet with Larry Kudlow — the director of the National Economic Council and U.S. President Donald Trump's go-to economic adviser — and John Bolton, the president's national security adviser, according to multiple sources who spoke to CBC News on the condition of anonymity.

An Associated Press photographer snapped a photo of the former Conservative leader leaving the White House, but neither Harper's team nor the U.S. administration has responded to CBC's requests for comment about what happened during Monday's trip to Washington.-CBC
And now we have Stephen Harper sneaking around meeting with politicians in Washington without so much as a word about it to our ACTUAL government. And of course crickets from Connie media pundits who behave as if Harpo was highly regarded for his diplomacy or something #cdnpoli pic.twitter.com/NghHPpijKh

— FranklyMyDear (@MrDash109) July 2, 2018
Stephen Harper is not Prime Minister. He lost. End of story.
Canada is dealing with an increasingly unhinged @realDonaldTrump and must work together to defend our industries.
Harper's mischief making in Washington is not welcome. https://t.co/5zqcCEqkuJ

— Charlie Angus NDP (@CharlieAngusNDP) June 28, 2018
Another way to read this is public affairs consultant Stephen Harper – head of Harper and Associates consulting group – is going to Washington for client meetings.

It's how consultants pay bills. https://t.co/Je3dNfiRlE

— Rob Silver (@RobSilver) June 28, 2018
The Trudeau gov't learned by accident, that former prime minister Stephen Harper was planning to visit the White House next week, in the midst of a looming trade war between Canada and the U.S.: Canadian Press

— CBC News Alerts (@CBCAlerts) June 28, 2018
On a day the White House is launching new attacks on Canada from the podium (between racist attacks on asylum seekers), Stephen Harper is in the building.
?#cdnpoli

— Mike Gibbs ?️‍? (@Mikeggibbs) July 2, 2018
As CTV reports on @Stephen Harper visit to the White House – let's take a moment to remember that this type of meeting has happened before. And that time Ukraine was a point of great foreign relations tensions between Canada and Russia. https://t.co/S0UxBgS2mW

— Lisa Raitt (@lraitt) June 28, 2018
Does anyone honestly care that Stephen Harper is meeting at the White House? Someone is being used, and Harper will be even more villified if he undermines Canada in any way. He also has no status to speak for Canada. Much ado about nothing. He's irrelevant. #cdnpoli #cdnmedia

— Neil Before Zod™ (@ThatsMrNeil) June 28, 2018
It turns out, Harper is still not prime minister.

When referring to a former prime minister with proper CP style, you can say:

"it turns out… former prime minister Stephen Harper is sneaking around behind Prime Minister Justin Trudeau's back, like the weasel he is" #cdnpoli https://t.co/2629erdx5j

— St. Andrew of Alberta ?? (@UncleRee1) June 28, 2018
At least one Cdn writer thinks that Stephen Harper probably advised White House officials to treat Justin Trudeau nicely, lest they make him more popular. But I just can't see anyone daring to explain that to Trump. https://t.co/oM6uLpKJ9o #cdnpoli pic.twitter.com/rHJMeGUziI

— Simon (@montrealsimon) July 3, 2018
Unfortunately for Liberals Stephen Harper is only Canadian Politician recognized globally even when he is retired…many Canadians feel jealous and embarrassed when they look at the sitting Govt.. https://t.co/S9DwdTxBof

— Truthalways1 (@truthalways1st) July 3, 2018
Stephen Harper wraps up meeting with Larry Kudlow, Trump's economic advisor https://t.co/TuphAFtvGs

— Denis Bosse (@bossedenis) July 3, 2018