Rapper XXXTentacion Shot outside car dealership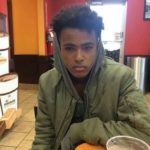 The life of US rapper XXXTentacion, who was shot dead outside a motorcycle dealership on Monday, was as grim and confusing as his music was compelling.
Born Jahseh Dwayne Onfroy in south Florida, he had a troubled upbringing that was often punctuated by violence.
His mother was a teenager when he was born and flitted in and out of his life. He was raised by his grandmother, family friends and babysitters – and once said he used violence to make his mother pay attention.
"I used to beat kids at school just to get her to talk to me, yell at me," he said.
Despite that, he was fiercely protective of their relationship, once claiming that when he was six years old he "bit [the] flesh out" of a man who laid his hands on her.
He was later expelled from middle school for fighting, but he soon channeled his energy and fury into music.-BBC
XXXTentacion has been pronounced dead at the age of 20 years old after being shot in Deerfield Beach, Floridahttps://t.co/pR7octUm3I

— XXL Magazine (@XXL) June 18, 2018
RIP xxxtentacion, regardless of his controversial past, he did not deserve to die, especially so young. I respected him for preaching/spreading positivity and the lives he touched in a positive way. Gone too soon, so terrible. His music/art will live forever.

— Ethan Dolan (@EthanDolan) June 18, 2018
I'm so confused #xxxtentacion pic.twitter.com/oWnYEcgcDW

— ąvəřąğə jøə? (@kxd_in_bad_revo) June 19, 2018
Tory Lanez performs "Look At Me" in memory of Xxxtentacion ?? pic.twitter.com/iLR9C6ITrS

— RapSpotlights ⚡️ (@RapSpotlightss) June 19, 2018
"If worse thing comes to worst, and I fucking die or some shit and I'm not able to see out my dreams, I at least want to know that the kids perceived my message and were able to make something of themselves and able to take my message and use it and turn it into something positive and to at least have a good life," he said.-CNN via XXXtentacion
XXXTentacion's Alleged Abuse Victim Not 'Relieved or Happy' https://t.co/k4p7Zimkt6

— TMZ (@TMZ) June 19, 2018
Can't believe this !! He wasn't dead until he went to the hospital!!! Y'all could've saved him!!! #ripxxxtentacion #XXXTentacion pic.twitter.com/fJm1B6l4x7

— RIP XXXTENTACION (@Jayecane) June 19, 2018
My heart dropped when I heard about @xxxtentacion, I feel like we only got to see a glimpse of his artistry. I didn't know him personally but I respect how passionate he was about his music and message. Nobody deserves this kind of ending. gone too soon, damn! RIP

— Sean Don (@BigSean) June 19, 2018
"If I'm going to die or ever be a sacrifice, I want to make sure that my life made at least five million kids happy or they found some sort of answers or resolve in my life regardless of the negative around my name, regardless of the bad things people say to me," the rapper added.-XXXTentacion

His legacy is a complicated one for some fans.-CNN
All of this is PR and in a couple days #xxxtentacion will be alive again pic.twitter.com/Iki7bZFx4P

— Tambo (@atambouratzis02) June 19, 2018
Please let this be true?? #XXXTentacion pic.twitter.com/cofTj4P4yt

— LUPITA? (@lupita73775484) June 19, 2018
Rest in peace my beautiful angel ?#XXXTENTACION pic.twitter.com/QiBMYVgrXZ

— Alma Aurora. ? (@almanirvana) June 19, 2018
Never forgotten. pic.twitter.com/fjz7cLr6Qe

— XXXTENTACION (@xxtentacionn) June 19, 2018
Damn this xxxtentacion…makes me so fucking confuse…i mean is he really dead or alive?….??‍♀️??‍♀️for fuck sake everyone..what's really the truth?

— shine Schwerdtfeger (@alejdreshine5) June 19, 2018
Seems pretty dead to me

— Michal Maddocks (@MichalMaddocks) June 19, 2018
Это несправедливо.Это не тот человек который должен был уйти от нас так рано.Да,своими писанинами я не смогу помочь ничем ни ему,ни его семье.Но я обязана оставить это тут.#XXXTentacion Навсегда в моем сердце♥ pic.twitter.com/Ra7hHDWDqZ

— Полина (@DjfjRu5547) June 19, 2018
Ahora todos eran fanes de XXXTENTACION

— Craxker (@LeitoYob) June 19, 2018
t'es ridicule t'as 15 ans et tu mdis jsuis dépressive, gros t'as même pas passé ton brevet, et celui de français tu l'auras sûrement pas
eh jsuis juste fan d'xxxtentacion et tu crois jsuis dépressive ptdddr tu mtues

— the remedy for a broken heart (@loyaltyfordead) June 19, 2018
Wait, who asked for John Mayer's thoughts on XXXTentacion's death? ? https://t.co/skPR4s31ho pic.twitter.com/XjZicthQj8

— NYLON (@NylonMag) June 19, 2018
@xxxtentacion helped me through so much shit honestly, can't believe your gone, changed my life, ur memory will live on x Rest in peace brother❤️

— Abbi Olive (@AbbiOlive) June 19, 2018
xxxtentacion got shot but honestly Naruto been through so much more. The hardships he's faced aren't even comparable to getting shot dead. Until xxx has done what Naruto has done I don't feel sympathy.

— 🙂 (@dontsugel) June 19, 2018
rest easy xxxtentacion, jahseh, you were a beautiful soul and a beautiful mind. you spoke through your music which made an impact of people in this society that are depressed, struggle with anxiety and have issues with low self esteem. thank you for everything. much love,caiside.

— Caiside (@Caisidejane) June 19, 2018
people will have your name in everything but a prayer

— XXX Tentacion (@ltsXXXtentacion) June 19, 2018