Real Housewife Kandi Burruss dropping out of Xscape? Blake Shelton People's Sexiest Man Alive, #SaveUsDrake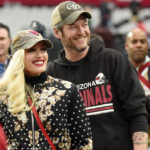 Kandi Burruss sat down with People this week and spoke about her show The Real Housewives of Atlanta and her relationship with her Husband Todd as well as fertility treatments being the reason why it looks like she might have had a breast augmentation.
Kandi spoke about her reunion with Xscape and had this to say:
"I was like, I need a public apology," Burruss says. "She's going to have to say to the world that the stuff that she said about me was a lie. And so in doing that — we did it on the radio — and the radio disc jockey, he's like, 'Oh, Xscape is back!' I was like, 'Xscape is not back!' All of a sudden we started getting all these offers to perform and do shows, so I just went with the flow for the moment."-People
Click Here to Read the Full Story: http://people.com/music/real-housewife-kandi-burress-xscape-reunion/
Blake Shelton was named peoples sexiest man alive to which a people correspondent Julie Jordan attributed to his wife Gwen Stefani and to the fact that Blake is just an all-around great guy.  Drake was also seen this week being valiant as he rushed to the aide of a concert goer who was being harassed, maybe he and Blake have been spending some time together.
What Instagram has to say:
https://www.instagram.com/p/Bbf5nbiDjo_/?hl=en&tagged=blakeshelton
https://www.instagram.com/p/BbiK3INjMyU/?hl=en&tagged=blakeshelton
https://www.instagram.com/p/BbklOuzj3bl/?hl=en&taken-by=blakeshelton
https://www.instagram.com/p/BbfyuAbj_IC/?hl=en&taken-by=blakeshelton
https://www.instagram.com/p/BbkPPVnDnZQ/?hl=en&taken-by=blakeshelton
https://www.instagram.com/p/BbhXuivFTc8/?hl=en&taken-by=gwenstefani
https://www.instagram.com/p/Bbj9n3lAR2Y/?hl=en&tagged=blakeshelton
https://www.instagram.com/p/BbhvKuJFwhN/?hl=en&taken-by=gwenstefani
https://www.youtube.com/watch?v=zYfcyCB6J0w