Russia barred from the 2018 Olympics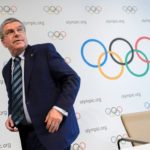 Russia has been banned from the 2018 Olympics in South Korea. According to news sky after a 17-month investigation, it was found that Russian athletes were found to be doping as a means of winning a medal.
"Russia fully supports fighting doping," said Mutko. "However, we firmly believe that clean athletes should not be punished for the actions of others.-BBC
Russia has been suspected to have meddled with the last American election for which some members of the house are trying to impeach President Trump.
The International Olympic Committee is a not-for-profit independent international organization made up of volunteers, which is committed to building a better world through sport. It redistributes more than 90 per cent of its income to the wider sporting movement, which means that every day the equivalent of 3.4 million US dollars goes to help athletes and sports organizations at all levels around the world.-olympic.org
It was found by the International Olympic Committee (IOC) that there was a "systemic manipulation of the anti-doping rules and system in Russia."
However, the International Olympic Committee (IOC) has said that individual "Russian clean athletes" will still be able to take part as neutral competitors at the event in Pyeongchang from 9-25 February next year.-news. Sky
Athletes must be considered clean to qualify from Russia and must sit in front of an IOC panel to be cleared of any anti-doping rule violation and must also go through pre-game targeted testing. Athletes must also go through anyadditional testing specified by the IOC.
These invited athletes will participate, be it in individual or team competitions, in the Olympic Winter Games PyeongChang 2018 under the name "Olympic Athlete from Russia (OAR)". They will compete with a uniform bearing this name and under the Olympic Flag. The Olympic Anthem will be played in any ceremony.-olympics.com
What Social media Has to Say:
Here are the conditions for Russian athletes at the next #Olympics https://t.co/yr8KCDFM4E

— The Boston Globe (@BostonGlobe) December 5, 2017
https://www.instagram.com/p/BcVR6NsFo-k/?hl=en&tagged=russiaolympics
Речь почетного члена МОК, председателя независимой общественной антидопинговой комиссии Виталия Смирнова на Исполкоме МОК в Лозанне?https://t.co/EZ6QMZ92r7 pic.twitter.com/Eh5kTERKCh

— Olympic Russia (@Olympic_Russia) December 5, 2017
https://www.instagram.com/p/BcVM6FIldMr/?hl=en&tagged=russiaolympics
Tuesday 5 December, 19.30 CET – Watch live on @iocmedia the IOC Executive Board Press Conference with IOC President Thomas Bach #IOCEB #lausanne pic.twitter.com/WO4KVlkvGr

— IOC MEDIA (@iocmedia) December 5, 2017
https://www.instagram.com/p/BcRj6YBFlyy/?hl=en&tagged=russiaolympics
Директор медицинского подразделения МОК Ричард Баджетт: «Новая система антидопингового контроля работает максимально эффективно. Подобный контроль помог выявить нарушения в функционировании РУСАДА». pic.twitter.com/QXzx0z6OGJ

— Olympic Russia (@Olympic_Russia) December 5, 2017
Татьяна Волосожар и Максим Траньков в рамках проекта «Дорога в Олимпийскую Корею» провели мастер-класс для фигуристов в городе Сувон.#DiscoverYourKorea #Корея2018#ZASPORT pic.twitter.com/6yHeUtGhfe

— Olympic Russia (@Olympic_Russia) December 5, 2017
I will say it twice, IcaRus is worth watching. #olympics #winterolympics #olympics2018 #icarus #documentaryhttps://t.co/SaWjIVSO4P

— Rebecca Rockey (@beckywflyhair) December 5, 2017
Figures.
Russian is a fascist theocratic Kleptocracy.
No honor there.#Olympics
RT
IOC suspends Russian Olympic Committee from '18 Games for dopinghttps://t.co/Jgp0xSqX2N

— Jackson Steele (@askboomer1949) December 5, 2017
Russia under Putin is all about cheating, did it with their athletes for the #Olympics and with Trump in our US election. #IOC giving Putin what he deserves, time for Americans to do the same to Trump #DeutscheBank #Mueller #RemoveTrump https://t.co/kn2rRgkLyK

— KCazares (@cazarespr) December 5, 2017
Excellent move by the #IOC and the only one they could make if they wanted to hold onto any legitimacy. https://t.co/m24J0wi0SO #Olympics

— Brandon Sullivan (@phxtri) December 5, 2017
Unprecedented- https://t.co/d5TulFxkc2 #russia #olympics #IOC pic.twitter.com/QaaPganOeA

— Drew Sutherland (@DrewSudSees) December 5, 2017
Russia has been banned from 2018 Winter #Olympics for cheating. https://t.co/sAtKhzVAQI

— Jeff Letourneau (@jeffl76) December 5, 2017