Russia's Vostok 2018 War Games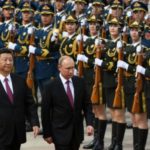 Presidents Xi Jinping and Vladimir Putin have taken time out from their bilateral meetings to enjoy some pancake diplomacy.

China is taking part in Russia's largest war games since the Cold War. Read more: https://t.co/3QhiygfJkv pic.twitter.com/bVm0umbydm

— The Telegraph (@Telegraph) September 11, 2018
Vladimir Putin says Russia's armed forces will continue to be strengthened, as they undertake their largest war games since the fall of the Soviet Union.
For the first time, Chinese troops joined the week-long exercises on Thursday.
On the other side of the world, NATO simulated jet interceptions over Western Europe to deter Russian aircraft from entering NATO airspace. Russia and the West have not looked so hostile since the end of the Cold War.-Aljazeera
Russian Pres. Vladimir Putin watches on as Russia holds the largest war games in its history.

300,000 troops, 36,000 tanks, 80 ships, and almost 1,000 aircraft are taking part, according to the country's Ministry of Defense. https://t.co/YPKF4wLVDx pic.twitter.com/g4gIh2h8Og

— ABC News (@ABC) September 13, 2018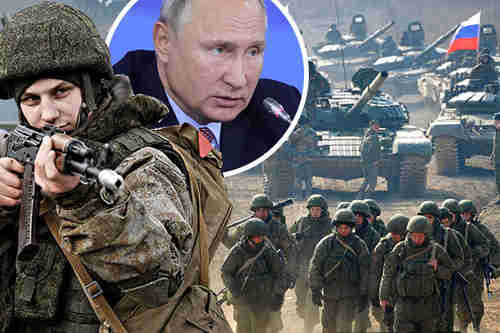 President Vladimir Putin attends Russia's biggest-ever war games, which involved some 300,000 troops as well as a significant contingent of Chinese forces https://t.co/onkqZgKkpR pic.twitter.com/wWwTfoZLbd

— ABC News Politics (@ABCPolitics) September 13, 2018
#Russia started its largest military drills in decades, since 1981 – named "Vostok-2018". The war games comprise some 300'000 Russian soldiers and officers, 1'000+ warplanes, helicopters and drones, ~36'000 armour fighting vehicles, and 80 combat and support ships #Vostok2018 pic.twitter.com/PnVKol1b3t

— Russia in RSA ?? (@EmbassyofRussia) September 13, 2018
Russia's Putin inspects war games and vows to beef up army https://t.co/4SRDiE9XCy pic.twitter.com/b4rD2MMqMM

— Reuters Top News (@Reuters) September 13, 2018
China sent about 3,200 troops, 900 combat vehicles and 30 aircraft to join the drills at a Siberian firing range, a deployment that reflects its shift toward a full-fledged military alliance with Russia.
Speaking at the Tsugol firing range about 130 kilometers (80 miles) north of the border with China, where Russian and Chinese troops performed joint drills, Putin lauded the troops for their skills, saying they "demonstrated their capability to deflect potential military threats."
He emphasized that "Russia is a peaceful nation," but noted that the country needs to strengthen its military capability to "be ready to protect its sovereignty, security and national interests, and, if necessary, support our allies."-FOX
Vladimir Putin affirms Russia is a "peaceful nation" as he watches the largest war games since the fall of the Soviet Union.

NATO says the country is demonstrating its focus on large-scale conflicts.

Sky's @dimagnay was there. Read about what she saw: https://t.co/pJ3bQG0n9N pic.twitter.com/XBIJzCz8WT

— Sky News (@SkyNews) September 13, 2018
Putin vows to strengthen Russian army as he inspects Russia's largest-ever war games with China https://t.co/8G8zgtOcZ3 pic.twitter.com/8N8uryi9BZ

— The Hill (@thehill) September 13, 2018
Putin watches war games billed as Russia's biggest ever; China taking part https://t.co/5Fm3uob2JU pic.twitter.com/AsXLkYJDO9

— CBS News (@CBSNews) September 13, 2018
From China's perspective, the emerging military alliance with Russia sends a strong signal to the U.S. and its ally Japan. China is intent on defending its interests in the South China Sea, which Beijing claims virtually in its entirety, as well as Taiwan and the Senkaku and Diaoyu islands controlled by Japan but claimed by Beijing.-Fox
Putin today promised to strengthen the army and supply it with new generation weapons, as he traveled to watch Russia's biggest war games since the fall of the Soviet Union. https://t.co/NtNP4UrXPb pic.twitter.com/MWzCbTWf2O

— NBC News World (@NBCNewsWorld) September 13, 2018
Russia's war games 'horrifying and awe-inspiring' https://t.co/S3EmPjJKU4

— Sky News (@SkyNews) September 13, 2018
Russian President Vladimir Putin inspects military drills in eastern Siberia, billed as the largest war games Russia has ever had. https://t.co/rpXgc8JVt4

— The Associated Press (@AP) September 13, 2018
Daniel Hoffman on Russia war games: "Putin likes to play to his domestic audience." @FoxFriendsFirst https://t.co/Bku1CJ8phL pic.twitter.com/enFAY2rndn

— Fox News (@FoxNews) September 12, 2018
Russia kicked off what it says are its largest war games since the fall of the Soviet Union today https://t.co/16cdDgyYwU pic.twitter.com/TdnGbGsIrd

— CNN International (@cnni) September 11, 2018
Russia starts biggest war games since Soviet fall near China https://t.co/spsHgYJba2 pic.twitter.com/yoobRtXJuN

— Reuters Top News (@Reuters) September 12, 2018
Russia says wargames with China will become regularhttps://t.co/k43fTU9E5W#ghostfleet

— Peter W. Singer (@peterwsinger) September 13, 2018
WATCH: Russia's largest war games since the height of Cold War #Vostok2018 have kicked off, featuring Chinese soldiers https://t.co/sCbC0uawJN pic.twitter.com/CAqY1iXWxL

— TicToc by Bloomberg (@tictoc) September 12, 2018
Biggest war games at VOSTOK-2018 drill in Russia pic.twitter.com/2ih7mbSd2n

— RT (@RT_com) September 12, 2018
RUSSIA/CHINA WAR GAMES:
300,000 troops, 36,000 tanks & APCs, 1,000 aircraft. Testing new kit and abilities, plus bilateral protocols.
As the world becomes more dangerous and experiences further erosion of our global rules based order – this event is unparalleled. pic.twitter.com/lN6iEca2pX

— Tobias Ellwood (@Tobias_Ellwood) September 11, 2018
This week Russia launches their largest military exercises since…1981. And they're teaming up w/ Communist CHINA.

KEY TAKEAWAY: "It's clear that such efforts can be directed at only one country, & that's the United States, because they're so massive."https://t.co/mLvIiFL5te

— Pete Hegseth (@PeteHegseth) September 11, 2018
Russia kicked off what it says are its largest war games since the fall of the Soviet Union, as it hosted a bilateral meeting between President Vladimir Putin and Chinese leader Xi Jinping. https://t.co/48D4WStE4h pic.twitter.com/6r4HvObBJZ

— The Situation Room (@CNNSitRoom) September 11, 2018
"Where the Chinese and the Russians agree when it comes to the global agenda is on non-interference" Fmr US defence official @EvelynNFarkas says unprecedented war games between China and Russia are about stopping the US from meddling in their domestic affairs #TheWorld @bevvo14 pic.twitter.com/5fWqIN3Q2w

— ABC News (@abcnews) September 12, 2018
Russia announces the start of the largest war games in its history, mobilizing tens of thousands of troops for the drills that will also see Chinese troops take part, prompting complaints from NATO that it's "a rehearsal for a major conflict" https://t.co/yu0qwkWyVB pic.twitter.com/i0x2l3LI3z

— ABC News Politics (@ABCPolitics) September 13, 2018
Weeklong Vostok 2018 maneuvers launched Tuesday span vast expanses of Siberia and the Far East, the Arctic and the Pacific Oceans. They involve nearly 300,000 Russian troops along with 1,000 Russian aircraft and 36,000 tanks and other combat vehicles. https://t.co/smYNWqf8Kw

— Stars and Stripes (@starsandstripes) September 13, 2018
#Putin travelled to watch Russia's biggest war games –#Vostok2018 – since the fall of the Soviet Union.https://t.co/4YSPWwieaH

— WION (@WIONews) September 13, 2018
Russia teams with China for biggest war games since Cold War https://t.co/ToKiuzq7yk pic.twitter.com/aoATJHZ25e

— New York Post (@nypost) September 12, 2018
Russia's Putin attends biggest post-Soviet war games in Siberia https://t.co/jxQA2m3rVB pic.twitter.com/bp14E25IPQ

— lΦic lachapelle (@loiclachapelle1) September 13, 2018