Secret Service Agent Nole Edward Remagen Died yesterday of a stroke.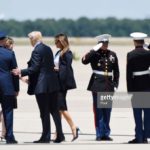 Earlier today the President of the United States released a statement informing the nation of a fallen hero  Nole Edward Remagen. Remagen, a 5 year veteran of the United States Marine Spent 19 years as apart of the secret service which means he also served former president Barack Obama.
Remagen suffered a stroke while on duty in Scotland and with his passing yesterday he leaves behind a wife and two small children.
He was among the elite heroes who serve in the Presidential Protection Division of the Secret Service. Melania and I are deeply grateful for his lifetime of devotion, and today, we pause to honor his life and 24 years of service to our Nation.

The incredible men and women of the United States Secret Service travel wherever they are needed around the world, spend long periods of time away from their families, and make tremendous sacrifices for our safety and security. They make up the most elite protective agency in the world, universally admired for their extraordinary skill, devotion, and courage. We are forever in their debt.-President Donald Trump
In Remembrance: Special Agent Nole E. Remagen. This week the U.S. Secret Service lost one of America's finest. We ask for your thoughts and prayers for his family, friends and colleagues. Forever Worthy of Trust and Confidence. More: https://t.co/bv2V4XKZFs pic.twitter.com/ykAVxsRaN7

— U.S. Secret Service (@SecretService) July 18, 2018
On Tuesday morning, a secret service special agent tragically died after suffering a massive stroke while in Scotland protecting President Donald Trump.

He was just 42 years old, was a Marine, and has two children.

Consider donating to help his family:https://t.co/dK7hwvpqN4

— Caleb Hull (@CalebJHull) July 18, 2018
The dedicated @SecretService work tirelessly & often behind the scenes to keep our family safe. @POTUS & I thank you for your service & all that you do. Our deepest condolences go out to the family of Special Agent Nole Edward Remagen.

— Melania Trump (@FLOTUS) July 18, 2018
The @secretservice Special Agent who died in Scotland while serving on POTUS trip after suffering stroke is being IDed as Nole Remagen. He is survived by a wife & two small children. His body returns to DC this afternoon on a military flight. RIP https://t.co/KEU4H2pTFT

— Noah Gray (@NoahGrayCNN) July 18, 2018
Prayers for the Remagen family. We are all forever grateful for the service and sacrifice of the men and women of the United States Secret Service, some of the greatest and bravest people in the country. We are so sorry for your loss and are grieving with you. https://t.co/Qo8Y7RUaxZ

— Sarah Sanders (@PressSec) July 18, 2018
U.S. Secret Service Special Agent Nole Remagen devoted his life to his country. My thoughts and prayers are with his wife, family, and those mourning the loss of this hero. pic.twitter.com/4ocE4rUvzD

— John Bolton (@AmbJohnBolton) July 18, 2018
Karen & I joined @POTUS & @FLOTUS today to honor the life & service of a courageous American @SecretService Special Agent Nole E. Remagen…a hero who served w/ distinction in the @SecretService & @USMC for 24 yrs. We will keep Nole's precious family & colleagues in our prayers. https://t.co/UOczpaIhgk

— Vice President Mike Pence (@VP) July 18, 2018
Heartfelt condolences to the family and colleagues throughout the US Secret Service on the loss of Officer Nole Remagen stricken while on protection duty in Scotland. We all honor his service and sacrifice

— Andrea Mitchell (@mitchellreports) July 18, 2018
Losing a member of our law enforcement community is never easy. The nation mourns the passing of Special Agent Nole E. Remagen, who will return to the States today. Our thoughts are w his family & the entire @SecretService family in such a difficult time. https://t.co/pmbcfiBAQP

— Sec. Kirstjen Nielsen (@SecNielsen) July 18, 2018
I really need your help. A former Secret Service colleague tragically died on the Scotland protection mission with Pres.Trump this week. He was only 42 years old. He was a Marine,a patriot,& a hero.He has 2 young children. PLEASE consider donating here ->https://t.co/ZefAWvWkZ4

— Dan Bongino (@dbongino) July 18, 2018
The President and First Lady are traveling to Andrews Air Force base to pay respects to fallen Secret Service agent who suffered a stroke in Scotland.

A @gofundme account has been created for his wife and two children https://t.co/KJA4QEYIdX

— Charlie Spiering (@charliespiering) July 18, 2018
Our heartfelt thoughts and prayers continue for the Remagen families, both of blood and of Blue. May our Brother rest with peace in Paradise. We thank you for your service and sacrifices as well as all the sacrifices of your family. We will never forget. God Bless you all.

— True Blue Warriors (@TruBluWarriors) July 18, 2018
"Our prayers are with Special Agent Remagen's loved ones, including his wife and two young children." — President Trump pic.twitter.com/eKBBSMzaZr

— Newsy (@Newsy) July 18, 2018
Secret Service Agent Nole Edward Remagen is being mourned after he died of a stroke during President Trump's visit to Scotland. A Marine Corps veteran who worked for the Secret Service for 19 years, he is survived by his wife and two young children: https://t.co/UcJqgYW0Sw pic.twitter.com/ZjgsUbtMMv

— Heavy.com (@HeavySan) July 18, 2018