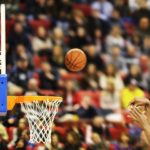 Basketball players Iman Shumpert (a.k.a. Shump Man) and Damian Lillard (a.k.a Dame DOLLA) recently sat down with complex's Everyday Struggle and as it turns out they are both also rappers.
Shumpert who plays for the Cleveland Cavaliers touched on his wife Teyana Taylor Shumpert who is a singer, songwriter, dancer, and a full-time super mom.  When asked about Kanye West's fade video in which Iman and Teyana starred in he had this to say, "It's one of those things like it is for the culture." When asked his thoughts on the way other men viewed his wife Shumpert acknowledged that there is a movement of people becoming more accepting. The cultural perception of his wife being a sexual icon has shifted from raw lust to ultimate respect. "It's really the culture giving that back to me saying, you know what dawg thank you for letting her do this because we really do need to see Teyana do this. I'm glad she didn't go get married and then started covering herself up all the way up to her chin."
Shumpert's rap career came up in the interview where he emphasized the importance of keeping his lyrics clean because of the strong young fan base he has. "I'll change the line, even though the line was dope."  Through his music, he hopes to uplift women and more importantly to make music that his fans will enjoy while preparing for the battle that is game day. When asked about his biggest rap competition in the basketball league he answered immediately, "It got to be Dame". He followed by saying he thought he was a better rapper than Dame because of the melodic edge that he brings to his music. He later admitted Dame was in a different league comparing him to Meek Mill and Nipsey Hustle.
Dame's response, "I just think I'm the best when it comes to what I'm putting out, the kind of music I make, what I'm saying and how I'm approaching it. I think it's the best".  Dame Dolla's album is set to be released on October 6th and during the interview, he spoke about going into the studio with rap maven Dwayne Carter (a.k.a Lil Wayne). The two have a song together "Loyal to the Soil" and he admitted he learned a lot from Carter and also that he had a lot of music that the public hasn't heard before.