Simone Biles steps forward to say she too was sexually assaulted by Team Doctor Larry Nassar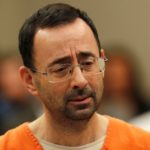 Simone Biles penned an open letter today to her followers expressing that she too had experienced sexual assault at the hands of Team Doctor Larry Nassar and explained how difficult it was for her to come forward.
He was sentenced in December to 60 years in federal prison for possessing child pornography and is facing another 40 to 125 years in prison after pleading guilty to assaulting seven girls.-SportsNet
The multiple Olympic winner and recurring member of the 30 under 30 Forbes list joins a group of top gymnasts who have stood forward to proclaim #metoo.
Nassar, who spent more than two decades as a physician at USA Gymnastics while also working at Michigan State University, has admitted sexually assaulting gymnasts, possessing child pornography and molesting girls who sought medical treatment.-SportsNet
The Doctor was on faculty at the University of Michigan and many believe the University is partly responsible for the occurrence and reoccurrence of the Doctors actions. Nassar is believed to have been a predator for over 20 years and after he was hire by the USA Gymnastics as an athletic trainer in 1986 he was accused of sexual assault in 1994 and in 1996 he was on staff at Michigan State University.
In 1999, a student athlete at MSU came forward to report Nassar had "touched her vaginal area although she was seeking treatment for an injured hamstring." A lawsuit filed claims the University didn't do anything to protect the student athlete, and instead largely ignored the complaint. Nassar was allowed to continue working at Michigan State for 17 years, despite continued reports of abuse.-TheTab
Michigan State has since apologized for any part the university may have had in not only keeping a sexual predator hired despite multiple complaints since1996 but also for not alerting the USA Gymnastics program of these allegations and putting these girls and women in danger. University lawyers have maintained the University is not liable for the actions of a professor under their employ despite ignoring various complaints. An apology was issued despite the denial of liability.
Last month, Lou Anna K. Simon sent the entire MSU student body a letter in regards to Larry Nassar.
"I am truly sorry for the abuse you suffered, the pain it caused and the pain it continues to cause today," Simon said. "I'm sorry a physician who called himself a Spartan so utterly betrayed your trust and everything this university stands for."
Sexual assault has been disregarded at MSU for far too long, and it's not enough for Lou Anna Simon to simply say "I'm sorry," after so many women came forward about their abuse by Nassar only to be ignored.-Sierra Rehm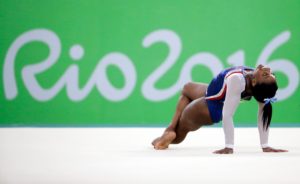 SIMONE BILES: I WAS SEXUALLY ASSAULTED BY LARRY NASSAR

Most of you know me as a happy, giggly, and energetic girl. But lately…I've felt a bit broken and the more I try to shut off the voice in my head the louder it screams. I am not afraid to tell my story anymore.

I too am one of the many survivors that was sexually abused by Larry Nassar. Please believe me when I say it was a lot harder to first speak those words out loud than it is now to put them on paper. There are many reasons that I have been reluctant to share my story, but I know now it is not my fault.

It is not normal to receive any type of treatment from a trusted team physician and refer to it horrifyingly as the "special" treatment. This behavior is completely unacceptable, disgusting, and abusive, especially coming from someone whom I was TOLD to trust.

For too long I've asked myself, "Was I too naive? was it my fault? I now know the answer to those questions. No. No, it was not my fault. No, I will not and should not carry the guilt that belongs to Larry Nassar, USAG, and others.

It is impossibly difficult to relive these experiences and it breaks my heart even more to think that as I work towards my dream of competing in Tokyo 2020, I will have to continually return to the same training facility where I was abused.

After hearing the brave stories of my friends and other survivors, I know that this horrific experience does not define me. I am much more than this. I am unique, smart, talented, motivated, and passionate. I have promised myself that my story will be much greater than this and I promise all of you that I will never give up. I will compete with all of my heart and soul every time I step into the gym. I love this sport too much and I have never been a quitter. I won't let one man, and the others that enabled him, to steal my love and joy.

We need to know why this was able to take place for so long and to many of us. We need to make sure something like this never happens again.

As I continue to work through the pain, I kindly ask everyone to respect my privacy. This is a process, and one that I need more time to work through.

XO, Simone Biles
.
Read more: http://www.dailymail.co.uk/news/article-5272557/Simone-Biles-sexually-abused-Larry-Nassar.html#ixzz54ImgeuUW
Follow us: @MailOnline on Twitter | DailyMail on Facebook