Suspect Apprehended in Crab Park Homicide Vancouver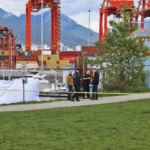 ---
As of May 8th, 2022 police have reported four homicides in Vancouver Canada. The Fouth a man identified as 45 year old Andrew Wadden was murdered in Crab Park, Vancouver. Police were called to Crab Park at around 10:20 a.m after there were reports of a man being assaulted. When police responded to the 9-1-1 call they found Wadden suffering from life threatening injuries. Wadden later died at the scene after ambulance services and police failed to resuscitate him.
26 year old Eric Kim was charged with second degree murder in connection with the death of Andrew Wadden. A second suspect was later identified by police on May 10th. The suspect is being identified as David Bentil who is 18 years old. Bentil was also charged with second degree murder in connection to the murder.
According to reports the victim was approached by the two men and then brutally stabbed. Police are currently unsure of a motive or have no released one to the public. Police are currently asking that any witnesses to the crime to come forward. The park where Wadden died is located on Waterfront Road near main street and it is currently unclear why the victim or the suspects were along the waterfront.
This is the second stabbing in Vancouver this year as a 51 year old woman was found in a stabbing near Mount Pleasant road. The unidentified woman was found inside her home suffering from her injuries. That victim also died at the scene of the crime.
Vancouver Police Gave the following information in a press release in connection with increased youth violence within the province of Vancouver:
VPD investigations include several swarmings, robberies, and reports of violent rituals meant to demean and humiliate peers. Since spring break, VPD officers have also encountered a concerning number of youth with imitation guns, bear spray, brass knuckles, and machetes near schools and in the community.
Incidents of note:
A 13-year-old boy was befriended online and lured from West Vancouver to Stanley Park through social media on April 24. Once in the park, he was swarmed by a group of intoxicated teenagers. They kicked, pepper-sprayed, and robbed him of his phone before assaulting a 63-year-old man who was also walking nearby. The young victim was found bloodied and walking on the seawall.
A 14- and 15-year-old boy were assaulted and held at knife-point in two separate incidents while walking after dark in Kerrisdale on April 16. The boys were robbed of their backpacks, wallets, and electronics after being surrounded by 15 to 20 teens near East Boulevard and West 41st Avenue.
A teenaged boy had a pellet gun held to his head by another youth while sitting on the steps at the Vancouver Art Gallery the evening of April 9. The incident was not reported to police until hours later, when staff at the VAG reviewed security video. The victim never came forward and the suspect has not been identified. Police are now working to identify the victim and suspect.
A 19-year-old man was bear-sprayed and robbed of his backpack by a group of six youths while walking at night near East Boulevard and West 41st Avenue on March 23. He ran home and told a family member, but the suspects had left the area before police were notified.
"These incidents don't just cause physical harm, they can lead to deep-rooted emotional trauma that leave permanent scars," adds Sergeant Addison. "Sadly, the very nature of these incidents often deters victims from coming forward, because they fear retribution and further humiliation."
-The Vancouver Police Department