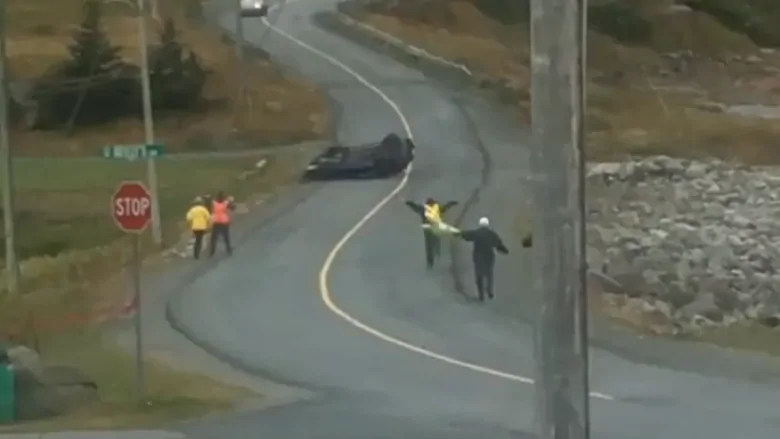 The annual Targa race started on September 13th  with their two-day driving school and runs to September 22nd. It was reported by CBC on Sunday that the race which is made up of most amateur drivers was stopped short when a car flipped during the race.
NEW | Targa contestant flips car on first day of racehttps://t.co/6eW8x2Bvox pic.twitter.com/MvKaTqMuFf

— CBC N.L. (@CBCNL) September 17, 2018
A team in Targa Newfoundland 2018 flipped their car during the first day of the auto race on Sunday.
A video posted to Facebook shows a vehicle rounding a corner in Flatrock, hitting the shoulder and flipping end over end before coming to rest on the roof. People run towards the car, waving down other cars coming around the corner.
A news release from Targa on Sunday referred to "an incident" that caused "a slight delay."-CBC
Targa got off to a rough start in Flatrock today. Word is both the driver and co-driver were not injured in this#nltraffic accident. Not my video, sharing from facebook. https://t.co/xn4fXWnKoH

— Andrea (@Andrea_EE2) September 16, 2018
Coupe or Targa? pic.twitter.com/yF9VBLOtZ9

— LUDEN Automotive (@LUDENClassics) September 16, 2018
I miss when targa was in Botwood and we all got a few hours off school to watch the race

— victoria (@vjc1993) September 17, 2018
The Targa is pretty mild compared to the rally races in Europe

— Arsehole (@stirthepot7) September 17, 2018
When you are 21 years old and you think you are cool as fuck because you just built your own #V8 #Manta 400 #Targa a unique and one day to be repeated build. pic.twitter.com/wjd37w8Fk0

— Chris Pointon (@chris_pointon) September 17, 2018
Targa top flexing.#MotionPixels pic.twitter.com/9qDoPGS8QC

— CarsInPixels (@cars_pixels) September 16, 2018
I saw this gorgeous Porsche Classic Targa today in my hometown Leonberg pic.twitter.com/nV7WZgIDXA

— My Porscheworld (@neun11er) September 16, 2018
First official day of Targa Nfld. A hot Turkey dinner is served at the Lion's hall in picturesque North Harbor. pic.twitter.com/GusSLbroux

— Alan McClelland (@mcclelland_alan) September 17, 2018
What 's Happening Tomorrow?

Tomorrow we are off to start Leg 1 of Targa Newfoundland!

We will be heading to Black River, Garden Cove, North Harbour, Boat Harbour, Petite Forte and Parker's Cove.

For road closure times, please visit https://t.co/8clzO43Cwj pic.twitter.com/DNymebi3Oz

— Targa Newfoundland (@targanl) September 16, 2018
Don't forget to read the full provenance of this 1968 330 GTS chassis #10914, famously dubbed "The Bill Harrah Targa". A real investment grade collectible Ferrari • Head to our website now!https://t.co/7f9Wa4bBp1 pic.twitter.com/Vsf6WWd2tZ

— BacchelliVilla (@BacchelliVilla) September 17, 2018
After fading away on the Burin Peninsula for several years, Targa Newfoundland is back in a big way this week.
https://t.co/n4N9EGaM7a

— The Southern Gazette (@southerngazette) September 17, 2018
Classics lined up at the start of the first stage of Targa at Flatrock. This Mini is beautiful! @CentennialEDU pic.twitter.com/7eM749kWps

— Alan McClelland (@mcclelland_alan) September 16, 2018
Tigger and Targa snoozing after dinner. pic.twitter.com/jMF21vGRGc

— Woody Woodcasters (@WoodyWoodcaster) September 15, 2018
Start your engines! Hume Media's service crew for 2018 Targa Nfld. supplied by Centennial College is at Pearson airport bright and early for the flight to Saint John's. @CentennialEDU pic.twitter.com/JPWANixL8m

— Alan McClelland (@mcclelland_alan) September 15, 2018
Darren Brake and Angela Gill of KSAB Racing in Corner Brook will be racing in Targa Newfoundland next month and with a win in the 2018 Tom Hollett Memorial Targa Bambina they'll also race in 2019.
Brake and Gill were the overall winners of the Targa Bambina that took place in Marystown in June. They had the highest ranking in the modern all-wheel-drive class.-Telegram
The course will no longer include High and Curia streets.