Terror Attack In Afghanistan Leaves two Gunmen Dead and Several Injured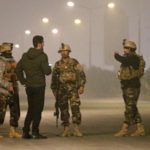 On Saturday Afghanistan experienced what the Afghan government is labeling a terrorist attack. The terror group targeted Tabyan Cultural Center and there are reports that the Kabul Intercontinental Hotel also came under attack in an ordeal that can only be described a "massacre."
President Ghani has ordered the relevant officials to investigate the incident and reach out to the wounded and victims with all possible urgency.-Office of The President Islamic republic of Afghanistan
There has been constant terrorist movement in Afghanistan occurring in very public places mostly in religious spaces and cultural sites.
It is in absolutely unswerving terms that the Afghan Government reiterates that it has an explicit and unflinching will to annihilate all terrorist outfits. Our valiant national Defense and Security Forces are tirelessly fighting to obliterate the very presence of terrorists across the county. – Office of The President Islamic republic of Afghanistan
It is being reported that four gunmen entered the hotel and held hostages after a standoff with Afghan Special Forces two of the gunmen were killed and several people were injured and taken to hospital. This is the second attack on the hotel the first happening in 2011 where 21 people were killed.
On Thursday, the U.S. embassy in Kabul issued an alert warning of a potential terror threat. "We are aware of reports that extremist groups may be planning an attack against hotels in Kabul," the warning read.-CBS News
What Twitter has to say:
Kabul's Intercontinental Hotel under attack by at least four gunmen – reports quoting Afghan officials https://t.co/FgQuvhgUt3

— BBC Breaking News (@BBCBreaking) January 20, 2018
TERROR IN KABUL: Gunmen, and suicide bombers, have reportedly stormed Kabul's Intercontinental Hotel in Afghanistan.

No details on casualties. This is the 2nd time the hotel has been attacked.https://t.co/hVPcQ2tj8k#SaturdayMorning

— #ThePersistence (@ScottPresler) January 20, 2018
Militants burned down the third, fourth and fifth floor of the Intercontinental Hotel in Kabul, commander of Afghan security forces say https://t.co/jhadGFCGXn pic.twitter.com/psLAvTYJEH

— CBS News (@CBSNews) January 20, 2018
The attack came just days after a U.S. embassy warning of possible attacks on hotels in Kabul. https://t.co/kiLTVxWsUM

— Globalnews.ca (@globalnews) January 20, 2018
Flames have engulfed the Kabul hotel stormed by gunmen 'wearing suicide vests' https://t.co/XewaJqNjKs pic.twitter.com/49syWeVAhe

— Daily Mail Online (@MailOnline) January 20, 2018
Three attackers were inside an international hotel in Kabul and fighting with government forces was continuing, https://t.co/3nAOWYyww1

— The Wall Street Journal (@WSJ) January 20, 2018
Kabul can't support army without US money more than 6 months – Afghan president https://t.co/vrERFYAsgm pic.twitter.com/PbFfWLuMRg

— RT (@RT_com) January 16, 2018