Terror Attack in New York City Suspect Identified as Akayed Ullah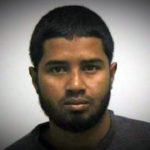 There was an attack this morning during rush-hour at Port Authority in New York City.  The suspect in custody is 27-year old Akayed Ullah who emigrated from Bangladesh in 2011.
Around 7:20 a.m an explosion could be heard around Midtown West to what Police Commissioner James O'Neill called a "terror-related incident."
The explosion happened on a walkway below ground near 42nd Street and Eighth Avenue. The suspect, Akayed Ullah, and three other people were injured.

Police are asking anyone who may have any information about him or the incident to call a terror hotline at 888-NYC-SAFE.-CNN
According to police Ullah attached a pipe bomb to his body and entered the walkway intending to carry out a bombing. After Ullah was in custody he was transferred to Bellevue Hospital to receive treatment for the burn wounds he sustained during the blast.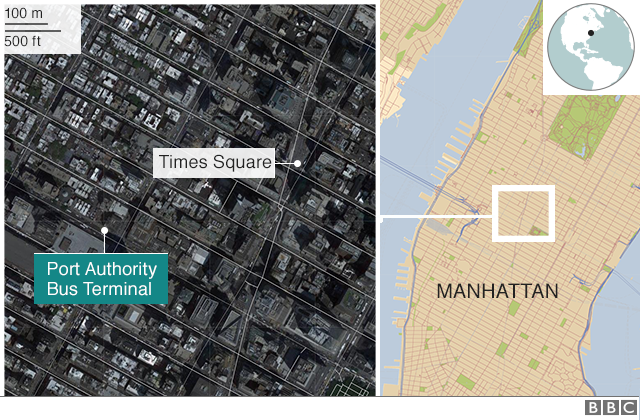 Immediate police response to the scene included members of the Transit Bureau, Emergency Service Division, Bomb Squad, Counterterrorism, MTA Police, State Troopers, and the FBI's Joint Terrorism Task Force. In addition, the NYPD's Strategic Response Group and Critical Response Command were assigned to other key transportation hubs and other locations throughout the city as a precautionary measure.-NYPD
Although there was a disruption in train and bus service many of the public transit systems are up and running or should be back to the regular schedule in a couple of days.
Many want to make a statement against democracy and against freedom in America; we understand we New York City are a target. -NYPD

That's what see something Say something is all about.-NYPD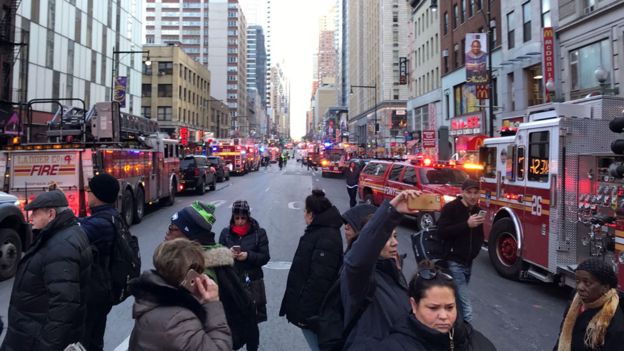 Although his motives are not yet clear to police many close to the case are attributing the attack to Israeli actions in Gaza.
Mr Ullah emigrated to the US on a family visa in 2011. The Bangladeshi government said he had no criminal record in the country, which he last visited in September.

How can #NYC can keep such a vast subway system safe? It takes all 6M people who ride the trains every day — everybody's eyes and ears. If something doesn't look right, doesn't feel right — flag down a cop, give us a chance to investigate. Public safety's a shared responsibility. pic.twitter.com/zd1Pk7u5Fl

— Commissioner O'Neill (@NYPDONeill) December 11, 2017

White House spokeswoman Sarah Sanders claimed that if Mr Trump's proposed immigration crackdown had already been in place, "the attacker would have never been allowed to come into the country".

"This attack underscores the need for Congress to work with the president on immigration reforms that enhance our national security and public safety," she added during a daily news briefing on Monday.-BBC
The NYPD & @NewYorkFBI are looking to speak to anyone who was a witness at this morning's explosion in the Port Authority Bus Terminal or that has information. Call 888-NYC-SAFE or 800-CALL-FBI. Witnesses can also visit @NYPD10Pct at 230 W. 20th Street, #Manhattan. #PortAuthority

— NYPD NEWS (@NYPDnews) December 11, 2017