Thanksgiving and an end to Columbus Day?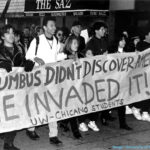 Today is Thanksgiving in Canada, similar to that of Columbus Day in the United States. Thanksgiving in Canada was originally a celebration of the Harvest and for many Canadians it still is. The Canadian landscape is filled with wide-ranging farmlands and wheat blowing in the wind. Canada has a large Catholic and Christian population and Canadians those religious or not see Thanksgiving as a time of rest, relaxation, and a time to reap the benefits of their hard work.
In the United States today they celebrate Columbus Day which is a celebration of the tales and conquering of Christopher Colobus. Columbus who was known to support the idea of an "inferior race" is seen by many as a hindrance to the preservation of a whole people's culture, those he "conquered". Many argue the holiday should be banned in the United States. In recent years there has been a rise in protests of the holiday in hopes of changing the name of the holiday to something more inclusive of the American People.
According to the Guardian, thousands of Italian Americans stood together today to march on Columbus Day in New York City.
Columbus was a native of the City of Genoa, in present-day Italy, and represents the rich history of important Italian American contributions to our great Nation.  There can be no doubt that American culture, business, and civic life would all be much less vibrant in the absence of the Italian American community.  We also take this opportunity to reaffirm our close ties to Columbus's country of birth, Italy.  Italy is a strong ally and a valued partner in promoting peace and promoting prosperity around the world.  –Donald J. Trump A Proclamation
For Many American's the celebration of Columbus Day is going back to a history that most want to move on from. Last week the Supreme Court of Canada ruled that the history of residential schools and that period of time for the Aboriginal people should be held in confidence. The ruling was made because the court felt the Aboriginal people of Canada deserved to move on free from the burdens of their past. It seems this is what the American people also expect from their government.
President Donald Trump's first presidential proclamation of Columbus Day gave only high praise to the 15th-century explorer, a stark contrast to the proclamation made by President Barack Obama one year earlier.-CNN
https://www.whitehouse.gov/the-press-office/2017/10/06/president-donald-j-trump-proclaims-october-9-2017-columbus-day