Theresa May dancing to the beat of her own drum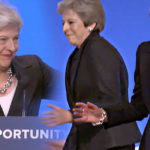 Theresa May has told the Conservatives they must be the "party for everyone" and said austerity was over in her party conference speech in Birmingham.

The prime minister said that a decade on from the financial crash, "there are better days ahead", signaling an increase in public spending.

She also defended her under-fire Brexit strategy, saying she was "standing up for Britain".

And she announced new borrowing powers for councils to build more homes.

A cap on the amount councils can borrow to fund new developments "doesn't make sense" and would be scrapped, she said.-BBC
Prime Minister Theresa May boogies onto the stage for her conference speech to the sound of ABBA's Dancing Queen #CPC18 pic.twitter.com/FCjjy3D1wj

— Sky News (@SkyNews) October 3, 2018
Theresa May's entrance dance into the Conservative Party Conference. pic.twitter.com/BB3NwVJTaY

— Scott Bryan (@scottygb) October 3, 2018
Theresa May announces that austerity is now over. Also, black is now white, lions are vegetarians, Jar Jar Binks is the best Star Wars character ever and Theresa May is a fabulous dancer.

— David Schneider (@davidschneider) October 3, 2018
Theresa May: "I've sort of fused Flashdance with MC Hammer shit." pic.twitter.com/FV6CKbWT4x

— JOE Politics (@PoliticsJOE_UK) October 3, 2018
Theresa May on #Brexit: "Britain isn't afraid to leave with #NoDeal if we have to".

How do you know? Have you asked them, @theresa_may?

Without a @peoplesvote_uk on final deal we are about to go over a cliff edge, and most vulnerable in society will be hit hardest & fastest. pic.twitter.com/1jV656P0kq

— Anna McMorrin MP ????????? (@AnnaMcMorrin) October 3, 2018
Super-Rich billionaires have been given tax cuts, while the rest of us pick up the bill. Austerity has killed people. Over 14m are now living in poverty. Foodbanks can't keep up with demands. How can Theresa May stand on the stage and dance when people are dying.

— Nadeem Ahmed (@Muqadaam) October 3, 2018
This is the message we took away from Theresa May's speech – this failing government needs to move over and let the grown ups get on with the job#GetTheToriesOut pic.twitter.com/vrHNy4qzcB

— The Prole Star (@TheProleStar) October 3, 2018
"Solving the housing crisis is the biggest domestic policy challenge of our generation. It doesn't make sense to stop councils from playing their part in solving it. So today I can announce that we are scrapping that cap," she said.

She highlighted the government's response to the Salisbury nerve agent poisoning, and contrast it with Corbyn's approach of demanding international action, sanctioned by the UN security council, on which Russia has a veto. "We cannot outsource our conscience to the Kremlin," she said. -The Guardian
Theresa May's speech went down hill from here. #DancingIdiot pic.twitter.com/vMCZY3E5KQ

— Britgirl Hates Brexit #FBPE???? (@MarieAnnUK) October 3, 2018
I think @theresa_may spoke well today. Sounded confident. Right now she's our prime minister, we need to back her and give her confidence. Trying to bring her or her party down is not going to help our country 1 bit. Let's stick together !! #unity ??

— Mark Wright (@MarkWright_) October 3, 2018
MUST-WATCH: Theresa May just attacked our campaign in her conference speech – she knows that the momentum is with a #PeoplesVote.

Show your support by joining the #PeoplesVoteMarch For the Future on Oct 20th: https://t.co/WL2icTZx6G pic.twitter.com/epKJgV0KvC

— People's Vote UK (@peoplesvote_uk) October 3, 2018
Congratulations @theresa_may for a remarkable speech delivered with humour and passion. Firmness of purpose, clarity and conviction – EU friends do not underestimate!

— Jeremy Hunt (@Jeremy_Hunt) October 3, 2018
Who did it better, Theresa May or Vince McMahon? pic.twitter.com/Bxwv2q2qvu

— Coral (@Coral) October 3, 2018
Alan Pardew Vs Theresa May pic.twitter.com/6CNbHYGoEe

— Deluded Brendan (@DeludedBrendan) October 3, 2018
Holy S***!!!
Theresa May just accused Nicola Sturgeon of "a betrayal of Scotland"
Are you ***** kidding me!?!?!?
Your party told Scotland to vote to stay in the UK because otherwise they'd have to leave the EU, AND NOW YOU'RE DRAGGING THEM OUT OF THE EU.#MaySpeech

— Femi (@Femi_Sorry) October 3, 2018
We have had disagreements in this party about Britain's membership of the EU for a long time. So, it is no surprise that we have had a range of different views expressed this week. But my job as prime minister is to do what I believe to be in the national interest.
She also made an oblique reference to Johnson's recent "fuck business' comment. She said:

To all businesses – large and small – you may have heard that there is a four-letter word to describe what we Conservatives want to do to you.

It has a single syllable. It is of Anglo-Saxon derivation. It ends in the letter 'K'.
Back business. -The Guardian
"Britain isn't afraid to leave with no deal if we have to," Theresa May says of Brexit in #CPC18 speech https://t.co/r1zmSjL68c pic.twitter.com/LwbiHRHH9h

— Bloomberg (@business) October 3, 2018
478 days ago Theresa May promised "austerity is over" (evidence attached). She fibbed then. And she is fibbing now. https://t.co/3jfW6TcxaQ

— Tory Fibs (@ToryFibs) October 3, 2018
Remarkable for the Prime Minister to dedicate so much of her speech to Labour, our leader, even our campaign slogan (and tellingly, so little to her own policies). Theresa May and the Conservatives are out of ideas, unable to defend the failed status quo they represent.

— Dan Carden MP (@DanCardenMP) October 3, 2018
Journalists gasped. Politicians burst into applause and laughter. ABBA's 'Dancing Queen' played loud, and Theresa May shimmied her way to the podiumhttps://t.co/y5ie8j9a1Z pic.twitter.com/99yjtHAlDV

— The Telegraph (@Telegraph) October 3, 2018
To all the people who have lost their lives or loved ones, been evicted, had benefits slashed or any of the other myriad misfortunes forced upon them by #austerity For @theresa_may to dance out to deliver a speech telling people 'it's ok, it's over' is repulsive. #ToryConf18

— Mark Bonnar (@mark_bonnar) October 3, 2018
Theresa May's shameful Tory Party!!! #CPC18
pic.twitter.com/EuY1wDcasa

— ARTIST TAXI DRIVER (@chunkymark) October 3, 2018
"There must be no return to the uncontrolled borrowing of the past. No undoing all the progress of the last eight years. No taking Britain back to square one. But the British people need to know that the end is in sight. And our message to them must be this: we get it," she said.

"A decade after the financial crash, people need to know that the austerity it led to is over an that their hard work has paid off."-Theresa May- The Guardian
Tories: There's no way this year's speech can be as awful as last years
Theresa May: *Hold my beer*
BBC: And she's dancing onto stage…
Tories: Oh God she's doing the robot
BBC: You're not enjoying the dancing?
All sentient life: ? pic.twitter.com/rURQAmOQDP

— dave M ❄️ ? ?? (@davemacladd) October 3, 2018