Wedding Season Fashion Looks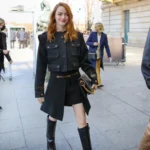 ---
With the end of winter and the beginning of spring, right on into summer; it's officially wedding season. Now most of us who had a drought of a winter won't have much to look forward to, but for the lucky few planning a wedding will definitely be in the cards this coming spring. Keeping this in mind it's must be hard for those lovely couples to find out not only the décor but also in choosing the most important parts of the ceremony; what the bride and groom will wear. here are a few looks that may inspire a future bride or groom:
Dries Van Noten: All White and a Pants Suit
A classic Pant suit is never a bad idea not only for the groom but the bride may find this classic look quite fitting. This Dries Van Noten pants suit is a great example with lace details and sheer elemental details, this look is sure to make the bride not only desirable to her mate but also the envy of all her friends.
In other words: this was Dries Van Noten in his element, curating an interior environment instead of a fashion show. It was the perfect setting for absorbing the novel shock of suddenly being able to see and touch the richly layered textures of his collection again—and to sense a distinct frisson of darkness and perversity in the air. -Vogue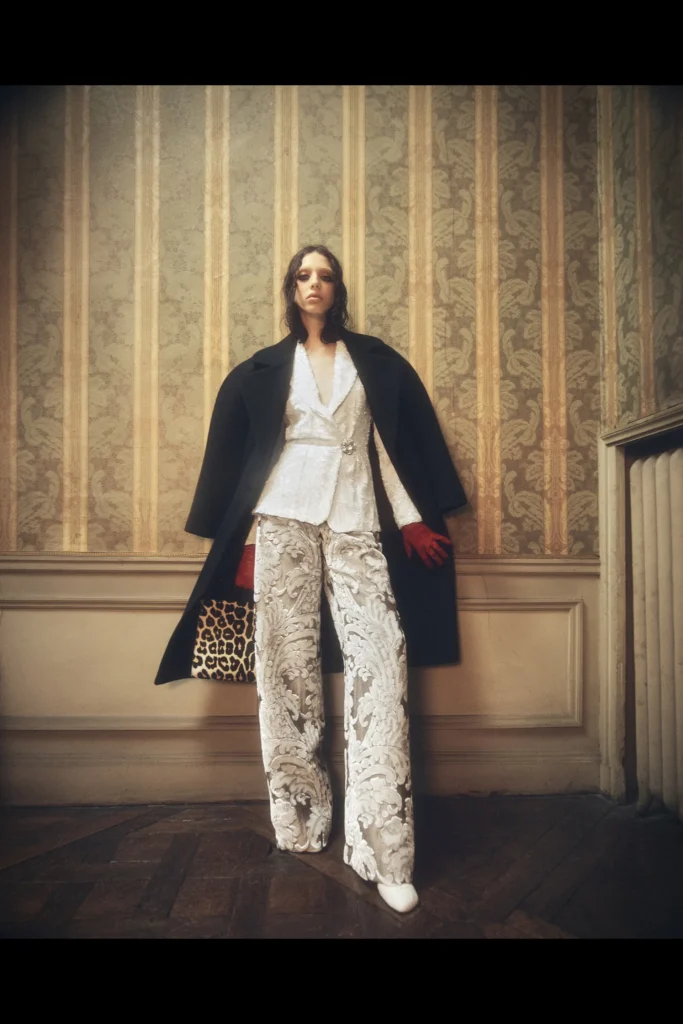 Botter: For him
Who says the groom has to wear the traditional pin stripped fitted suite? Going bold could be a statement piece especially in an intimate ceremony. Adding your own style and flare will not only show the bride that you care but will be a statement piece for years to come when looking back at that magical day.
The Botter designers recently ended a three-year creative directorship at Nina Ricci. That appointment came as a surprise. They hadn't shown a collection on the Paris runway before they got the gig. In the end, it raised their profile and their skill set, but it was a distraction from their work at Botter. These are designers with a strong point of view about upcycling and an original approach to creating special pieces from what others might consider junk. A friend in the front row wore a black baseball cap embellished with bright yellow plastic tags. -Vogue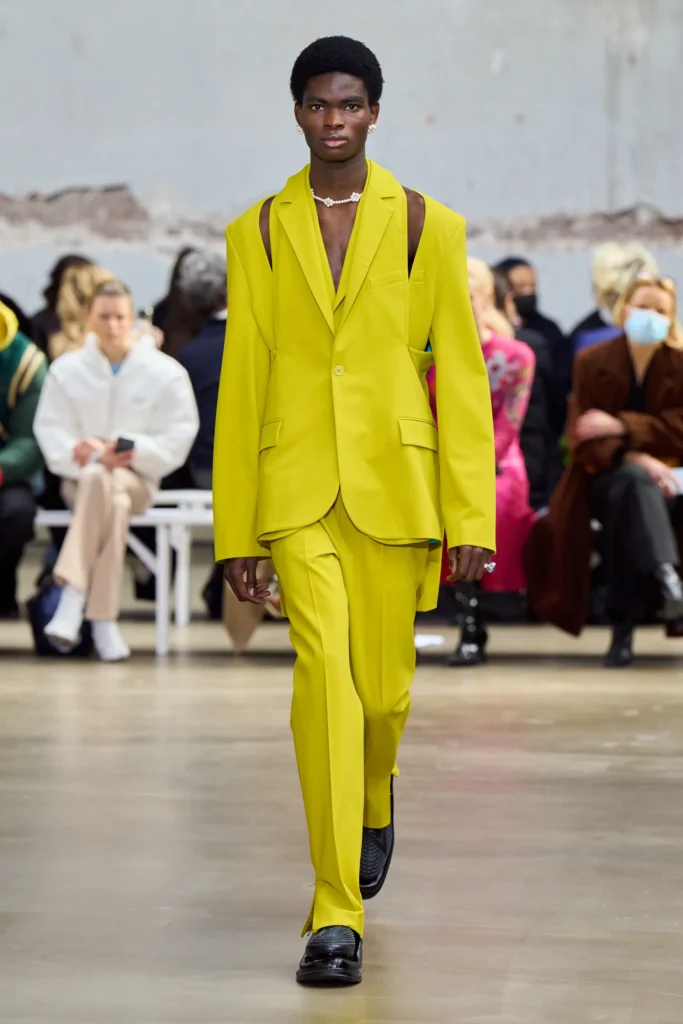 Yuhan Wang: Bollywood Glam
Weddings can sometimes be traditional especially when pulling from someone else tradition. This Indian inspired dress with matching pants is perfect for the bride looking for something different to her, and something her guests can appreciate. tight on the top and loose on the bottom this dress will be perfect to bring in traditions new and old.
Inspired in part by the ancient Himalayan tribal community of matriarchs known as the Mosuo, often referred to as the Kingdom of Women, Wang noted she was looking to foreground a steelier, more uncompromising vision of femininity than in seasons past. There were a handful of playful tailoring pieces in which to do so, some adorned with tie details, others in charmingly wonky proportions featuring grey floral jacquards. Still, the star of the show, as always, was Wang's way around a gown, whether a billowing white cotton day dress adorned with a green floral print or a standout structured frock with rouched shoulders emerging as especially wearable highlights. -Vogue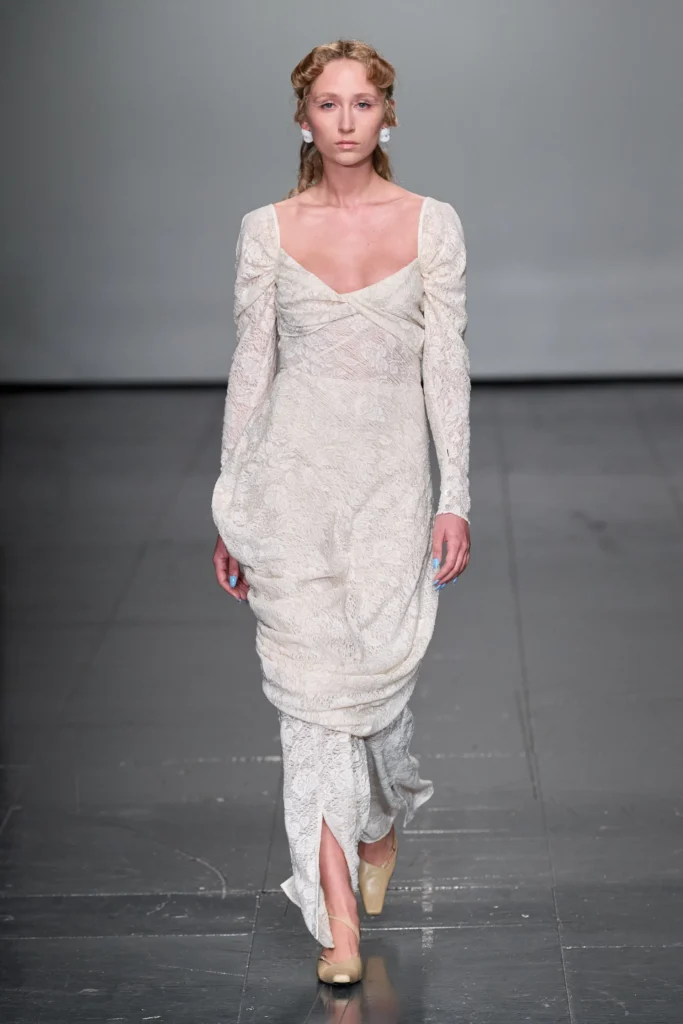 Daniel W. Fletcher: Casually In love
Maybe a big wedding isn't for you, no problem that doesn't mean you shouldn't dress up. This is especially true for the groom who may not know what to wear to a small intimate wedding just for family and friends. This Daniel W. Fletcher look is perfect for such an occasion as this with a pop of color to lighten not only your countenance but also the mood of the occasion.
Daniel Fletcher's dad, Pete, died at the end of last year: Vale, Pete. This collection acted as a joyous acknowledgment by Daniel of many of the influences imprinted by father upon son that, until he was in mourning and missing his dad, the son had not fully realized were transmitted from his father. So we had the Manchester United scarf knit by British Olympian Tom Daley (shown against one that was alarmingly adjacent to Manchester City, something Pete would never have approved of). We also had a horizontally striped red and white leather vest that went straight back to a picture Daniel found while remembering his father wearing a similar—but less leather—Levi's T-shirt back in the day. -Vogue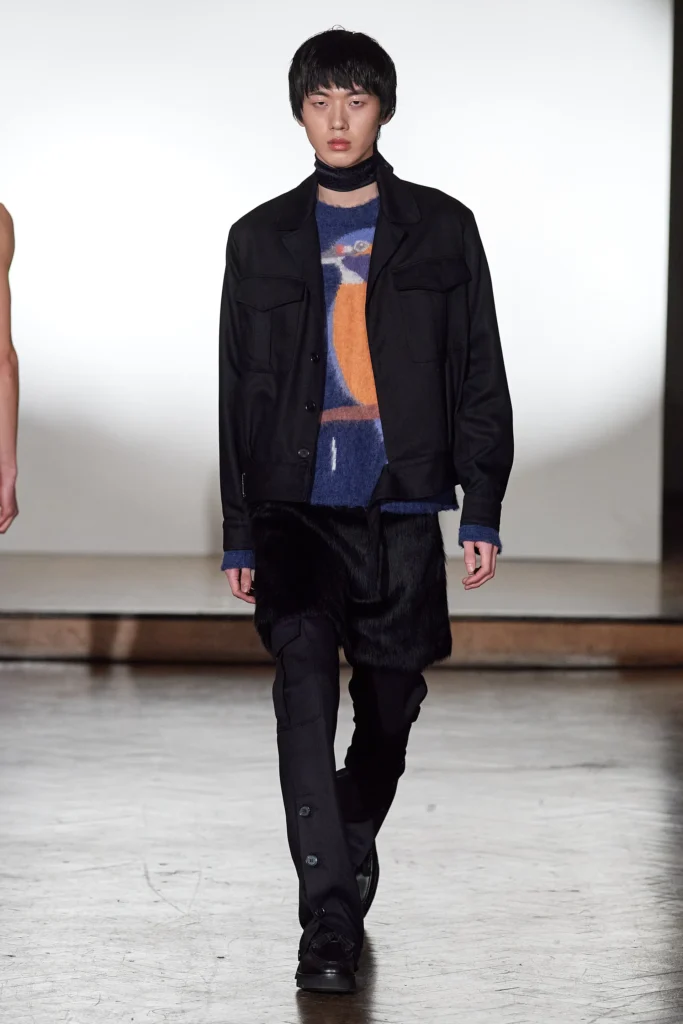 A Classic Wedding
Going for classic wedding couture is always a great idea. It's always easy to just browse the selves in your favorite store for an inspired wedding look that includes a classic black and white suite for the groom and a white dress for the bride.
Deciding where the wedding was going to take place was another challenge, especially with friends and family on both coasts. Ultimately, they chose Dos Pueblos Orchid Farm in Santa Barbara because many friends and family hadn't yet visited, and they wanted to invite everyone to celebrate in their new hometown. They worked with Michelle Norwood to plan it all. "We were incredibly fortunate to have Michelle in our corner guiding us along the way with checklists to ensure we were staying on track," Alessandra says. "From the beginning, we wanted everything to be natural and earthy and highlight the beauty of the venue without going overboard." -Vogue