Wendy Williams denies husband cheating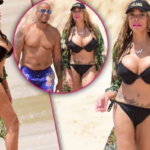 Allegations are not true!
Wendy Williams is denying reports that her husband has been having an affair outside their marriage with therapist Sharina Hudson.
A rep from the Wendy Williams show had this to say.
"One plus one does not equal three. This woman is a friend but there is no 'there' there," Ronn Torossian, a rep for the talk show host, told Page Six in an unusual statement.
This story broke from Daily Mail and it reported that Hunter and Hudson have been hooking it for years?
What do yall think? You think he was, or the rumor mill needed to spread some rumors. Wendy is expected to talk about this on her show today.
What Instagram has to say
https://www.instagram.com/p/BZgqyzFl-xy/?taken-by=theshaderoom
https://www.instagram.com/p/BZgbHE2ngNP/?taken-by=teatenders_liv
Update
Wendy Williams says regardless of what the media says she will stick to her husband's side.
https://www.instagram.com/p/BZgpgo_lpin/?taken-by=shegossipz_