WhatsApp adds new feature WhatsApp Business for small businesses.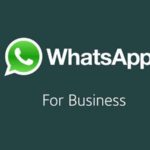 WhatsApp is launching a new feature to its app called WhatsApp Business. The feature is designed to help businesses connect with its customers and was built with "small businesses" in mind.
By downloading the app you will be able to create a business profile equipped with your business address, business description, website and email address. You will also be allowed to create automated messages and quick replies.
The app can be used for internal communication between management and staff and allows for instant communication rather than sending an email. Another component of the app is quick and easy customer support as well as marketing and promotion via chain messages. The app will be ideal for small businesses in the service industry as customers can place order through the app more easily and direct.
Download app here: https://www.whatsapp.com/business/
What Twitter has to say:
WhatsApp just launched their tool for businesses in more countries around the world ?? https://t.co/zDsIU6iE2O

— Product Hunt (@ProductHunt) January 18, 2018
Just in–> WhatsApp is launching WhatsApp Business, an Android app for small businesses to talk to their customers. pic.twitter.com/sQHxzKmfjD

— Jayadevan PK (@therealjpk) January 18, 2018
WhatsApp Business launches officially for Android in Indonesia, Italy, Mexico, the UK, and the USA https://t.co/3AAlvqi0GX pic.twitter.com/4VT7XW5nyQ

— Android Police (@AndroidPolice) January 18, 2018
.@WhatsApp has finally launched its separate app for small businesses. Are you excited about this new app and all the new features that it brings for business owners?https://t.co/cAm8QqmKtH

— Tech2 (@tech2eets) January 18, 2018
Designed with the intent to make it easier and convenient for companies to connect with customers, as well as for businesses to chat with customers, find out which features are introduced in #WhatsAppBusiness app!https://t.co/Zrn7uBnf8R

— YourStory (@YourStoryCo) January 18, 2018
WhatsApp Business app starts rolling out on Android; India soonhttps://t.co/I3bG3juqrV

— The Indian Express (@IndianExpress) January 18, 2018