GrindFace TV Founder Dimitrius Mayo Lands 5-Figure Marketing Deal With Director Deon Taylor To Promote New Film "Fear"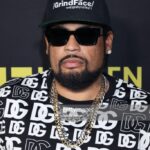 GrindFaceTV founder Dimitrius Mayo has locked in a five-figure marketing deal with director Deon Taylor to promote the new film "Fear" across his company's social media platforms Facebook, Instagram and Twitter. The Hidden Empire Film Group production is a horror film that released in theaters January 27. Filmmaker Taylor is best known for directing movies; Dead Tone, The Hustle, Nite Tales: The Movie, Chain Letter, Supremacy, Meet the Blacks, Traffik, The Intruder, Black and Blue, Fatale, and most recently, Meet the Blacks 2. "Fear" is about a group of friends who gather in the remote Tahoe Mountains to stay at the "Historic Strawberry Lodge" during the worldwide pandemic. But celebration turns to terror each guest faces their own worst fear. The film stars notable actors and actresses; Joseph Sikora, T.I., King Bach, Terrence J, Ruby Modine, Annie Ilonzeh, Iddo Goldberg, and Jessica Allain.
This is Mr.Mayo's second marketing deal with Deon Taylor, the first one was for 2019 film titled "Black And Blue," an American action thriller film about corruptness in the police force. Mayo used a marketing strategy of putting the "Fear" at the end of viral clips causing the movie to receive a lot of exposure and views. You can watch the trail for the movie thats out now here.
https://www.youtube.com/watch?v=62s2WC6dIYI&ab_channel=IGNMovieTrailers
GrindFace Founder was interviewed by comedian Funny Marco at the Fear Movie premiere, you can watch that here.
https://youtu.be/d2dE6hrfK6s?t=493